Vesper Marine, new Class B AIS & antenna splitter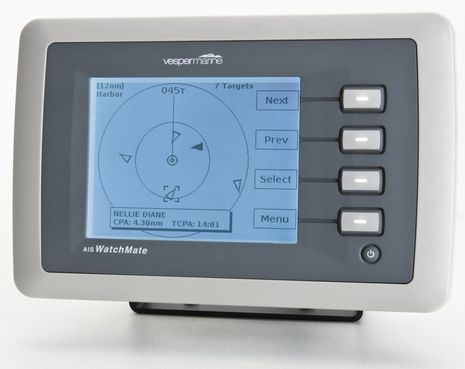 At first blush Vesper Marine's just announced Class B AIS transponder seems similar to the Simrad AI50 and the Icom MT-500R, which is to say a transponder with a handy target plotting and info screen built in. But I think the WatchMate 850 will be significantly different, because Vesper has been focused on AIS collision avoidance for years and has gotten quite good at it. I finally got some hand's on time with a WatchMateRX early this summer, and was even more impressed with the company when I met co-founder Jeff Robbins a few weeks ago. I had not realized, for instance, that Vesper designed and built the AIS receiver that's in the RX model, and they're doing the same with the transponder as well as an interesting antenna splitter also announced…
Thus the AIS WatchMate 850 has a GPS patch antenna built right into its casing, so the installer won't have to cable in a separate antenna if the unit has a sufficient sky view (though there will be an optional external antenna available if needed). Thus, too, there's an optional waterproof USB port to feed AIS target info to a boat's PC, without need of a serial-to-USB converter, as well as a NMEA 0183 port for an MFD. Though the 5-inch display head means the WatchMate can be used completely standalone if desired, and that includes sending a Class B distress SRM (Safety Related Message), saving familiar targets as "Buddies," switching into silent (no transmit) mode, and decoding even currently obscure AIS messages like weather buoys, SARTS, and so forth. And it uses only 3 watts from either a 12 or 24 volt supply, and it has an output for an external alarm, and built-in diagnostics.
As complete and easy to install as the WatchMate 850 appears, Vesper has also tackled the issue of adding another VHF antenna with its own splitter design, described thusly:
Unlike splitters currently available on the market that introduce
insertion loss degrading the performance of both AIS and VHF signals,
Vesper's innovative splitter increases AIS signal strength and range – a
truly valuable feature in response to the growing popularity of 2W
Class B AIS transponders. The SP160's integrated amplifier increases
signal strength by 12dB. When used with the WatchMate 850 its already
industry-leading receiver sensitivity is further increased to a
remarkable -119dBm. The Vesper Marine splitter also offers visual
feedback with LED indicators for power, VHF and AIS TX signals, and a
unique warning light that triggers if there is a problem with the
antenna. Built in fail safes ensure VHF priority and maintain VHF signal
integrity even if power to the splitter is cut. When used with the
WatchMate 850 a visual indicator appears on the display whenever the VHF
radio is in-use to indicate that AIS traffic updates are delayed. The
SP160 uses standard VHF coaxial connections, provides an AM/FM
connection, works in both 12 and 24-volt environments, and is also the
only IPx7 waterproof AIS VHF splitter on the market.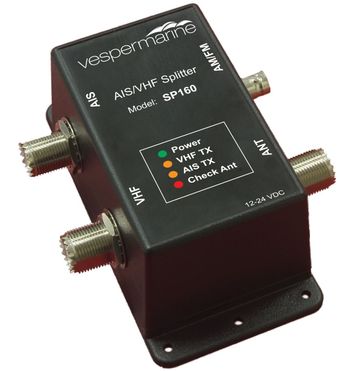 But as smartly designed as Vesper's hardware looks, I still think the company's main claim to fame is the collision avoidance software built into the WatchMate 850 as well its 750 RX sibling and the original 670 display. This software has improved over the years and perhaps the best way to see the latest version is via the videos posted on Vesper Marine's home page. The 850 press release, which should be online soon, calls it "the most intuitive and effective collision avoidance device ever built." I don't know about that, but I appreciate the creative pride expressed, and it certainly is a noteworthy addition to the world of AIS.