Simrad is 75 years old, and doing fine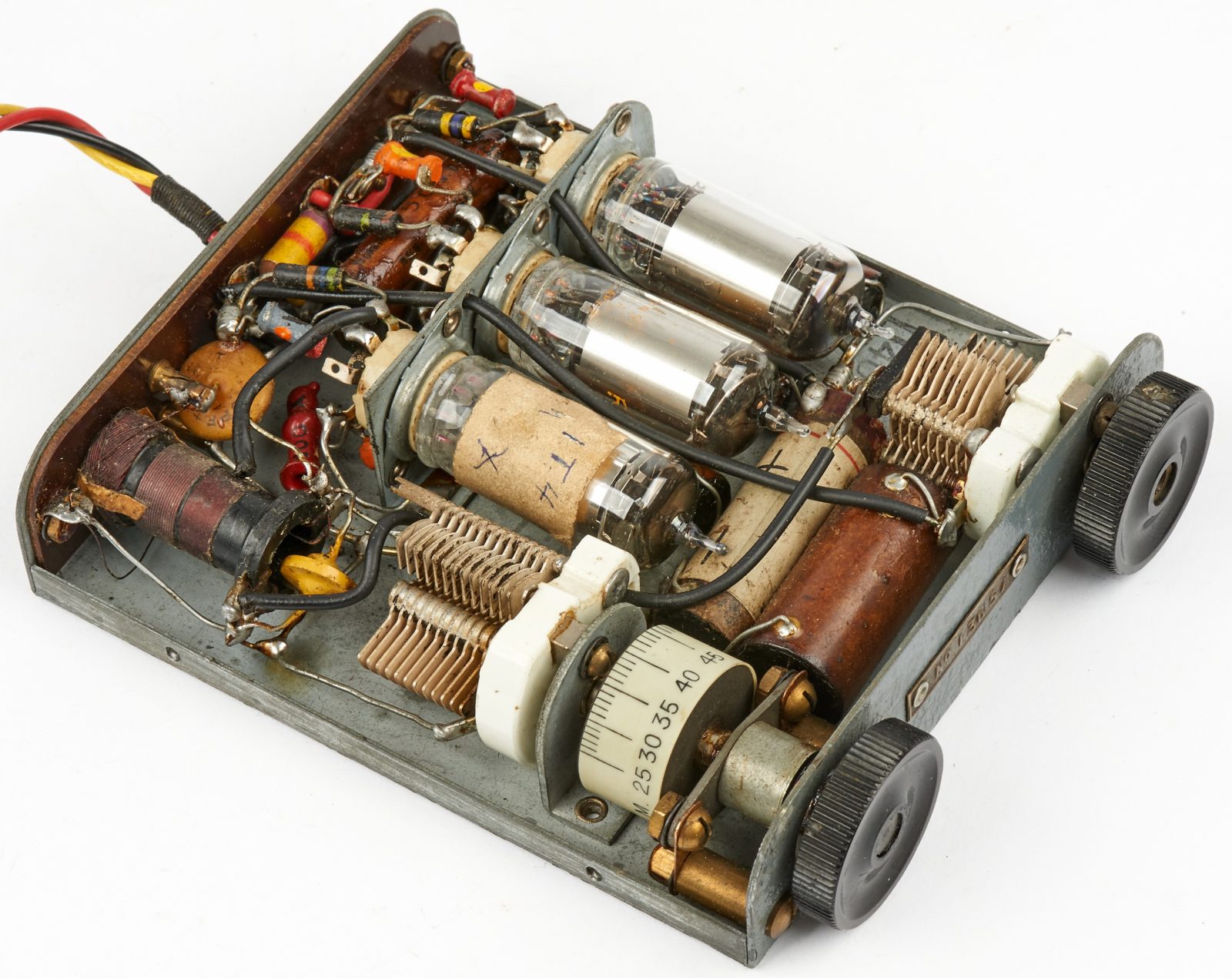 Simrad is celebrating its 75th anniversary as a marine electronics brand, and that's a good excuse to look at old photos and reminisce about how far the technologies have evolved. Consider, for instance, the compact shortwave receiver above, nicknamed the "Sweetheart". Though not actually a marine radio, it's key to Simrad's origin story. That's because founder Willy Simonsen distinguished himself in the Norwegian resistance before starting his company after World War II, escaping to England where 50,000 of his Sweetheart designs were built and airdropped behind enemy lines so that resistance groups in Norway and other occupied nations could keep up with BBC news.
Simrad is sharing this history, but I found more detail about the Sweetheart radio and history in this Wireless for the Warrior PDF. As an aside, the impressive WftW website is the work of Louis Meulstee, who has collected and created massive content detailing WWII radios, and I wish there were marine electronics enthusiasts doing similar. Even proud old-time companies like Simrad don't tend to save or document legacy equipment and there are few marine museums that seriously collect electronics (that I know of).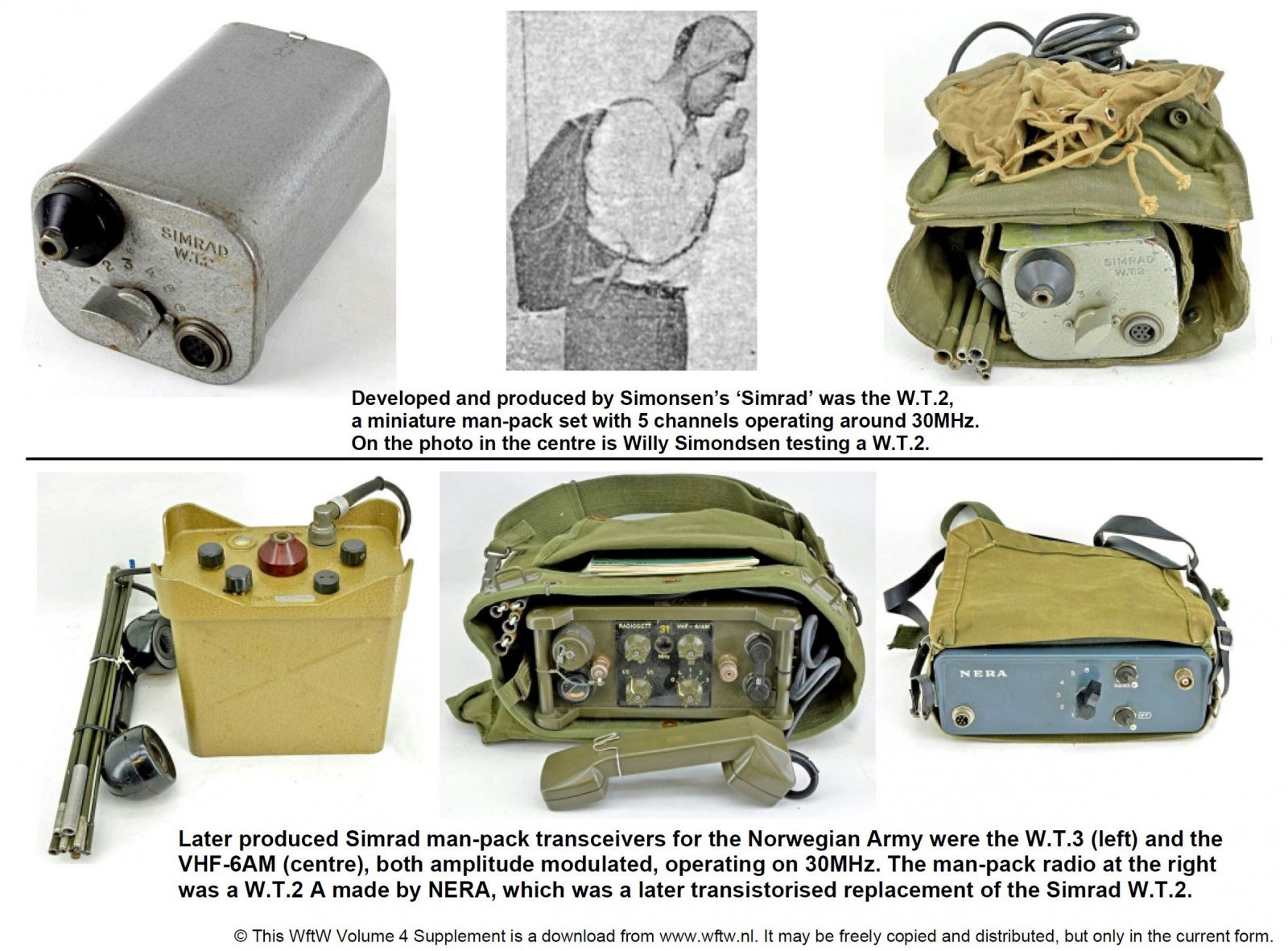 Meulstee's PDF also shows how Willy Simonsen continued to work with the military when he returned to Norway after the war, and though his company was called Simonsen Radio, the "Simrad" brand was already in use on some of the radios above. Of course, there were also Simrad radios for boats, primarily fishing vessels, though good photographs of them eluded me. However, the 1950's Robertson R-Super 25 below makes sense as the Simonsen and Robertson companies were Norwegian competitors who eventually became one brand.
Credit another enthusiast, Hans Gatu, for sharing details of the R-Super radio and Robertson Radio-Elektro itself. The company was also founded right after the war, and Thorleif Robertson-Olsen had also been imprisoned by the Gestapo. But instead of escaping, Robertson purportedly trained fellow prisoners in radio electronics and was first in 1946 to convert surplus U.S. transceivers to work between fishing vessels and the Norwegian Telegraph Service.
The circa 1955 R-Super 2S, incidentally, was a receiver with six frequency ranges and there were "special versions with squelch control" available (according to Gatu's research). Such were the good old days. Meanwhile, Robertson had already started building autopilots in 1948, and that's how many boaters know the brand today, or at least antique skippers like myself. In fact, Robertson pilots performed so famously well and reliably that Simrad kept the name for many years after acquiring the company in 1993, as I saw myself on the Simrad demo boat below.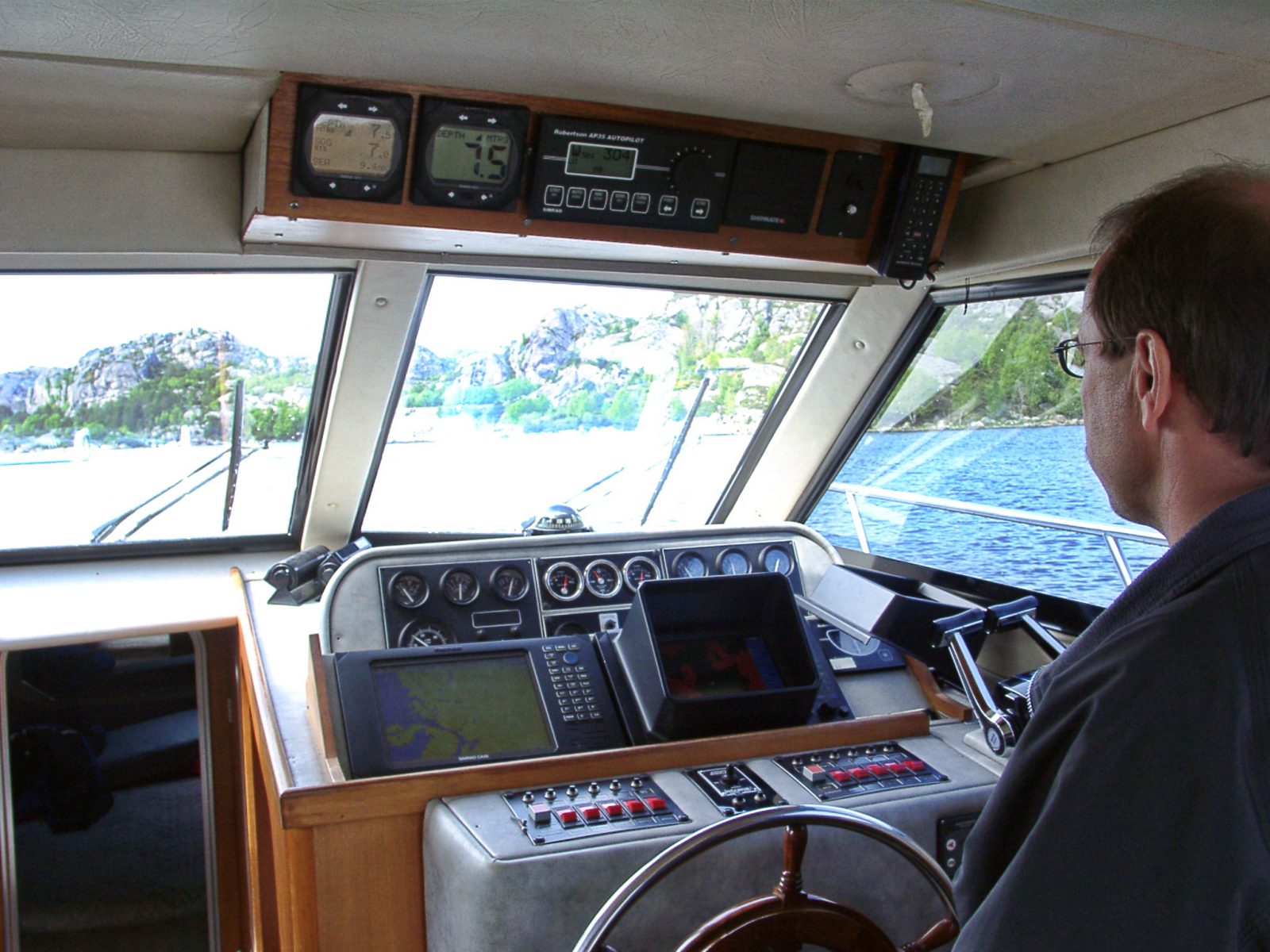 In 2002, Simrad kindly hosted me on a tour of their Norwegian locations and though that's not quite 20 years ago, notice how old-fashioned that demo boat helm looks now. While those CA40 multifunction displays showed chart plotting, radar, and fishfinding, the color screens were dim enough to merit optional shades. And there are so many control buttons, not to mention complex NMEA 0183 and proprietary sensor connections behind the installation (manual here).
Overhead are two grayscale Simrad IS15 instruments (manual here) and a Robertson AP35 autopilot with the "Simrad" mother brand at the bottom of the faceplate. While pilots tend to last longer on boats than other electronics, there's still a market for used AP35s. Moreover, the 20-year-old Simrad/Robertson AP11 I put on the Panbo Forum last winter has now joined an extensive system on a hardworking whale watch boat in the Mediterranean.
In 2002, Simrad was still using the former Robertson factory in the fishing port of Egersund for both development and manufacturing, and the serious seagoing heritage was hard to miss. I got a particular kick out of the side-by-side fish and socks hung to dry behind the cabin of a local vessel. Many of the Simrad offices and assembly rooms had views of the harbor, like the autopilot engineer's lair above (a similar Garmin scene later led me to write "Messy maybe, but this is how marine electronics get made").
Back in this era, there was some hand assembly of even smaller, higher volume marine electronics. But the factory in Egersund also had an automated circuit board populator, used at least for prototypes and some of the large, low volume components they were making for sizable commercial vessels. But it wasn't until Simrad's factory in Horten that I saw the really big stuff.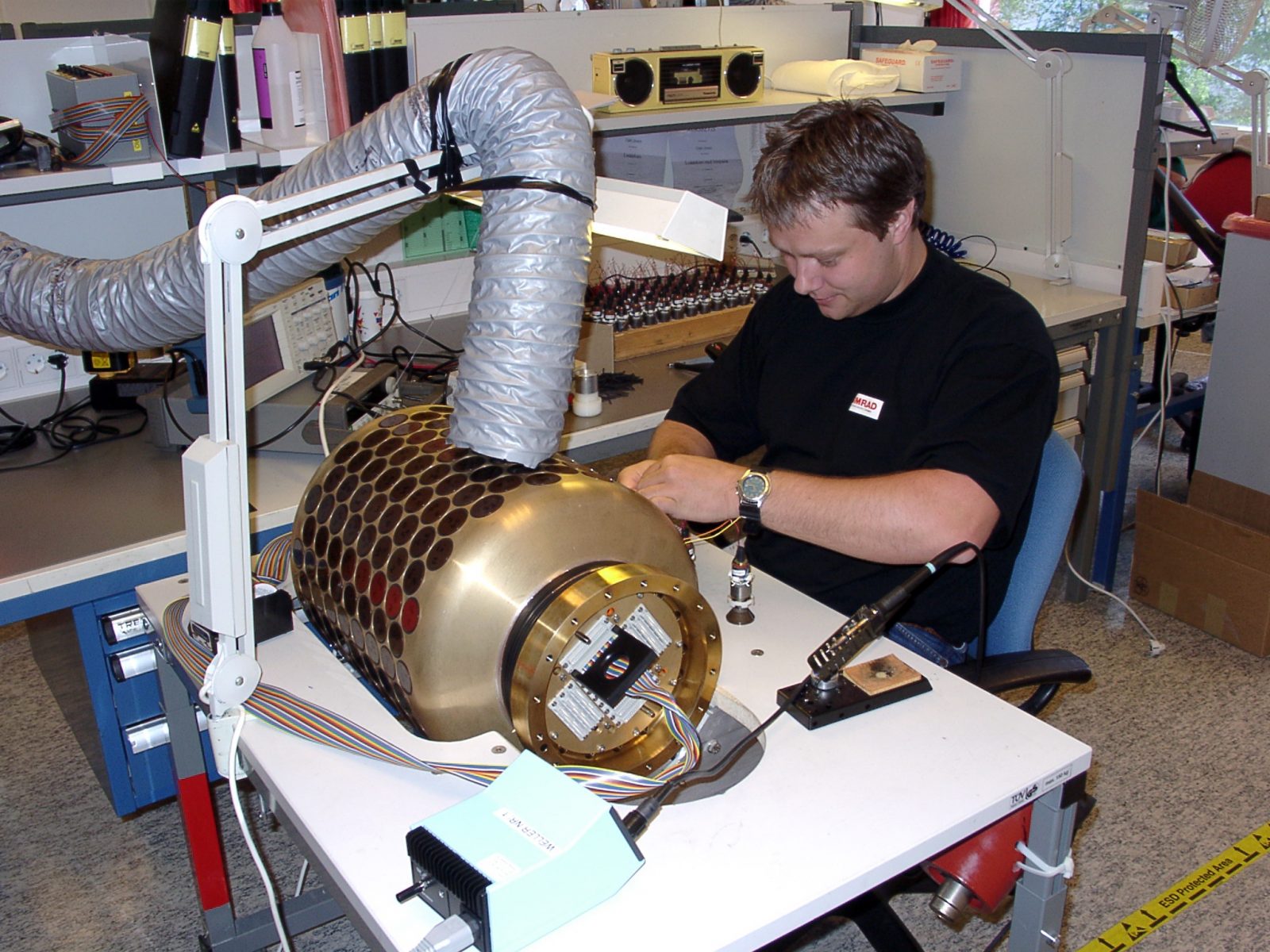 Simonsen Radio produced its first commercial echo sounder in 1950, while still in Oslo, and stepped up its sonar game with the large harborside Horten facility in 1957 (when the company also finally became Simrad). In 2002, that monster multibeam transducer above was actually small compared to the ones they wouldn't let me photograph.
And now we get to a slightly confusing aspect of the Simrad brand name. In 1996 the Norwegian conglomerate Kongsberg Group acquired Simrad, but then sold the recreational and light commercial parts of the business to the Altor Group in 2003. And thus there became two Simrads! Kongsberg Maritime Simrad is still building huge transducers and other heavy-duty gear in Horten, while the Simrad we know — more officially termed Simrad Yachting — was grouped with Lowrance, B&G, and C-Map to become a brand family that Alto dubbed Navico (history here).
At any rate, in 2002 there was some vintage Simrad sonar gear displayed in the lobby of the Horten factory, and maybe it's still there. Paper recording echo sounders were heavily used on fishing boats for decades, but that's the only manually operated side-scanning sonar I ever recall seeing.
As part of its 75th celebration, Simrad is highlighting innovative past products, two of which especially jog my memory. The Simrad AI50 came out in 2007, quite early in the evolution of Class B AIS transponders (and before they were even approved in the U.S.). Yet, the AI50 had SimNet/NMEA 2000 output, DSC integration with Simrad VHF radios, and an SD card recording function. Of course, the color target screen was the main feature, especially when I realized that the extra cost seemed reasonable compared to much more basic Class B black boxes.
Simrad is justifiably proud about developing the first recreational solid-state radar, the Broadband BR24. I first saw its amazing close-range performance during a 2009 Miami demo, and I was so keen to try the light, low-powered radome myself that I installed a test unit on a small outboard and launched on a flooded lake. It even imaged kayaks close to wooded shores, improved Broadband models were developed, and Navico's three brands were the only source of solid-state radars for years.
Nowadays, all four major marine electronics manufacturers offer multiple solid-state radar models, Dobbler included, as well as all sorts of MFDs, autopilots, instruments, sonars, radios and so forth. There's a lot of good equipment available — Simrad and the other Navico brands certainly included — but it's gotten hard to add significantly innovative features in the areas of navigation and fishfinding.
What challenges the big manufacturers today is using their big, powerful helm systems to also control and monitor non-navigation boat systems like digital switching and lithium battery banks, so a boat skipper can manage most everything within a common interface. And it's telling that Simrad was the first to support CZone distributed power back in 2010. In fact, Navico has aggressively pursued system integration and came out with the do-it-all Information Display concept in 2019.

These days "Smart Marine Technology for Total Control of your Vessel" is called Simrad Command, with many system and boatbuilder integration partners listed. And some of those partners — like all the companies involved in the Sea Ray SLX-R 400e project above — will soon get a lot more closely integrated as Brunswick adds all the Navico brands to its Advanced Systems Group.
So while I may be old and slow at 75, Simrad is not. In truth, it's a little silly to make a big deal about the age of a brand when the people who design and make the products constantly change. Heck, Willy Simonsen left Simrad in 1968 to start one of the first cell phone companies. And while Navico still has a presence in Egersund, Simrad R&D happens largely in New Zealand, Italy, England, and the U.S., and most of the manufacturing is done in Mexico.
But that's pretty much the way marine electronics is done nowadays, though the combination of Navico and the many ASG system brands is potentially a recreational marine gorilla we have not seen before. So the Simrad brand is not just doing fine; it might have swigged the fountain of youth at 75.
Save the relic electronics!
As mentioned earlier, it's hard to look at antique marine electronics and reminisce about how far the technologies have evolved because they're not being saved in organized ways. So I was glad to learn recently that the "NMEA and IMEA are seeking donations of pristine, museum-quality relic marine electronics manufactured between 1965 and 2005 to create a mobile marine electronics museum" that will travel to certain boat shows.
NMEA's request is aimed mainly at dealer/installers, but individuals willing to donate "relic marine electronics" should get in touch with the NMEA National Office in Severna Park, MD. Also, I'd like to hear about marine or technical museums with good marine electronics collections, or individual enthusiasts who've captured some of this same history (like the radio buffs referenced above).