Brunswick to acquire Navico, what we know so far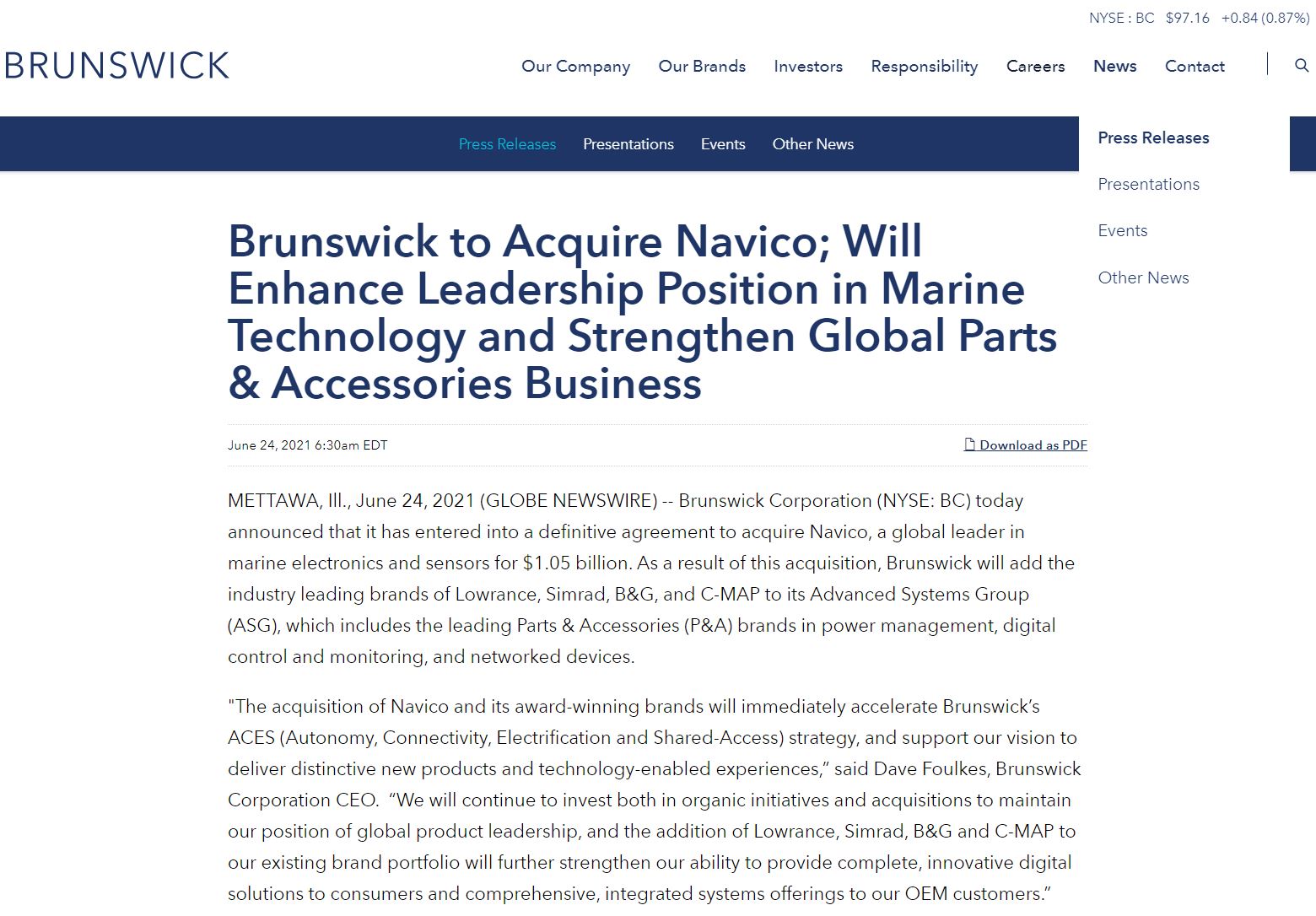 This morning started with a bang with Brunswick's announcement they are buying Navico for $1.05 billion. The acquisition will close in the second half of 2021 so it's still early days and both companies' communications are pretty general. The plan is for Navico CEO Knut Frostad's leadership team to remain in place and report to Brunswick Advanced Systems Group president Brett Dibkey.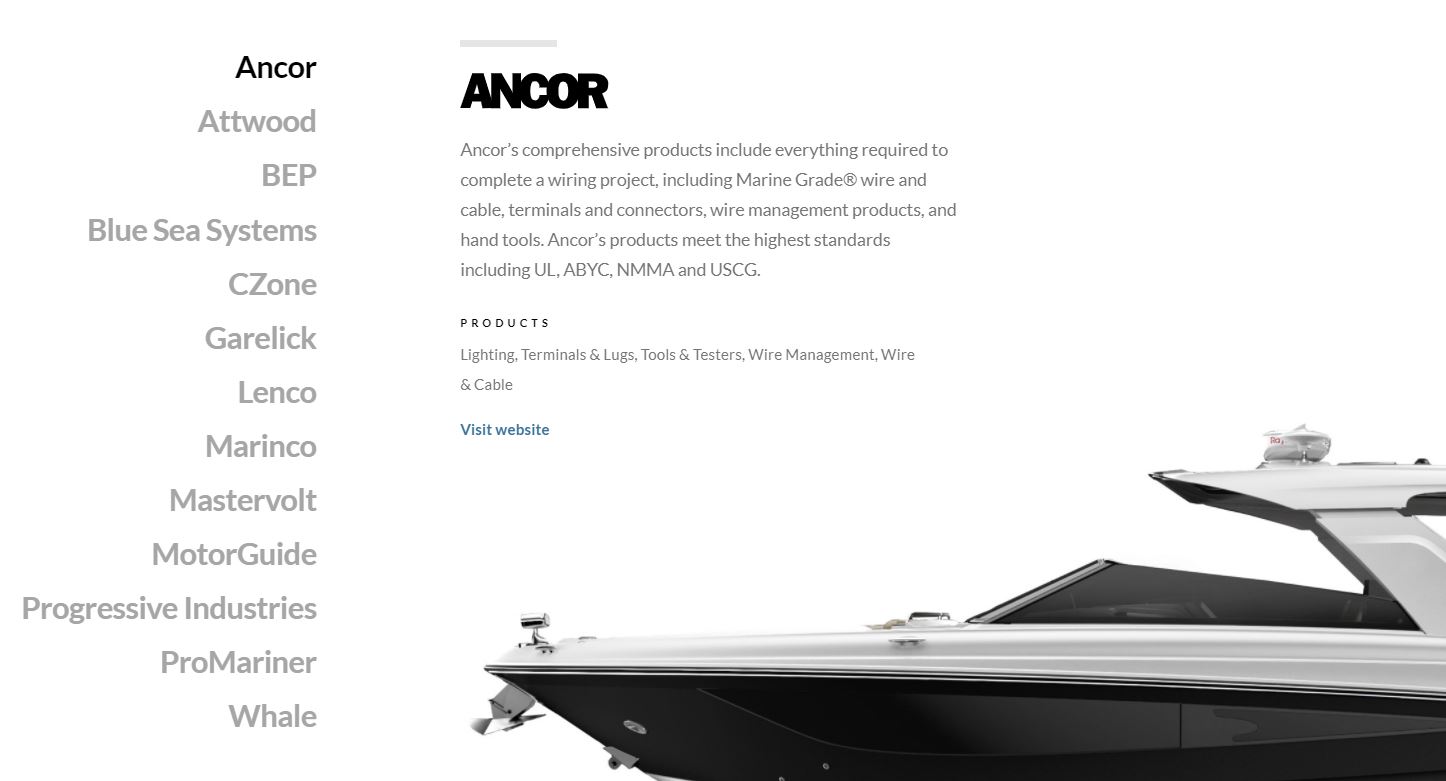 Navico will join Brunswick's Advanced Systems Group (ASG) alongside a slew of well-known marine brands. Looking at the brands in the screenshot above and thinking what it means to add Simrad, B&G, Lowrance, and C-Map to this list gives a preview of what the new Brunswick ASG might be able to accomplish.
Since the 2018 acquisition of Power Products I've felt the writing was on the wall that an electronics company would be a logical next acquisition for Brunswick. The big question I wondered about was whether it would be Navico or Raymarine. We've got our answer and given the history between the two companies, it makes a lot of sense.
This isn't Brunswick's first foray into marine electronics. Prior to 2007, Brunswick owned Northstar, Navman, and MX Marine under the Brunswick New Technology (BNT) umbrella. But, Brunswick sold BNT to Navico in 2007, joining BNT's brands with Navico's Simrad, B&G, and Lowrance. So, some Navico employees may be rejoining Brunswick, having worked there as part of BNT.
I think the obvious questions are, what does this mean for boaters? What does it mean for boat builders? What does it mean for other electronics companies? And what does it mean for employees of these companies?
As I mentioned, it's early days and the announcements so far are, as they should be, light on specifics. So the best I can do in trying to answer these questions is speculate.
For boaters and boat builders I expect we will see better integration of the many systems onboard boats. This isn't new territory for either of these companies. In fact, at the 2019 Miami Boat Show Sea Ray and Navico showed a Sea Ray 350 SLX-R with Navico's Information Display. But, since then we've heard less about Information Display and I think that's in large part because of the difficulty of integrating systems from many different companies. Now, with propulsion and so many of the major systems under the Brunswick umbrella, the integration task looks a lot more surmountable.
As for what the deal means for other electronics companies, that's a tougher question to answer. The marine industry is chock full of examples of customers and partners also being competitors and this acquisition creates more. Brunswick has dealt with these potential conflicts for years and I haven't heard complaints from other companies. In fact, I've heard very positive reports from other companies who have partnered with C-Zone on digital switching projects.
Will Boston Whaler continue to equip their boats with Raymarine electronics when Brunswick owns Simrad? During a media call today, Brett Dibkey said that he expects that the boat builders will continue to select the best option for their boats. He also explained that there are three major divisions within Brunswick: the Brunswick Boat Group, Mercury Marine, and the Advanced Systems Group. Each group is run as its own business and must compete alongside other competitors to win business from the other groups.
I asked specifically about the complicated relationship between ASG, its customers, and its competitors. Dibkey said that he's confident ASG can continue to navigate those issues and win business on the merits of their products. He said, "What will carry the day is delivering the best products with the best customer experiences."
Lastly, what about those employees working for Navico or ASG? Today's press call featured all the usual assurances of an acquisition. Nothing is changing for now. Knut's team will just slide right under Brett and it will be business as usual. I've been through a few acquisitions, as a member of both the acquiring company and the acquired company, and it's been my experience that change is inevitable. Brunswick isn't spending a billion dollars to leave things just the same. But, that change usually takes longer than many expect and can lead to some really exciting opportunities.
I think this acquisition makes a great deal of sense. Brunswick has built ASG into a formidable supplier of major boating systems and adding a marine electronics company builds on that position. With Mercury and ASG, Brunswick owns companies that produce many of the major components that go into boats and has the ability to deliver innovation and integration in a way I don't think would be possible without common ownership.