Done deal, Navico never sleeps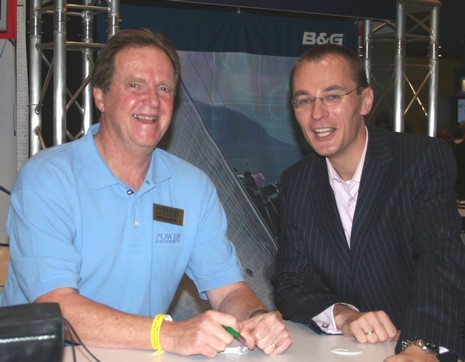 Just a month after the announcement in Miami, Navico closed its deal to buy Northstar, Navman, and MX Marine. I attended the post-announcement press conference in Miami, and even had a few words with Navico CEO Jens-Thomas Pietralla (above), but I really don't know how this marine electronics conglomeration will play out. I did hear Pietralla say that he is not terribly concerned about overlapping brands, though the brands may become more "focused". I'm guessing that may mean Simrad as the high-end yacht (and commercial) brand, costarring B&G particularly in sail, then followed by Northstar, Navman, and Lowrance as you move toward smaller yachts or further inland. But there's also a promised sharing of technologies, not to mention differences in national tastes and distributing operations, and the unexplained "supply agreement" with Brunswick, to factor in.
I note on the press release that Navico claims 2,800 employees globally, with revenues of close to 350 million dollars, and, besides its headquarters in Lysaker, Norway, it has development and manufacturing facilities in Egersund; Støvring, Denmark; Romsey, UK; Acton, Massachusetts; Tulsa, Okalahoma; Torrance, California; Ensenada, Mexico; and Auckland, New Zealand. Wow. What do you suppose this around-the-clock operation will mean to electronics?