Navico Broadband Radar, beta demo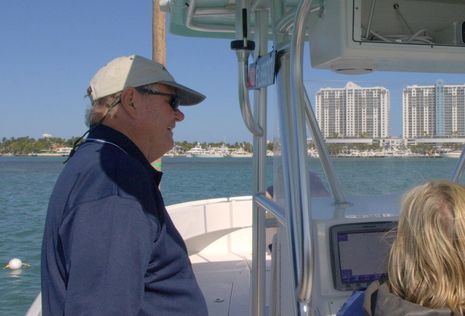 It's a lousy photo (even clicked larger), but amazing once you understand it. Notice the piling somewhat hidden behind Navico Broadband Radar engineer Don Korte and right off the bow of yesterday's demo boat. Then check out the screen of the Lowrance HDS 10 slightly obscured by my new colleague Chris Woodward (who writes for Sport Fishing). It's delivering a clean target plot of the piling less than 30′ from the 18″ scanner dome! I saw this sort of extraordinary near-range performance all over Biscayne Bay yesterday. The little scanner easily resolved a quarter mile string of channel pilings like this one, and all the boats using the channel, and it separated a 40′ sailboat close to a low shore over a half mile away. And that was all in complete auto mode; with a little tweaking we could sometimes see crab pot buoys like the one lower left in the photo, or gulls sitting on calm water.
Chart radar overlay isn't implemented in the HDS series yet, but purportedly will be when Broadband Radar actually "ships in Q2." The overlay is working in Simrad NX series, as seen below, but the planned Marpa feature isn't yet (the less expensive Lowrance BR will not have Marpa). In other words, what we saw yesterday was beta BR. Also missing was Interference Rejection, the ability to ignore the pulses of regular magnetron radars, and we did see some noise spokes when near some running yacht and ship scanners. While a technical paper at Navigate-us.com suggests this is a real issue for FMCW solid state radar, Don Korte says the Navico team is very close to delivering excellent IR.
Unfortunately it was quite rough for small boats outside the Port of Miami yesterday and so we didn't get to see how Broadband Radar handled real sea clutter or how well it targeted ships and boats at distance. The 6, 8, and 12 mile ranges seemed OK, but I'd like more time with them. That said, near range high performance is indisputable. The clean, informative target overlay below is at about 1 mile range, and it stays good all the way down to 1/16th mile range (aka 400′) and even never-seen-before 300′ and 200′ ranges. When we drove up tight canals we could easily see details beside the boat and well ahead of us, and even individual moored boats around the corner. I have no doubt that BR would be a very useful tool for, say, working my way into Camden Inner Harbor (see the header photo) in the thickest of fog or darkest of night.