VesselVanguard Integrates Telematics Data with Digital Boat Profiles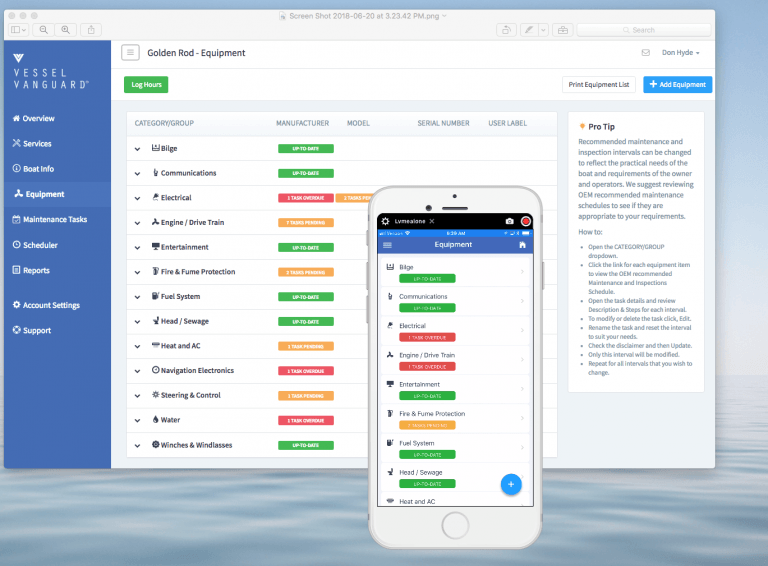 Reston, Va. – VesselVanguard, the leading customer experience management platform for manufacturers and boat owners, announced today full integration with the Boatrax IoT gateway. VesselVanguard in collaboration with Boatrax, a Miami, Florida-based telematics services provider, have created back-end connectivity to process data from any IoT or telematics gateway. This solution simultaneously informs the owner and designated service providers of suggested next steps based on OEM recommendations factored within each digital boat profile.
The core functionality of the VesselVanguard cloud-based application is the automated delivery of pre-programmed maintenance instructions conforming to time-driven intervals recommended by the OEMs. By applying telematics data within the full context of the entire boat profile, greater value will be realized by each party to the boat ownership experience. This eliminates guesswork, provides meaning to given data and informs users of what tasks are ahead. Further, OEM recommended benchmarks established within the VesselVanguard profile can now be analyzed against known performance variables to suggest abnormal performance or potential failures.
"With the development of communication protocols like NMEA 2000, the quantity of data available is unimaginable but how to use that data is not always understood," said Arturo Malave, CEO, Boatrax. "It's without question that the value of a telematics solution on your boat, to tap into that data, is incomparable. This integration with VesselVanguard is vital to help translate data into actionable next steps for simpler boat ownership."
"This is a big step towards creating a more simplified boat ownership experience that is now expected by the emerging boat buyer demographic," said Don Hyde, CEO, VesselVanguard. "This new integration achieves a cohesion between OEM recommended maintenance intervals and actual on-water experience by translating the information into plain language. We are providing a solution that goes beyond IoT gateways and algorithms and focusses on making the data useful to everyone in a boat's ecosystem."
Designed to facilitate an informed post-sale relationship for boat builders and customers alike, VesselVanguard removes the complexity of owning and maintaining a vessel. This solution meets the information needs of today's busy lifestyle by giving boat owners a secure and comprehensive boat profile accessible from the cloud – anywhere, at any time, by browser, tablet or smartphone. The profile contains all manuals in searchable form with current updates, warranty data, registration and insurance documentation organized to the preferences of the owner. With the new IoT integration, VesselVanguard profiles are automatically updated with equipment hours, operating cycles, and other data collected from NMEA connected systems. Data is factored within the context of OEM recommended intervals for maintenance and inspections with task alerts and other notices composed and delivered to associated service providers. Boat manufacturers in partnership with VesselVanguard have oversight of real-time activities and the option to take pre-emptive action to support the customer experience. Data received is saved in boat history for reference at any time. Complete operating histories are created with little to no reliance on owner input.
For more information on VesselVanguard please visit  www.vesselvanguard.com. 
This press release distributed by Rushton Gregory Communications