Where'd the watts go? Inverter/charger conversion losses mount up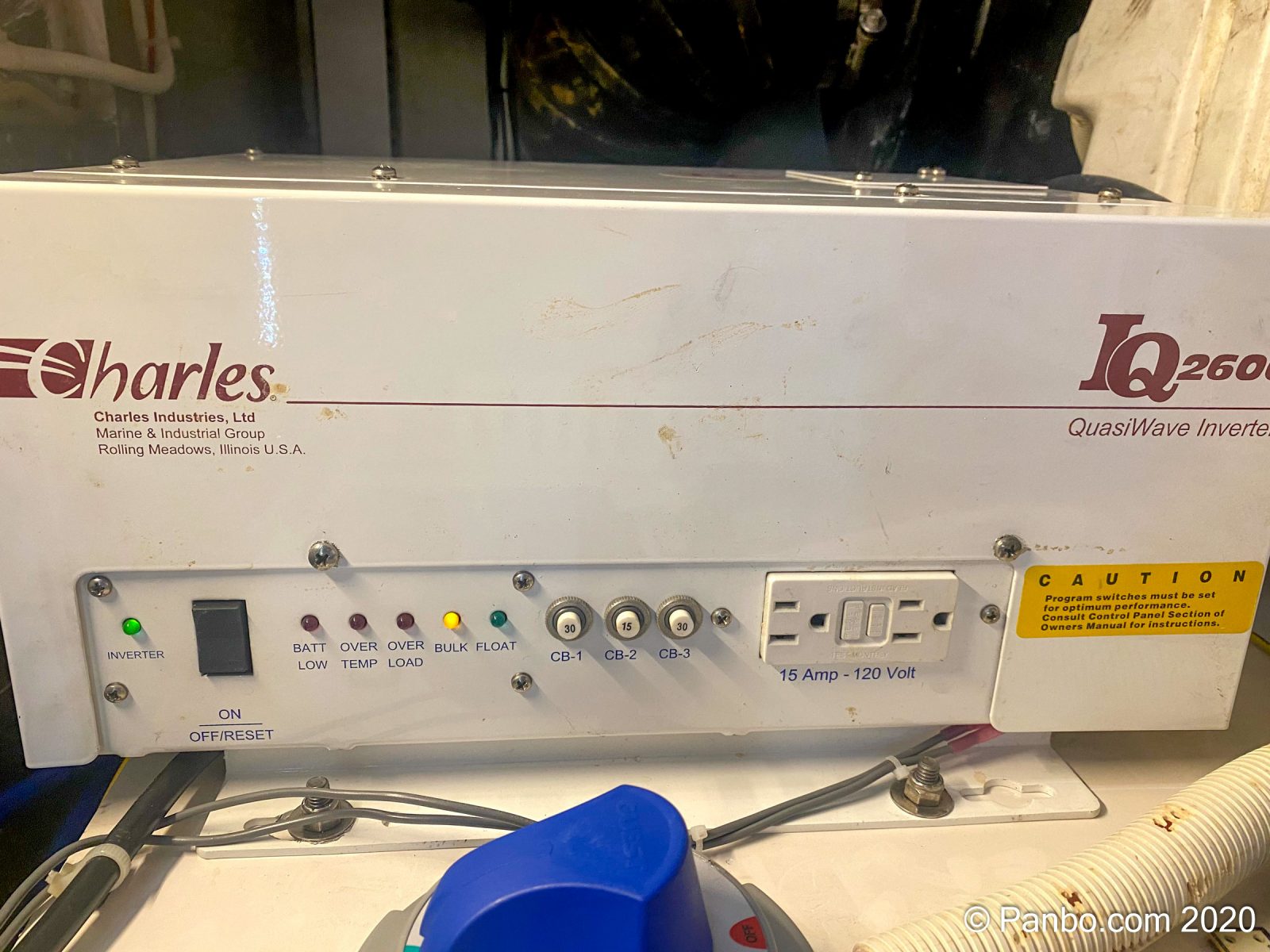 I'm getting Have Another Day ready for a pretty major upgrade from her current flooded lead-acid GC2 golf cart batteries to a MasterVolt LiFePo4 lithium iron house bank. There were a few surprises along the way — including this weekend's discovery that four of the recently checked GC2 batteries were nearly bone dry — but the one I'd like to discuss today is the large apparent conversion loss just found in my boat's 18-year-old DC system and specifically the inverter/charger.
Preparing for the lithium house bank requires replacing the Charles Industries 2600 Watt quasi sine-wave inverter/charger with a new MasterVolt CombiMaster 3000 watt true sine-wave unit. The Charles (actually made by Vanner and still available today) was original equipment on the boat when it was built in late 2002. So, it's lived a good life and given me a lot of good service, however, since it doesn't have LiFePo4 charge profiles it's time for an update. But, before I removed the inverter I added some metering around it so I could understand how it was performing and then compare it to the CombiMaster.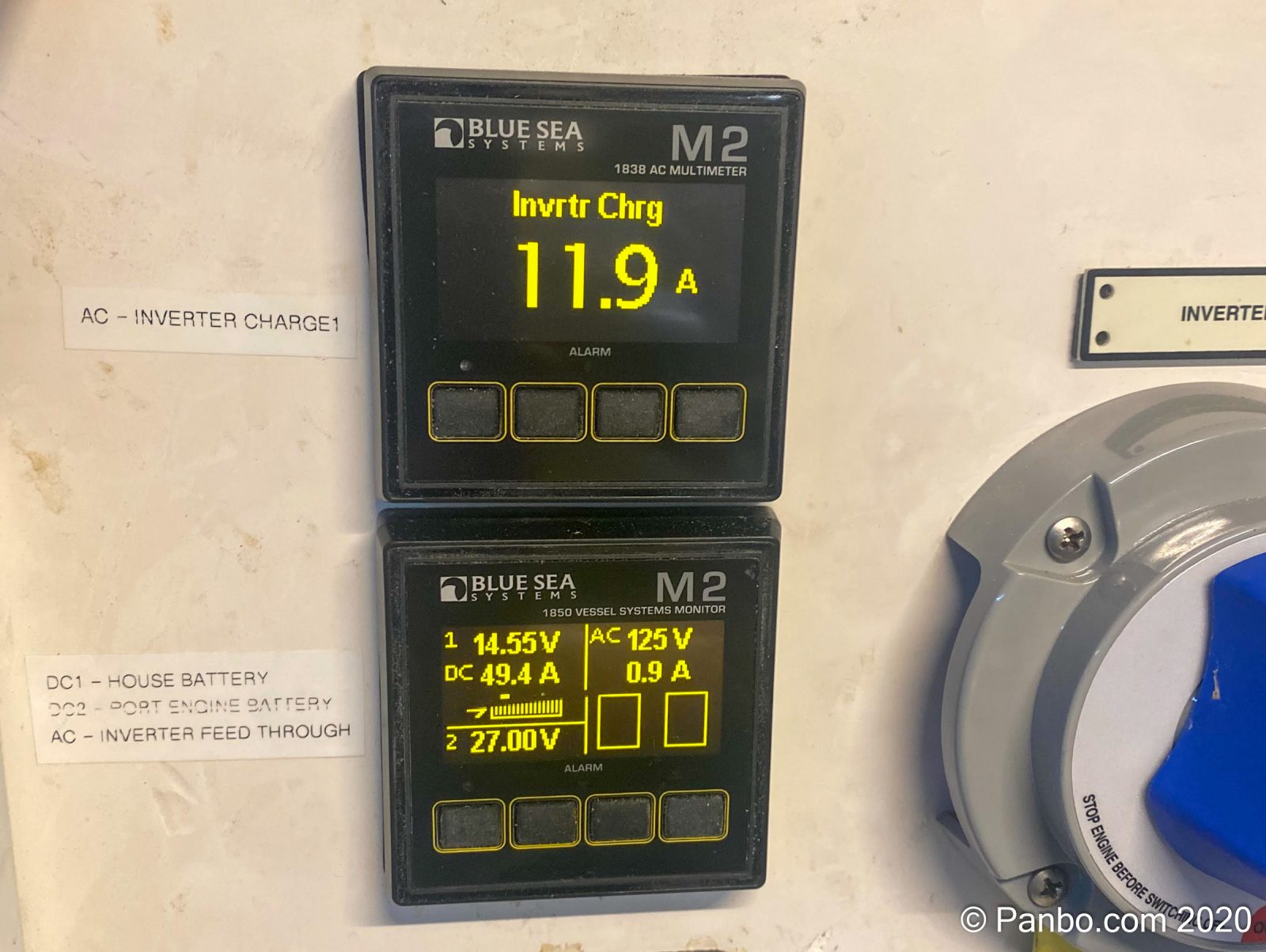 But, before I got the chance to compare the results between new and old inverter I found a surprising amount of electricity seemingly missing. As part of my DC refit project, I added the two meters in the pictures above to better understand power in and out of the inverter/charger. The top, Blue Sea Systems 1838 AC Multimeter, is being used to monitor the current going into the charge input of the inverter. The bottom, Blue Sea Systems 1850 Vessel Systems Monitor, is monitoring the feed through input of the inverter as well as the voltage and current consumption of the battery bank attached to the inverter.
You might be wondering why there are two AC inputs on the inverter/charger. For inverter only models, there was only one input, for inverter/charger models a second (optional) input is added. The second input is a dedicated charger input.
What we see in the photograph above is that the inverter's charge circuit is consuming 11.9 amps of AC power. Anytime you're comparing electrical readings of different voltages it's helpful to convert everything to watts because one amp at 12 volts isn't the same as 1 amp at 120 volts, but one watt is always one watt. To do that, we multiply amps (11.9) times volts (125 as can be seen on the right side of the bottom meter) to arrive at 11.9×125 = 1,487.5 watts. So, that means the inverter is consuming just under 1,500 watts to produce 49.4 amps of DC power. We can see on the left side of the bottom meter that 49.4 amps of DC current is going out the inverter's DC output at 14.55 volts. To convert this to watts we will again multiply amps by volts or 49.4×14.55 = 718.77 watts.
In summary, that means the inverter is drawing roughly 1.5 kilowatts to produce roughly .7 kilowatts of DC power. Doing the subtraction shows that we're losing 768 watts somewhere. But where did that power go?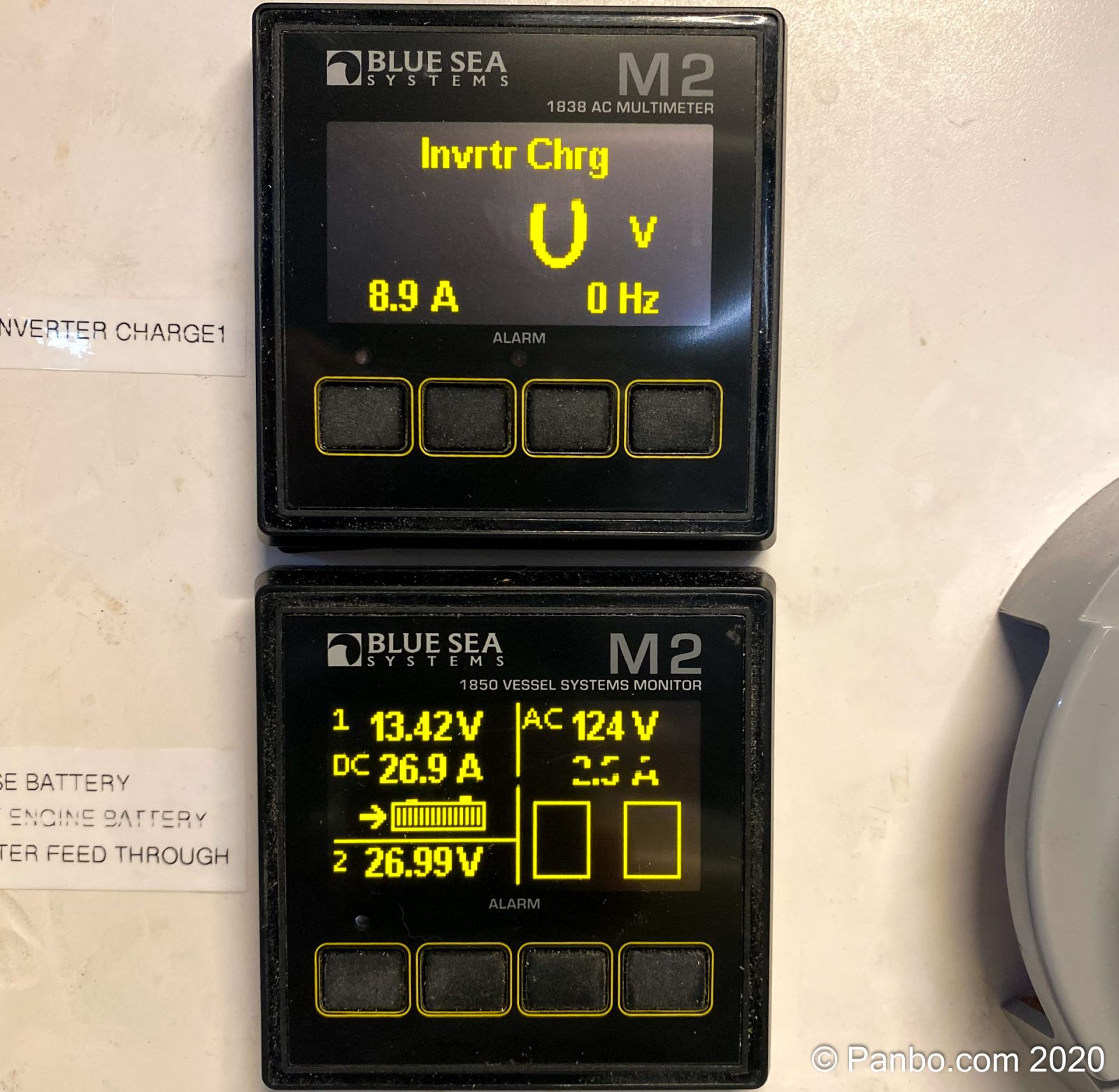 Could this be right? Is the inverter really wasting 700+ watts of power? Well, I checked again after letting the batteries charge back up to see if the losses might decline. Maybe the amount of loss is a function of how much charge is being generated, right? This time we have 8.9 amps coming in at 124 volts for 8.9×124 = 1,103.6 watts and we're outputting 26.9 amps at 13.42 volts for 26.9×13.42 = 361 watts. 1103.6 minus 361 is 742.6 watts of power lost. So, that's pretty darn close to the 768 we saw in the first calculation. So, no, it doesn't look like loss is a function of how much charging we're doing.
But really, where is all that power going? The short answer is, I don't know. I suspect much of it is going to heat. The cooling fan almost always runs on the inverter but, damn, 750 watts of heat is a lot of heat. Take a typical 1,500 watt space heater on half power and that's how much heat we're talking about. I'm surprised I hadn't noticed this before.
Now, let's look at that roughly 750 watts of power from a financial perspective. I've previously whined about my electric bills and this might help explain some of this. I currently pay $0.14 per kilowatt hour of electricity; 750 watts is .75 kilowatts, and if we assume we're wasting .75 kilowatts 24 hours a day that's 24x.75 or 18 kilowatts a day wasted. At $0.14 per kilowatt that's $2.52 a day in wasted electricity or $78.12 in a 31 day month wasted or $919.80 in a year. That's real money! If the new inverter is more efficient it's likely it will save more than it costs in a little over a year just from less waste.
Now, dear readers, let me ask you what I've missed? Is there somewhere else the power is going? Some factor I haven't considered or a logical detour I've taken? I'd love to hear if others are surprised by the amount of waste or if this is a well known fact I've just missed. I fully expect there will be conversion losses as we move from 120 volts to 12 or vice-versa, but not on the scale I'm seeing.
Next up on my installs will be the new CombiMaster inverter and its control system. Once that's installed, I'll have a better idea of the savings I might get from a newer, more efficient inverter.