18″ radomes #4, the wet edition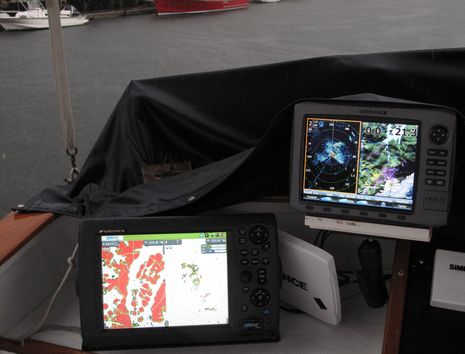 Things didn't work out as hoped for yesterday — via Nexrad the rain cells appeared to dissipate well to the west, and then when it did pour unexpectedly (the Camden Hills really limit our western view here) I wasn't ready to get underway — but I did get a taste of how the four 18-inch radomes handle precip, and I did get wet. It seems to me that radar should ideally do two somewhat contradictory things in rain: cut through it to show real targets, but also show distant cells so you might maneuver around them. The Furuno DRS2 did quite well on both counts…

Of course it helps a great deal that the Furuno UHD can show two completely independent ranges at once. (This is a terrific feature for many uses, but note that the DRS2 retails for $2,600). Rain clutter is in auto mode on the left side of the screen below, and the target imaging is almost as good as it is in clear air. (Note that the DRS2 has a .0625nm range — aka, 1/16th, or 400′ — which is only seen otherwise on the BR24, though it doesn't seem to resolve targets at that near range quite as well as the Broadband.) On the right side, at 8nm range, the Furuno clearly targeted islands behind me at 4 and 8 miles (the long low views in other directions are fairly blocked in Camden Inner Harbor) and picked up a bit of the cells behind the hills at 2-5 miles ahead of the boat. That was in auto mode; here, I'm tweaking Rain clutter to show more of the heavy precip cells, which show nicely in green. With this technique I was able to watch that rain move past me and all the way to North Haven, the red target 8 miles behind. Pretty amazing for a 2.2 kW radar whose scanner is less than 17″ long, what?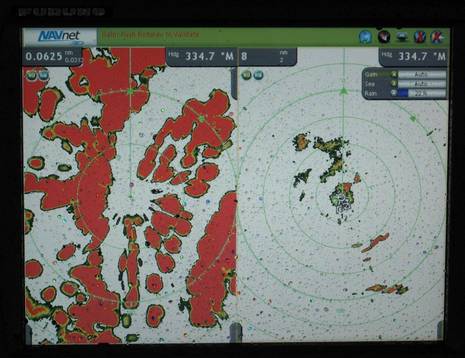 The Navico BR24 also did a good job of seeing through rain at very close and medium ranges in auto mode. In fact, I had to fool with the Rain Clutter control to see rain at all, though that didn't help much beyond a few miles, at least in this confined location.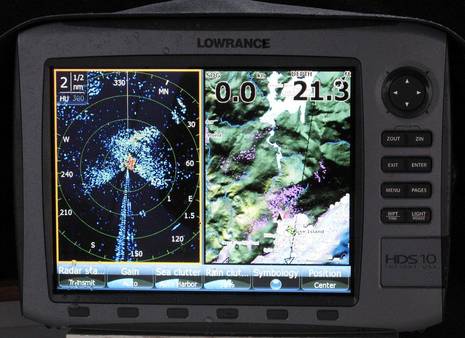 The Garmin GMR 18 HD also cut through the downpour well at close ranges, but I was a little surprised when I ranged out to 8 miles, as seen below. The photo is poor, but it really did seem to have trouble filtering out the rain without manual tuning and then it seemed to lose some real targets too.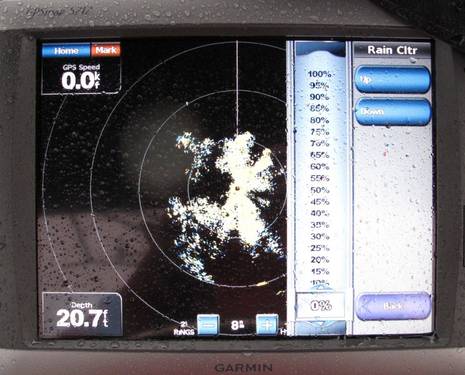 I only got a few minutes with the Raymarine RD418D, due to some power issues (probably of my own doing), but it seemed to image the rain cells well at distance. Obviously this was a limited and tentative test of the radomes in rain, and I strongly caution against drawing major conclusions. But it sure is looking like Furuno managed to pack a heck of a performance/feature mix into the wee DRS2.