5MileWiFi, first impressions & a conundrum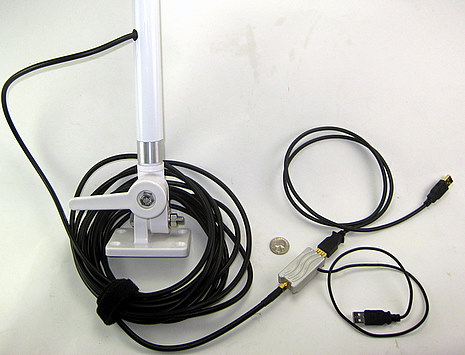 So I've been testing two marine WiFi systems. First up is newcomer 5MileWiFi, pictured above. Its heart is in that little machined aluminum case which delivers Internet to your PC via that main USB cable, also used to get some of the power needed to run what's claimed to be a 1,000 mW WiFi transceiver. The side mounted USB cable is just for added power and can go to your PC or any other USB power source. The $399 package also includes 25' of LMR240 coax and a 38" high 9 dbi omni-directional marine WiFi antenna.
Finally, there's a CD with drivers for most every operating system. Everything went together easily and, by golly, the tiny box pulled in a heck of lot more signals than the WiFi built into my laptop. In fact, it seemed to have about as much range as the Port Networks MWB 250 system I tried alongside it (which is more expensive, but for good reasons I'll discuss soon). However, I did encounter a conundrum.
Both WiFi systems acted like pretty normal high-power WiFi systems in my lab and about a block away. That is, they saw lots of access points (APs), some open and some secured, and when I tried to access the unsecured ones, some got me onto the Internet and some didn't. That's the life of a WiFi mooch! But down on the edge of Camden Harbor, things were different. I could see lots of APs—as seen in the Network Stumbler screen below, bigger here—but I could not get the Internet on a single one. Rumor has it that the local commercial provider, Abacus Technology (three APs in sight), is using gear that somehow prevents other APs from completing a connection. I don't understand how that could work (anyone?), but will just note how frustrating it would be to see so many potential hot spots and not be able to get online. I've never experienced quite that situation before, but certainly understand why many cruisers have turned to cellular data plans (even if it's rarely as fast as WiFi).
At any rate, I do think the 5MileWiFi system pretty much lives up to its claims, except I dare say the "5 miles" is very rare and I'm a bit dubious about the claimed power. For one thing, Port Network's MWB 250 only claims 500 mW and got all the APs 5Mile did (and better thru-put), and for another it looks like another company is selling the same transceiver but calling it 2,000 mW, and 4,000 combined with a dinky antenna. As I also saw with RadioLab's WaveRV, there seems to be a variety of ways to rate WiFi power.