ActiveCaptain gets busy, & international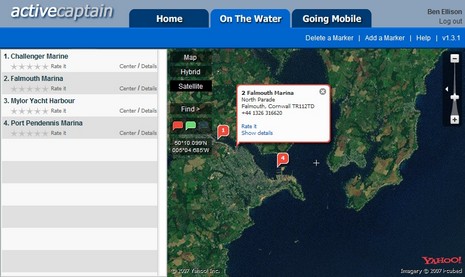 I'm pleased to hear that ActiveCaptain, the "Point of Interest bomb!", is active indeed. Yesterday developers Karen and Jeffrey Siegel announced that the free site now has over 9,000 marinas and almost 1,000 anchorages, with 35,000 updates and 1,000 reviews from some 2,000 registered users. (And, by the way, hats off to our own frequent commenter "b393capt", who is the second most prolific "Active Captain"). You can see the informative results of all this activity if you register and scan the U.S. coastline, and pretty soon the Siegels are going to add a "Local Knowledge" marker meant for favorite restaurants, hikes, uncharted shoals, etc.
Plus ActiveCaptain is going international. Already, for instance, there's seed information for 500 marinas in the U.K.—as in Falmouth, Cornwall, above—ready for you Brit Panbo readers to elaborate on. Please do!