Airmar CS4500 Part I (Reliable Boat Speed)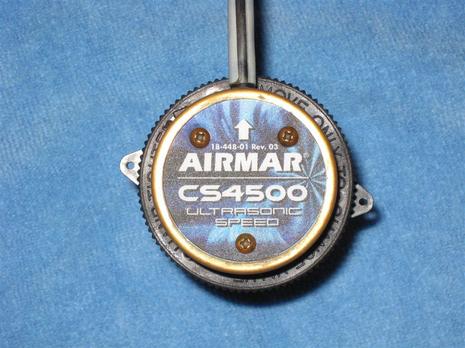 Guest Entry by Dan Corcoran —
Following up my earlier evaluation of the Airmar Ultrasonic Weather station here on Panbo (actually there is more to come), I have another Airmar ultrasonic product to tell you about. It's the CS4500, an ultrasonic boat speed sensor that I've been using for the past three years, and I'll be covering it in a three part series.
At first, I couldn't come up with much to write about this product, mainly because once installed, it's easy to forget. Not forgotten, however, is the painstaking monthly, if not weekly, cleaning ordeal of the venerable paddlewheel along with the resulting mess caused by exposing the inside of our boats to a temporary but explosive ingress of seawater.
Since I have not done this for three years, I had to go look up what is the state of the art for cleaning paddlewheels. I recall using a pointed scraper from my soldering kit for partial cleanings through the summer, and on sailing anarchy I found people who go as far as removing the pin to dip the paddle wheel part itself in vinegar and others that coat it with VC17 (to extend time between cleanings). DDW wrote "the best way is to scrape it clean, very carefully buff it, then store it permanently under your bed at home. That way it stays nice and clean and accurate." With the CS4500, that's history because I coat the CS4500 with anti-fouling paint at the start of the season, install before she is splashed in the spring, and remove it after she is hauled.
As illustrated in the picture below, the CS4500 uses two ultrasonic transducers to detect the movement of water without moving parts, replacing the paddlewheel sensor with a more highly accurate measurement of boat speed which is maintenance free. The ultrasonic process is necessarily different than the PB200 ultrasonic wind measurement that I reported on earlier this year. With the CS4500 there are two ultrasonic sensors, forward and aft, which use pulses to collect echoes from small particles in the passing water. The time it takes for particles to transit between the two sensors are measured and used to calculate boat speed.
I imagine the no maintenance aspect is the main benefit for power boat owners but for sailors such as myself, that's not even the best part.
On sailboats, cleaning a paddlewheel isn't nearly as much of a hassle compared to leaving the dock and then finding out it needs to be cleaned. Generally, it's too late at that point, and you're stuck with an inaccurate boat speed if there is any current under your boat, or if you have no GPS to lean on, you have no boat speed measurement at all.
Working in reverse, the number two benefit of the CS4500 is that I always have a reliable reading of boat speed. This includes reliability at very low velocities when only the most recently cleaned paddelwheels will report boat speed. It's not unusual to be tied at the dock, and see boat speeds of just 0.10 knots.
The number one benefit is the reliablility in true wind angle measurement, which I will report on in Part II of this series, made possible by an accurate boat speed measurement (CS4500) combined with an accurate apparent wind measurement (PB200). It is useful to the entire range of sailing activities such as day sailing, racing, coastal and ocean cruising.
In Part III, I will touch upon mating the CS4500 with a Raymarine ST70 speed pod and behold, the result being an even more accurate and NMEA2000 compatible STW source!