AIS, raves & rants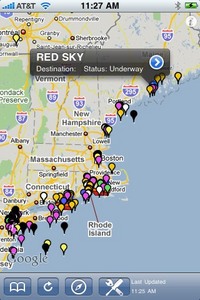 The iPhone AIS app Ship Finder got updated a few weeks back, and darned if it didn't add a large Eastern Seaboard feed that even includes the Penobscot Bay listening stations set up by the local pilots. That feed hasn't been public for some time, and I'm tickled to have it in my pocket, even if the data is delayed an hour. Ship Finder is improved in several other ways, too, and has become one of my favorites. Red Sky, incidentally, is a handsome 30m Swan that's been hanging around Camden this summer. Now I know she's at Lyman Morse in Thomaston, which is near enough to the Rockland listening tower that her 2 watt Class B transponder gets picked up. The same tower doesn't see even 12 watt Class A's in Camden, largely because of the hills, but if I get down the Bay next week (hoping), maybe I can engage in some AIS-style navel gazing? And, now, for more serious matters…

Last week I attended an NMEA seminar on AIS. It was largely about installing and maintaining Class A transponders on mandated ships and was led by two gentlemen who have inspected radio equipment on thousands of ship bridges. When asked about the 'rumor' that ships were filtering out Class B AIS targets, they literally guffawed. An "urban legend" one said — that's "not gonna happen" — which corresponds to my research into the latest IMO bridge display regs. But I know the filtering meme is still out there, and is paired with the flawed notion that even a channel switching AIS receiver is good enough for recreational boats.
I was disappointed to see Tim Flanagan at NavaGear make this case recently, writing that though he carries a Class B, "nobody
really cares where my boat is" and that "about 99 percent of the real-world AIS utility I have experienced so far comes from reception," which can be had from a receive-only unit "purchased for less than $200" versus "the
more expensive Class B AIS units, which cost about $1,000." It's great that Tim is encouraging AIS use, but gosh there's a lot left out of his analysis. Plus, it's just not true that Class B costs $1,000. Here's an ACR Nauticast B for $729 and here's a Digital Yacht AIT250 for $699. Both come complete with both VHF and GPS antennas, can supply alternate GPS to some PC charting programs and plotters (not all recognize the messages), are built and tested to high specs, and listen to both AIS channels simultaneously. None of which can be said for the $189 Smart Radio SR161 lauded at Navagear.
Besides, we're in transition. Class B AIS has been legal in the US less than a year, and there aren't many out there yet. Yet I saw quite a few in Maine this summer and am sure there will be more next year. Plus the USCG will soon mandate B on thousands of commercial vessels that frequently share coastal waters with us. Shouldn't we anticipate that B-to-B AIS usage will increase a lot? And shouldn't AIS shoppers be aware that Class B vessels only transmit position data every 30 seconds on alternate channels, and hence single-channel receivers like the SR161 will only plot a B target every 60 seconds at best?
I also think that AIS attitudes will change. Once we get beyond the it's-all-about-ships phase, won't it start seeming odd that some boats are full participants in the Identity System while others of similar size just listen? I was struck by a story Bruce Kessler told when he arrived this Spring. That day Spirit of Zopilote was hailed by name in thick fog, so as they spoke on the radio, Bruce started looking for a corresponding nearby AIS target. Eventually he identified their radar target and the crossing situation was resolved fine, but he said the other vessel sounded a bit ashamed when confirming that they were just receiving AIS, not sending it. Think about being on the receive-only side of that conversation. Doesn't the subtext go something like this: Thanks for broadcasting your position so I can see you plotted on my chart and easily call you on my radio; sorry I'm not doing the same thing for you, but I wanted to save a few hundred dollars by only installing an AIS receiver.
But if you still want just a receiver, do consider a true dual channel model, like the new AIS200 PRO that Digital Yacht was showing at NMEA. This, I believe, is one of the super sensitive 2nd generation receivers SRT spoke of recently, and it has USB built in and will retail for $330.