AIS, this and that #1
Whereas so many of you are interested in AIS, and so many news bits keep coming in, I'm starting a "this and that" series…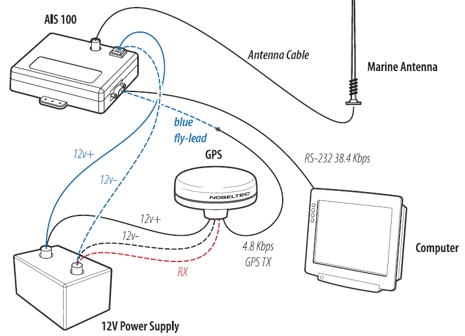 * Nobeltec has put up the best looking AIS 100 manual to date. Above is a wiring illustration, including how to pass GPS data through the AIS 100, though Nobeltec does not recommend doing so. (For them it's largely an issue of technical support, but I also understand that the AIS 100 only passes through the GPRMC data string, which may mean that you won't be able to see, say, how many satellites a GPS is receiving. Anyone know for sure? {The answer is yes, confirmed by GPSNavX in comments})
* Meanwhile, NASA has apparently changed the firmware in the AIS 100 so that it now automatically switches channels every 36 seconds, which seems like a good idea. Supposedly it is possible to update older units, but I don't know how, or where you can get the update (yet).
* Navicon, a Danish company doing a lot of AIS software development, has introduced a Java-based charting program called AIS Navigator.
* True Heading, a Swedish AIS company, has developed a splitter for sharing a single antenna with an AIS receiver and a regular VHF radio. Look in Products/Accessories. They also have a new product called Blue-Pilot which uses Bluetooth to make a Class A transponder's "pilot port" wireless. Better yet, it is supposedly able to find and correct problems in the plug installation (which are said to be common). Look in Products/AIS, where you'll also see the Smart Radio 161 single channel receiver recommended for shore use only.