AIS, this 'n' that #6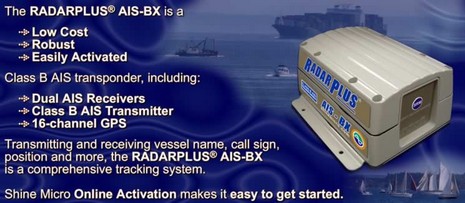 From the minutes of the 5/10/2007 GMDSS Task Force meeting, summarizing one portion of the FCC report:
Pending approval of AIS Class B Units: The Coast Guard has approved 4 AIS Class B Units and those same units are expected to receive routine FCC approval which has not yet been released, however.




What the ?!#$?&…

Who isn't in the dark about when the FCC will actually approve AIS B's? I did look up the USCG approvals and they are the SRT circuit board, the Comar CSB200, the SevenStar SeaTraceR, and the ACR Nauticast-B, all of which use the SRT innards (I didn't know that about the ACR). Understandably champing at the bit, ACR has detailed and released their product for sale in 11 countries, not the U.S., and Shine Micro is also now offering a Class B for sale outside this country. Shine's RadarPlus AIS-BX, above, seems to be a relabeled True Heading unit, which also has an SRT board (correction: it's in the same SRT-supplied casing, and thus both the Shine and True Heading Class B's are already USCG approved). But Shine purportedly makes set up easy by issuing a free MMSI, if needed, and providing online activation.
Meanwhile, boaters outside the U.S. are experiencing AIS B, with positive results. Adolfo reports that his True Heading transponder was seen at 16nm by a ship off Spain, and Swan Song in the B.V.I. says their new Comar is showing very good receiver sensitivity, and is being seen by shipping, though often without their boat name and other "static info" (a known problem). The folks on the PuP list (Passagemaking under Power) are discussing general AIS positives as well as some of the bad data too often seen coming from Class A units (like wrong heading). And Bill Howard reports this anomaly:
Had a rather unusual AIS occurrence on May 22, 2007 while cruising from Baltimore down to the Naval Academy to watch the Blue Angels practice. Fortunately is was a gorgeous day, excellent visibility. My SR161 Milltech Marine AIS receiver was cranking out AIS reports to the Raymarine E80 chartplotter as usual until about 10nm North of the Naval Academy, when the E80 started rebooting itself unexpectedly, this happened repeatedly throughout the day while I was within 10nm of a US NAVY cruiser that was anchored out at the mouth of the Severn River. After the cruiser left, I have normal AIS operations and the E80 behaves fine. Has anyone else had this experience?