AmbientNAV Alpha, & a wee rant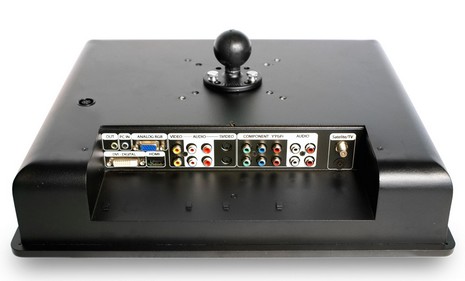 That's the hind end of an AmbientNAV 17" Alpha monitor, just announced but not yet up at the company site. Check the bigger shot to see the amazing diversity of inputs available, not to mention the sharp engineering.

Yup, that's a coax connector at right, leading to the built-in HD sat TV tuner. I don't normally get into pricing, partially because list prices often aren't reality, and partially because different folks have very different ideas about what value is. But whereas some commenters are aghast over Ray G-Series prices, I'll note that the Daylight version of this Alpha dog lists at $6,995 and the Sunlight version at $8,495. Hell yeah, that's big money, but I had the Daylight model down in the Lab for a couple of hours recently and can tell you that it's about as similar to a conventional monitor as Electra is to Ralph. Ditto for G-Series. One commenter claims that these various high bright monitors are built from inexpensive off-the-shelf components with little value added. I say, "Please, show us where that shelf is!"
Now, truth be told, I too am the sort of guy who would probably make do with a conventional monitor in my pilothouse, including fooling with gels like Milt. But I could also argue that a first class boat deserves some first class monitors. Why squint and futz, if you can afford not to? At any rate, I didn't get see the Alpha in real daylight but we did put the the lab in total darkness and compared its dimming to the E-120 and Garmin 5212. The Alpha was excellent, as is the E-120 (the fully dimmed 5212 is kinda bright but does have a night color mode). By the way, do visit AmbientNAV to see its existing monitors and its nifty Stowaway marine computer.