AMEC B600W Class B SOTDMA AIS, data multiplexing included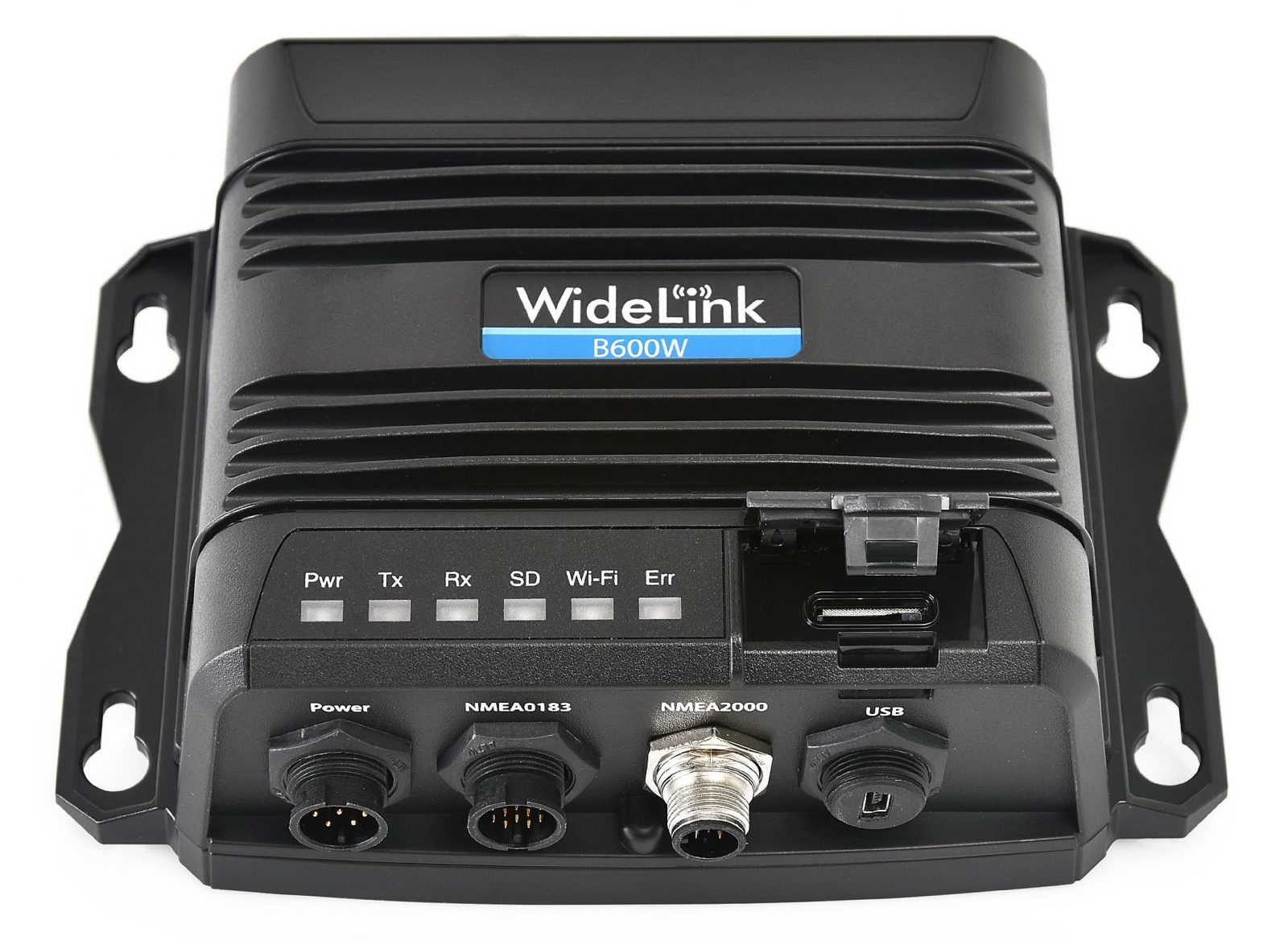 Class B AIS transceivers only became legal in the USA about 13 years ago, but they've certainly become valued equipment on many mid-size and larger recreational vessels. The Class B regulations have also improved — when the higher-power, faster-talking SOTDMA transmission protocol became a choice — and many manufacturers added useful features beyond what's required by the AIS regulations. The AMEC WideLink B600W that I recently installed on Gizmo Junior pretty well illustrates the state of Class B these days, and also includes a rare data multiplexing ability that can improve PC or tablet navigation.
In terms of the big picture, and especially for those shopping for a Class B transceiver, understand that the original CSTDMA and the newer SOTDMA protocols are both available. I explained the CS/SO differences in 2015 and back then the decidedly more expensive SO seemed to mainly benefit boats that cruise over 14 knots. But the price difference has declined to roughly $70 — according to the Class B sales list at Milltech Marine — and I've heard that some port areas now have so much AIS traffic that a SO Class B will likely transmit more frequent position messages than a CS even while the boat is moving at slower speeds.
All Class B transceivers must output target data over NMEA 0183 and though NMEA 2000 output is not mandatory, I don't see a currently available Class B without it. That's progress! A USB port is also common, both for programming the transceiver and also for delivering target data to PC navigation programs. But WiFi output for nav apps on wireless devices like iPads is usually an extra-cost option, and thus Milltech sells the AMEC B600W for $629 while the otherwise similar WideLink B600 is $539.
AMEC also makes a WideLink B600S model which contains an active antenna splitter so that the AIS can share a single antenna with a fixed VHF radio, as shown in the diagram. But if you want a Class B SO with a splitter and WiFi, one choice is the Em-Trak B954. In fact, the eight models of the Em-Trak B9xx series offer every possible combination of CS, SO, WiFi and splitter (though not the data multiplexing I'll get to below).
At any rate, the WideLink system diagram suggests the several wired ways that AIS information can get to chartplotters and laptops (and not shown is the wireless connection to smartphones and tablets). But the reality on many boats is much simpler. On Junior, for instance, the B600W install only took the power cable and GPS antenna shown as there were already VHF and N2K cables in place from my install of a Si-Tex MDA-5, which had worked fine and is another Class B SO model that offers both WiFi and an antenna splitter. (Description of Junior's electronics makeover here.)
In the USA, a Class B AIS can only be programmed with an MMSI by a pro installer or a distributor like Milltech (their informative online form here). But a boat owner may want to use the configuration software for tasks other than MMSI entry, and I found that the Amec Windows program worked fine with my laptop connected by USB cable to the transceiver. (There's also a Mac version of the config software, but no configuration or firmware updates by WiFi, as Vesper has offered for several years).

The screen seen above left shows how I set up the B600W's WiFi access point. No password seemed needed with Junior's simple electronics system, and the little boat also lacks its own WiFi system the B600W could have joined (though I like how Amec illustrates the difference). Also shown is the default IP address (192.168.2.1) and port number (3333) that most nav apps will need to find the transceiver's stream of AIS and boat data (which are also in the manual). But you're not going to get boat data like Depth, Heading, and Wind unless that righthand main configuration page is set up correctly.
Amec barely mentions that "Enable NMEA converter" software switch in the B600W manual, it's unchecked by default, and that whole "Advanced Configuration" section is hidden by default! But Milltech clarifies the situation in its how-to about getting the B600W WiFi data to work with the Navionics app, and that app is a particularly good example of how useful "converted" boat data can be. Assuming that Depth is on your boat's NMEA 2000 network, Navionics Boating connected to WideLink B600W WiFi will not just show water depth — as well as the transceiver's accurate GNSS position and AIS targets — but collect the depth data for Navionics' community SonarChart system.
It's slick to have a mobile nav app fully accessorized with boat sensor data, and the technique Amec uses works with many apps. But I also think that the feature confuses many boaters and is worth a closer look.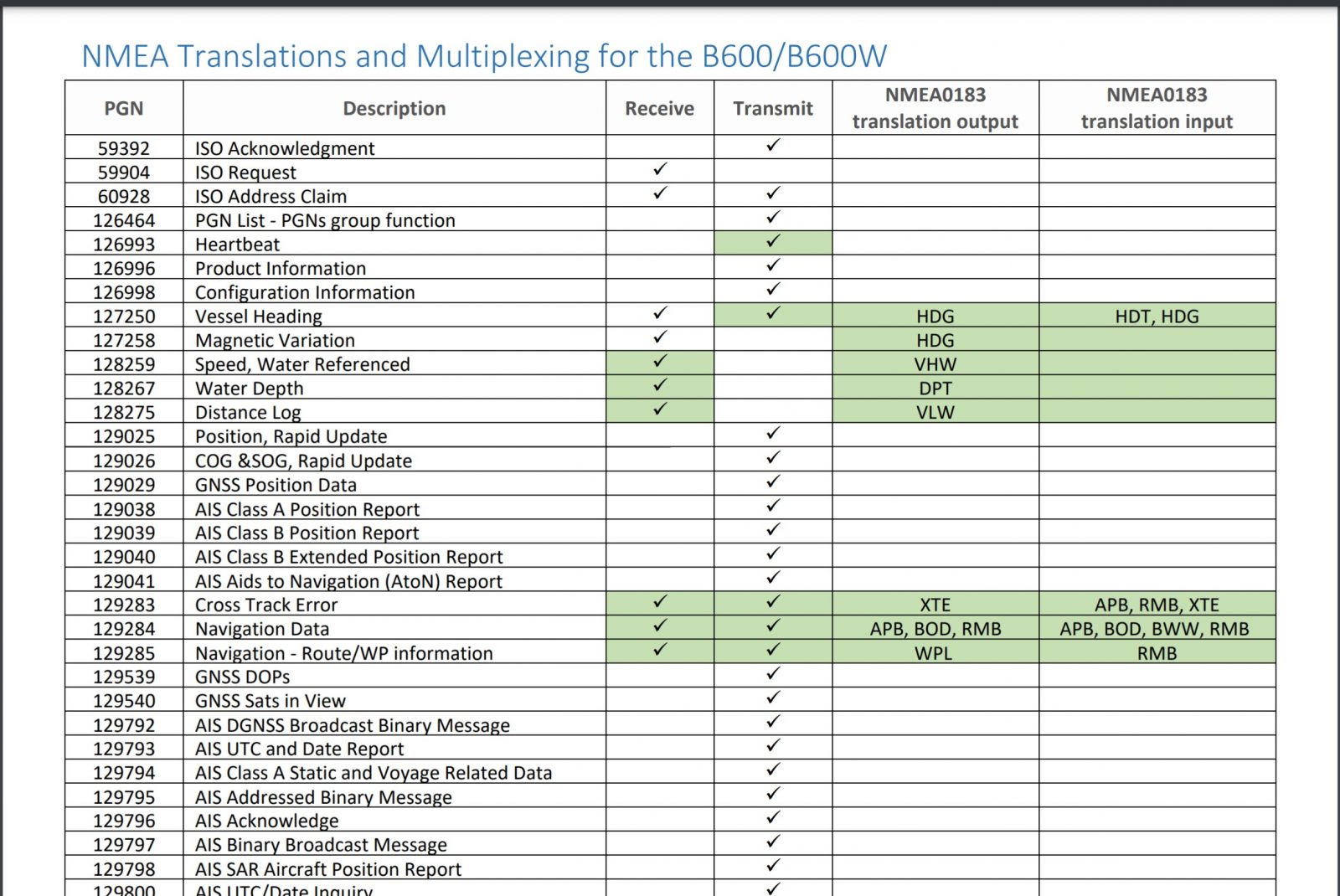 So, above is part of the "NMEA Translations and Multiplexing" list found in the B600/B600W manual available in the Downloads section of the Amec product web page. It's organized by NMEA 2000 PGNs (Parameter Group Numbers), primarily the GPS and AIS message groups that the transceiver sends out on the boat's N2K network. But note that several unrelated PGNs like Water Depth (#128267) are received by a B600W and then translated to NMEA 0183. That's the confusing part.
There is no official protocol for networking NMEA 2000 PGNs over Ethernet and WiFi (or USB) — though it's still a promised feature of NMEA OneNet — but an informal method has been adopted by many developers. The technique is to convert the data in a PGN like Depth into the equivalent NMEA 0183 data message, which is plain text and thus more easily pushed over a different network scheme like Ethernet/WiFi and also more easily handled by a nav app.
In short, the N2K Depth PGN is translated into the 0183 DPT message and then multiplexed with the 0183 AIS and GPS messages already being created by the B600W, and it's all sent out over WiFi and USB. The same data mix also goes out on the transceiver's NMEA 0183 ports, which can used with a gadget like FloatHub for offboat monitoring and trip logging.
Besides the translations shown above, the rest of the list includes Wind and several other weather data points like Barometric Pressure. But, remember, the boat sensor info won't get translated and multiplexed unless you or the installer has set up NMEA conversion in Amec's configuration program.
Speaking of the configuration tool, I also used it to confirm that the B600W was working properly in my shop before the install on Junior. And by the same token, it can be used to check out an Amec transceiver that doesn't seem to be acting right. The Serial Data tab even shows the NMEA 0183 sentences streaming out the various ports, translations included.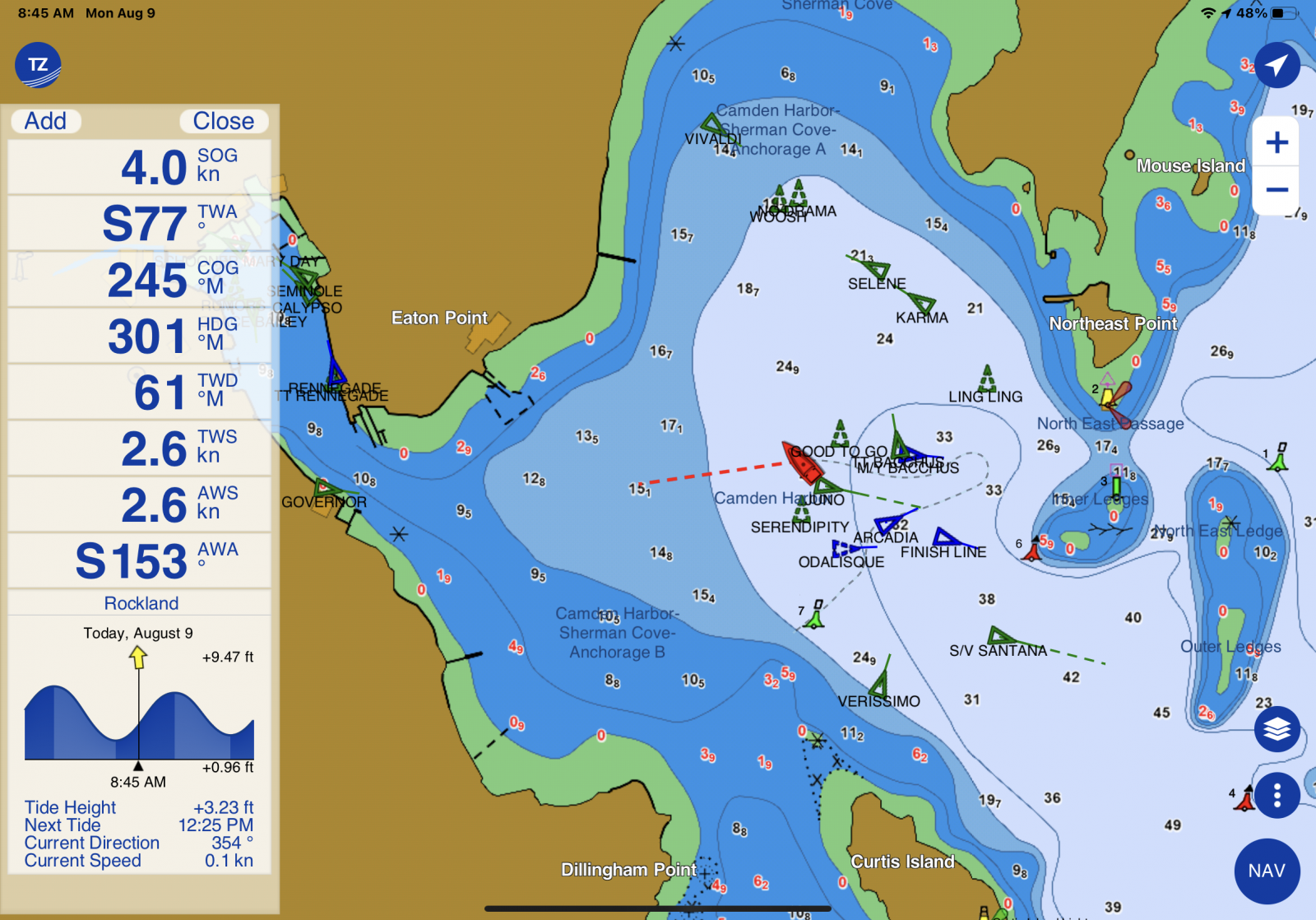 Now here is Amec's translations and multiplexing feature seen in action on my iPad. It's logged onto the B600W's WiFi access point and I'd initially set up TimeZero iBoat with the data stream's IP address and Port number (which it remembers). Junior doesn't have Depth on its NMEA 2000 network, and its Heading sensor was messed up at this juncture, but I think it's clear how a rich stream of boat data can make a mobile nav app more like a dedicated multifunction display.
To my knowledge, the only other Class B AIS transceivers able to multiplex other boat info into their WiFi and other outputs are made by Vesper Marine (and the mentioned FloatHub is fed by a long-tested Vesper XB-8000). I obviously like the feature, but there are other ways to skin the cat. For instance, companies like Actisense, Digital Yacht, and Yacht Devices make NMEA 2000 powered WiFi devices that can do the same data translations for wireless nav apps. And, to be clear, every Class B with WiFi outputs GPS and AIS info, just not the extra data from an attached N2K network.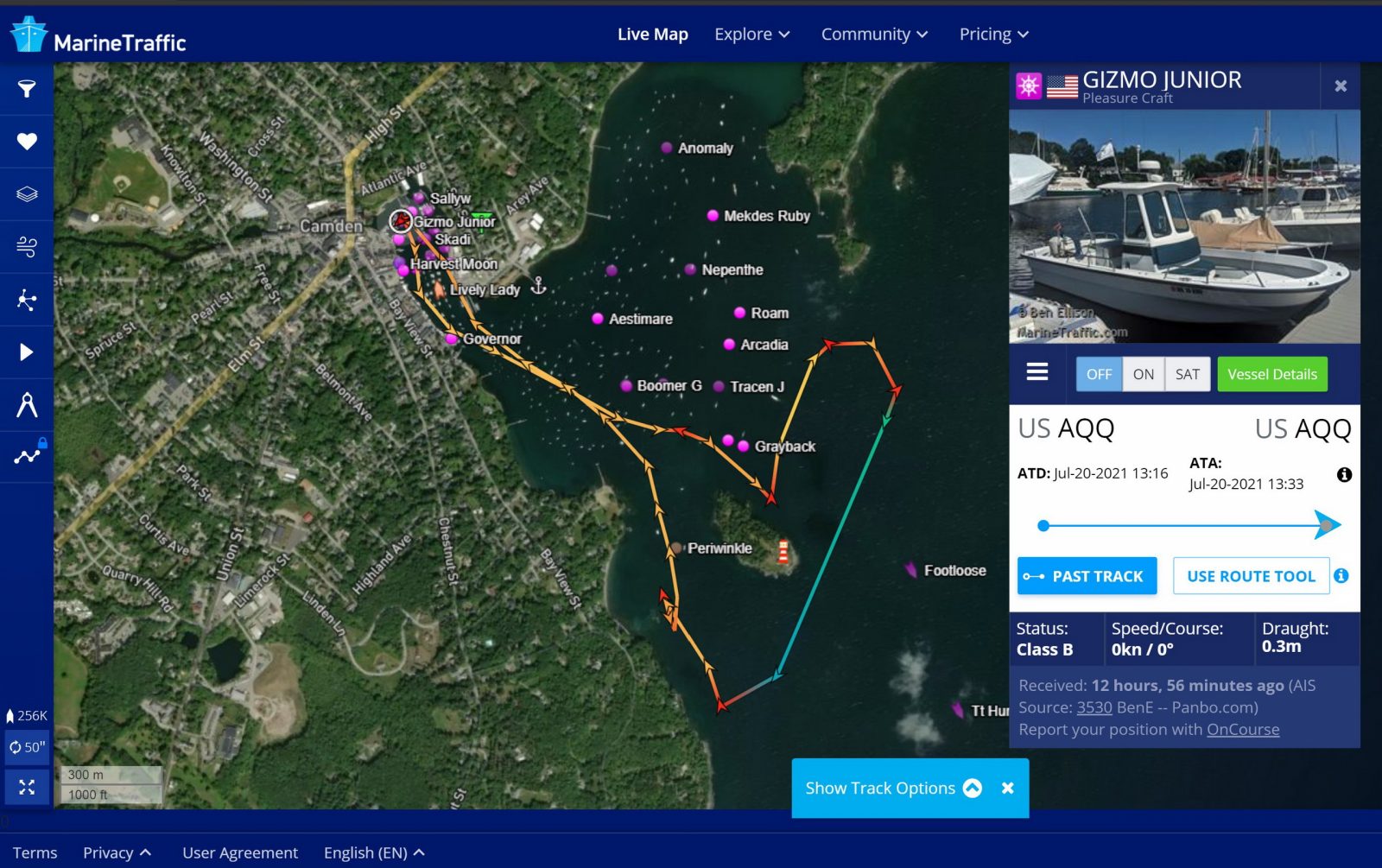 Overall, I rate the Amec WideLink B600W a solid contender in the Class B market, and especially valuable for those trying to get the most out of mobile or PC navigation apps. Plus, I think it's only slightly ridiculous to have AIS on a 20-foot boat. That track roughly shows Junior and I tending my five lobster traps in Camden Outer Harbor, and there's often a lot of traffic, sometimes masked by the moored boats, or fog. Of course I try to keep a good eye out as I maneuver about, but don't you agree that Junior's AIS presence adds a safety edge?