Aquatic AV, doing what Fusion hasn't?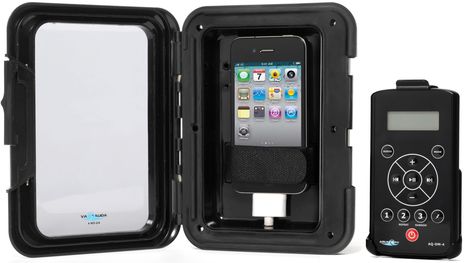 The Aquatic AV AQ-DM-4B Media Locker is purportedly so waterproof and rugged that you could install it on a Jet Ski, and though the company is relatively new to the marine world, it does have years of experience making stereos for the highly humid and harshly chemical environment around hot tubs. Plus there's a nice simplicity to a black box iPod/MP3 amp run only by a wireless remote, especially when that's a two-way RF remote capable of 50 foot range and even of showing iPod tune titles on its little screen…
Actually I haven't seen how fast and/or readable the remote is — which may be critical to how useful this stereo is for some boaters — but I was told at IBEX that a single unit can handle up to 10 remotes, including some Aquatic AV alternatives. The AQ-DM-4B Media Locker — which will retail under $300, I gather — contains 4 x 72 watts of amplification as well as a "USA/Euro" FM tuner. And note the "Lightning" button at lower right on the remote pictured above; it activates a "trigger" wire in the Media Locker harness that can directly power any device using under 350 milliamps, or a relay. Clever! Doesn't it seem that Aquatic AV is nearly as innovative with marine stereo as Fusion Electronics, only in quite different ways?…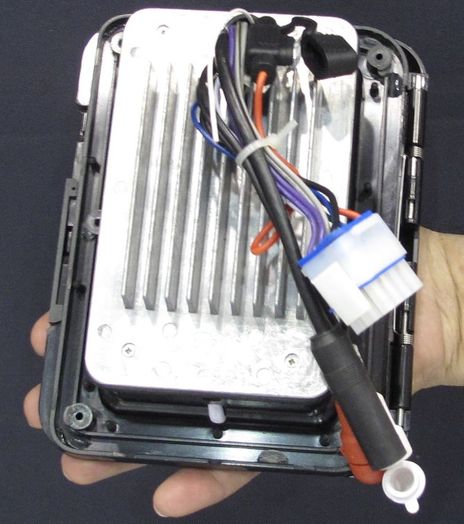 In fact, Aquatic AV also offers a stereo control head with a built-in iPod dock which is somewhat like the designs that Fusion pioneered. However, the AQ-IP-3B is dual source, meaning that a user is one zone can be listening to iPod tunes while someone in the other zone can be listening to AM, FM or Sirius radio. And I was told that the Sirius radio module is entirely built-in, so only an antenna and subscription is needed. Plus, as indicated by the upper right buttons below, this head unit supports two trigger circuits. Has anyone out there tried Aquatic AV technology?
Incidentally, the AQ Digital Media Locker and Fusion's new MS-IP700 were both selected as finalists for the DAME Award, marine electronics category. Check out the full list of new products being shown at METS, and you'll find some nice surprises!