Balmar SG200, a good battery monitor gets better
I recently judged the Innovation Awards at the International Boat Builders' Exposition (IBEX) and we selected the new Balmar SG200 battery monitor as the winner of the Electrical Products category.  The SG200 combines the goodness of the highly regarded original Smartgauge with a shunt to deliver a more complete picture of what your batteries are doing.
The first generation Smartgauge differed from almost every other battery monitor on the market by measuring a battery bank's State of Charge (SoC) using just two voltage wires.  This meant that while the Smartgauge could tell you how charged your batteries were — somehow with more accuracy than more complex current counters according to power expert Rod Collins — it couldn't tell you how much power was being used or replaced in real-time.  This lack of insight into consumption and charging was a significant limiting factor to many users.  Coupled with a very simple numeric-only display and the lack of support for lithium battery chemistries, there was definitely room for an update.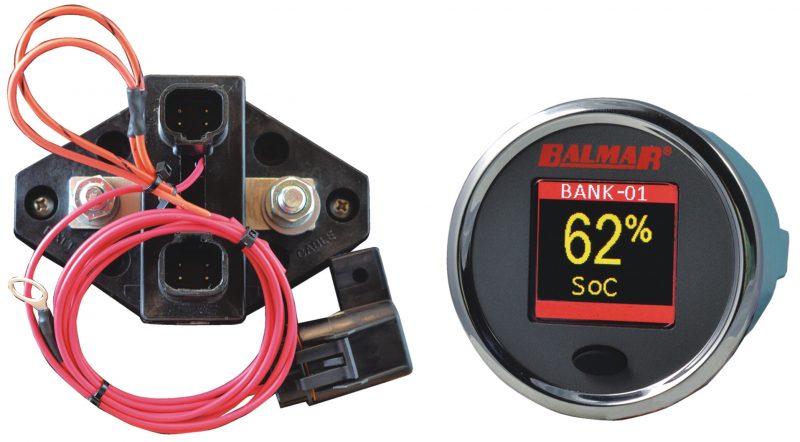 Enter the SG200.  Balmar has streamlined the user interface to a 2-inch, sunlight-readable color display.  It links to a sensor module named the SmartShunt via a 4-pin network connection called SmartLink. Since SmartLink allows the connection of 32 devices, you can monitor a large number of battery banks with displays located throughout the boat.  Each SmartShunt can also monitor voltage for two auxiliary batteries, like engine start or similar non-deep-cycle applications.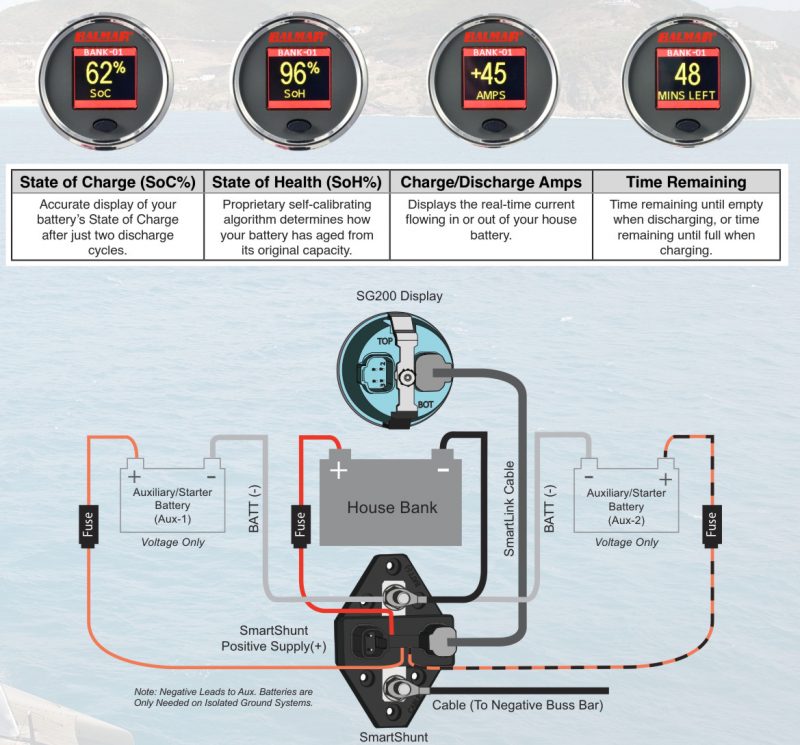 With the SG200, Balmar has begun measuring your battery bank's State of Health (SoH), which is delivered as a percentage representing the battery bank's current capacity versus design capacity.  The SG200 also reports on current consumption and total time remaining for the battery bank.  A mix of what Balmar calls active impedance compensation and shunt-based monitoring is used to deliver this level of insight.
Balmar says the SG200 can accurately measure State of Charge and State of Health for all major battery types including Lead Acid, AGM, Carbon Foam, TPPL and LiFePO4.  According to Chris Witzgall, the product manager for the SG200, it takes about three charge cycles for the SG200 to fully learn your battery bank's characteristics and be able to accurately report on its status.  Unlike the original Smartgauge, the SG200 purportedly doesn't lose accuracy while charging, and over time the system will get more accurate withut requiring calibration like typical coulomb counting shunt-based monitors.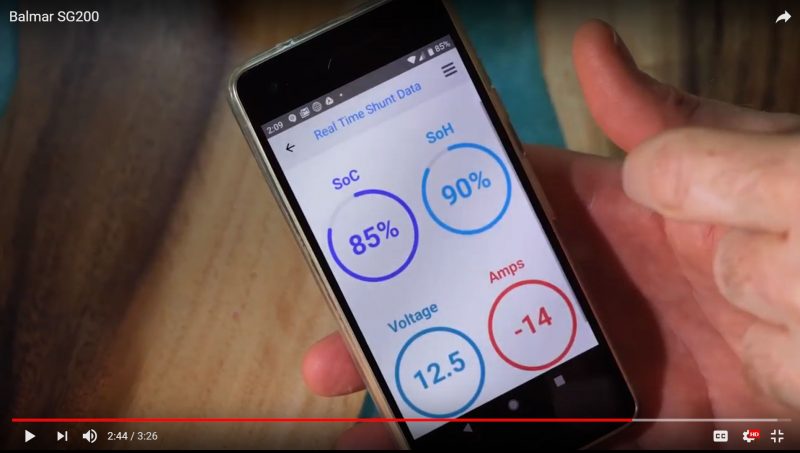 Balmar's planned options for the SG200 system include a Bluetooth gateway that will support a mobile app and a NMEA-2000 gateway that will make battery status and other metrics available on connected N2K instruments and MFDs. The basic SG200 gauge and shunt kit sells for $239 with limited availability until January, and the gateway prices aren't yet known. Balmar has put up a good SG200 video here.
I'm hoping to install a SG200 on Have Another Day soon and look forward to reporting on the monitor's ability to deliver on all the promise it shows.