Balmar MC-618 regulator with SmartLink integration, first look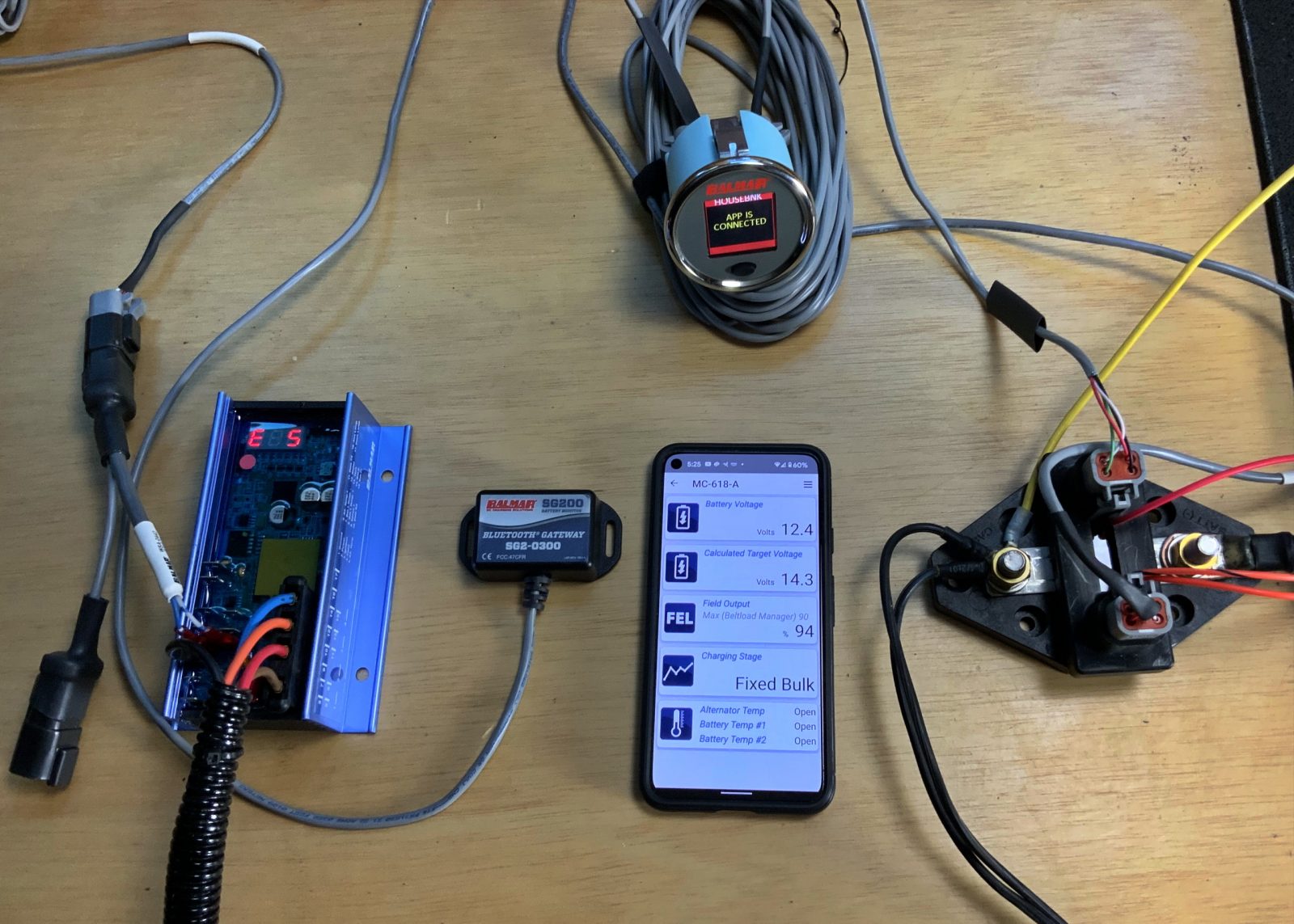 Last spring Balmar rather quietly introduced the new MC-618 regulator, but I think it's a pretty big deal and have been pleased to see how well it integrates with their SG200 battery monitoring system. While the scene above is only a bench test, I expect the 618 to work fine on Gizmo because it's essentially an update of the venerable MC-614 technology that's been managing the boat's main alternator since 2011. But configuring, fine tuning, or troubleshooting the new regulator will be a whole lot easier, plus I'll be able to see how the charging system is performing in real time. Let's tour this SmartLink network.
Balmar introduced SmartLink networking in 2018 along with its SG200 Battery Monitor, and as mentioned in Ben Stein's writeup, it can handle up to 32 devices. They could be any combination of the bright 2-inch color gauges and the 12-48 volt SmartShunts, probably plus the SG2-300 Bluetooth Gateway so you can get monitoring, configuration, and firmware updates the Balmar SmartLink app (Android here and iOS here).
Now you can add one or two MC-618 Voltage Regulators to a SmartLink network and then use the SG200 gauge or the Balmar app to monitor or configure the regulator (though the latter capabilities are quite limited on the gauge). The 618 has some other new features — like the ability to throttle down charging to LiFePo batteries near their lower temp limit, and a switchable "Force to float" — but it's mainly a 614 replacement with SG200 integration.
In fact, the MC-618 terminal layout shown at right above is exactly the same as the MC-614's except that the SmartLink TX/RX terminals 10 and 11 used to be labeled "Factory use only." So boaters (like me) who upgrade to a 618 can use the alternator harness, temp sensors, etc. already installed for a 614. Nice.
The actual SmartLink cables use standard male 4-pin Deutsch connectors to link the various devices, and Balmar leaves one end unassembled to make running the cable easier. I was impressed with how easily this connector design snaps together, and even bought a compatible plug kit so I can shorten up the 10-meter cables Balmar sent. They also offer 5m cables, or you could make your own.
A SmartLink network chain is built out using the dual 4-pin female sockets on the SG200 gauge, the SmartShunt, and the MC-618 SmartLink adaptor, and that leaves a free socket at each end for the Bluetooth gateway and/or more devices. There has to be at least one SmartShunt in the system because it supplies power to the gauge(s) and/or gateway.
And while neither a gauge nor a Bluetooth gateway is required, most skippers will likely want both as they have different capabilities and strengths. Also, the cost of a full network seems reasonable, with the street price of the four components on my test bench at about $650.
The 2-inch SG200 display is obviously quite readable, and it's pretty amazing how much functionality Balmar has squeezed into the one-button interface. But it does not have the horsepower you may be used to with NMEA 2000 instrument displays (that cost as much as this whole regulator and battery bank monitor network). For instance, the gauge can only work with one SmartLink component at a time.
So in the photo upper left, button pushes scroll through five screens of real time regulator info, and to see what's going on with the battery bank, I'd long push Exit to the device list, then scroll down to "AGMTEST" — what I renamed my single SmartShunt using the app — and long push again. (For SG200 battery monitoring screens, underlying tech, and testing see Rod Collins' Marine How To article.)
At any rate, this technique means that you're rarely stuck one-button scrolling through a really long list, and I eventually got quite comfortable with the little gauge. Plus, easily seeing the 618's real time operational status is going to be useful once Gizmo's new house bank system finally goes to work next spring.
However, I also understand why Balmar has only included two of the MC-618's many settings on the one-button interface, as seen upper right. But just changing the battery profile or the maximum field output — the two most commonly used settings — will be easier with the gauge than the built-in reed switch and the magnetic screwdriver (still included with the 618, and again well explained by Rod at How To Marine).
MC-618 configuration is a big reason why most boaters and installers will want the SmartLink gateway and app, as you are about to see.
These screens are all from my Android Pixel 5 phone, and I also tried the Balmar SmartLink app on an iPad Pro11. They both easily paired with the Bluetooth gateway, even at 30 feet away with obstacles, and then the gateway would scan the network and produce the Device List seen above left. As with the gauge, the app works with one component at a time, except that it can scan the whole network for possible firmware upgrades (which ran without problems).
At right is the app's real time MC-618 info page, and is equivalent to the five regulator real time screens on the gauge, though with more verbose labels. Note that this information is also shown on the 618's tiny three character alphanumeric LED, though the labels are truly terse and the 618 will probably be installed in a hard-to-view location.
Though the left app screen only shows the 618's basic settings, you can still do more than the gauge permits. It's also temporarily set to show how Balmar has added a charging profile for Firefly Carbon Foam batteries, though too late for Gizmo's previous house bank. But that's why I have some familiarity with the many settings available in the 618's Advanced menu — that's just one of three Advanced screens — and thus appreciate how much easier configuration via touchscreen will be versus magnetic screwdriver. Plus, it was nice to find a 618 diagnostic mode in the app, and that you can even email the data to Balmar (or anyone) for troubleshooting.
In summation, I think that the Balmar MC-618 combined with the SG200 system is a significant step forward in marine electric power monitoring and management, and that it's going to help me get the most out of Gizmo's existing house bank alternator and her new Victron Lithium system.
But electric power on boats is a fast moving subject these days, and Balmar has lots of competition. Note, for instance, the other advanced regulators offered by Ocean Planet Energy. And that the Wakespeed WS500 — covered here in depth by Luis Soltero last summer — now offers CANbus integration with the same feature rich Victron Lynx BMS and Smart Lithium batteries that are going on Gizmo. (Wakespeed's PDF description is at the bottom of their Technical Info page and clipped below.)
I also look forward to good results when Ben Stein finally has a chance to add a Mastervolt Alpha regulator and alternator to the highly integrated Mastervolt Lithium system he already installed. And who will be surprised to see more marine power innovations pop up at this fall's boat shows?
In other words, this is a very dynamic sector and it seems likely that Balmar is already thinking beyond the MC-618. In fact, I learned yesterday that they're working on a new version of the SmartShunt that will have an NMEA 2000 port so that important info like Voltage, Current, State of Charge, and State of Health can display on boat screen's other than what's now possible with SG200. Who else is delighted to have key boat power components become easier to monitor and manage?