Gizmo's alternator, tune-up & upgrade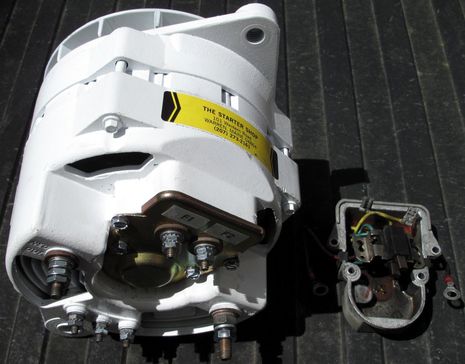 Boat juice — the 12 volt kind — will be a big subject on Gizmo this season, and hence on Panbo. Designing and installing a solar panel system and experiments with various battery monitoring and distributed power technologies are all on the list, but step one is getting the Prestolite Leece-Neville 140 amp alternator that charges the main bank up to snuff. Last summer I needed help from Panbo readers to figure out that this alternator was actually working pretty well despite the large (and erroneous) amperage deficit shown on the Link 1000. But it began behaving badly toward the end of the season, sometimes refusing to charge, and besides I'd been persuaded that a more sophisticated regulator would be a good investment…
So this morning I went to The Starter Shop down in nearby Warren to pick up what you see in the photo above: The alternator rebuilt with new bearings and brushes, and set up for an external regulator, though I'll keep the old build-in one as it could be reinstalled in a jam. My friend and new "systems guy" Alden Cole — seen on Panbo last year — set up this job and told me that proprieter Arthur Anderson is not only a first rate technician but also a wealth of information. I took my notebook and camera.
Of course it was great to hear Anderson describe my Leece-Neville as a real work horse and easy to find parts for. He says he's even successfully resuscitated ones that had been submerged in salt water, though ocean air along with engine hours are what mainly determine when rebuilds are necessary. In fact, 70% of Anderson's business is marine, and some fishermen have their alternator checked out every winter. Then there are odd jobs like a Studebaker starter for a classic boat in Bar Harbor, or the antique tractor alternator for someone in Pennsylvania; apparently Anderson has the skills and part sources.
I also learned that he's a fan of Electrodyne brushless alternators, which are made in Maine (though I hadn't heard of them). Anderson says they have all the brushless advantages — high performance, durability, and easy repairs with no sparks or EMI — but are less expensive than much of the competition, though quite well made. Nor did I know that some of these high-output alternators, like the Zena line, can be used for welding, which might be handy on a steel boat.
Anderson, incidentally, likes external regulators from Hehr Powerline and Balmar, and Gizmo will soon be getting the latter's MC-614H. And, finally, if you need the services of The Starter Shop, don't fret about that AK 47 sitting in back. Arthur seemed like a nice, even-tempered fellow, and, besides, it's a fake (he says).