Class B install #2, Digital Yacht bundles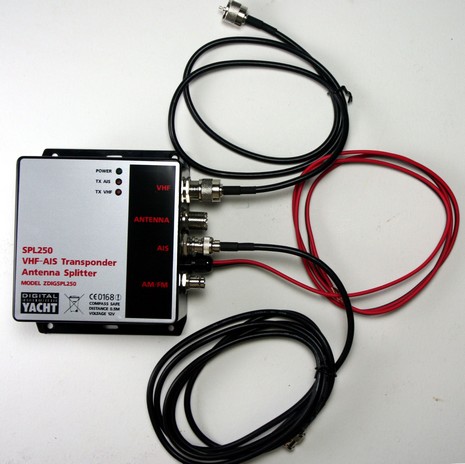 Here's Digital Yacht's SPL250 VHF antenna splitter, purportedly the only splitter able to handle 2 watt Class B AIS and regular 25w VHF transceivers without smoke rising from either. (That's supposedly true even if the splitter loses power, though I haven't yet dared to test that feature.) It will significantly simplify some Class B installations, particularly here in the States where our VHF antennas and radios typically use PL-259 connectors, while most Class B VHF antenna inputs are BNC. That's exactly how the SPL250 is set up and it even comes with those PL-259 and BNC patch cables. Check out Tim Flanagan's Shine Micro AIS-BX install for a lesson on the value of a gadget like the SPL250.
On the other hand, Tim may get better performance by not using one antenna for both AIS B and VHF. The AIS definitely won't receive or transmit when you're talking on VHF, plus, at least theoretically, you lose some signal when you add connectors to its run. But I've been trying VHF and Class B transceivers alternately routed through the SPL250 and straight to the antenna, and so far have not seen a noticeable performance difference. Note that the $359 retail price of the SPL250 is not insignificant, though it's only $200 if purchased along with Digital's $899 AIT250 Class B, which is pictured below.
As you can see, the regular (without splitter) AIT250 package comes complete with compact GPS and AIS antennas sporting long cables (I'll get the measurements) and copasetic BNC and TNC connectors. The transponder itself is exactly the same as Tim's AIS-BX and also the True Heading AIS-CTRX. One other difference between the latter bundle and the AIT250, visible in the bigger photo, is that the data cable includes not just a DB9 plug for your boat's PC but also four wires for a NMEA 0183 connection to your plotter (and heading sensor). I don't know how Shine Micro sets up its data cable, but will try to find out, and do know that Shine offers a wide variety of AIS antennas. At any rate, it's good to be down to install details like these, along with Class B friendly multiplexers and MMSI registrations.
True Heading, by the way, seems to market the same AIS antenna splitter in Europe, but doesn't seem headed to the U.S. Digital Yacht, by contrast, is setting up an office in New Jersey and is already standing by 866–781–7015.