Class B, name game #2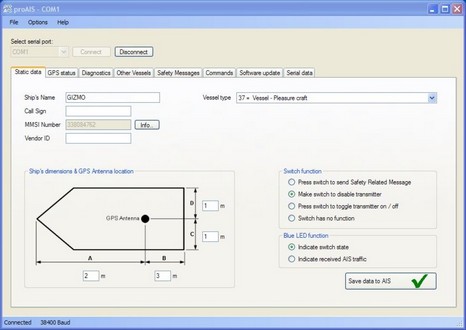 We're down to Class B AIS details, my friends, and they aren't hard. Above, and bigger here, is the Static data screen seen in the proAIS software that comes with the European version of Digital Yacht's AIT250 transponder (and possibly others, as it comes from SRT, the manufacturer of so many Class B circuit boards and finished boxes). In the U.S. market this is the screen an installer would see after he or she had entered the vessel's MMSI number. Users will see all those data fields grayed out (I presume, as I haven't actually seen the finished U.S. software). Of course that's because the FCC barred users from inputing the data themselves. But the user does have to supply accurate info to the installer. Let's break it down:
* Ship's name: This must be the name that's registered with your MMSI at BoatUS, the FCC, or wherever (which should be the same MMSI that's in your boat's DSC VHF sets). And presumably the name that's on your boat. Tim asked (in the first Name Game entry) about prefixes like M/V and S/V, and while they are used by some Class A vessels, the USCG says the name must match the registration. (So I guess if I changed my MMSI registration to M/V Gizmo, that would be OK.) Whatever name you have, it can not exceed 20 characters on a Class B transponder.
* Call Sign: You don't have one unless your boat has an FCC Station License, though the FCC says a non-licensed vessel can be hailed by its name or state registration number. I thought it might useful to put my Maine registration number in the Call Sign field, but that's probably not cricket. The field has 7 characters (and, installers take note, if the software requires a Call Sign but the user doesn't have one, use seven "@" characters, which will end up looking blank in the transponder's target info).
* Ship's dimensions: These are expressed in distance from the GPS antenna (and in meters), which is probably why the beams of some Class A vessel's are wider than the vessel is long! The purpose of this convention is so that your boat's target will plot properly when zoomed into. It works great when the numbers are right and, people, you can get the numbers right!
* Vessel type: "#37, Vessel – Pleasure Craft", is the default but there are numerous choices in the drop down menu including "#36, Vessel – Sailing." The USCG intends to expand the number of vessel types but that will take a while.
There you have it, that's the static data that you must collect and pass to whoever inputs it into your Class B transponder. If I were installer or a consumer, I'd document it as well as possible—printouts of BoatUS page, copy of FCC license, photo of boat, etc.
Also note on that proAIS screen above that you get to choose if the transponder's single button sends an SRM (Safety Related Message) or switches to Silent Mode. Hopefully that choice and all the useful tabs shown will be in the U.S. user version of the software. I'd guess that most users will monitor AIS targets on real charting software or on a plotter, or both, but all the Class B software I've seen so far has features you might want to get at occasionally. Below is ACR's Link2AIS, which is similar in many ways to proAIS, in fact they're interchangeable (same SRT board!). But Link2AIS has a "buddy" feature I really like, bigger here. Click on a vessel that's important to you, give it a nickname, and whenever that boat enters your AIS field of view again, its target icon will be boldface, and it will go to the top of this target list. The Simrad AI50 has this feature, and I think every AIS plotter should adopt it. You can see that I've been using it to distinguish transponders, but obviously Gizmo's situation today was a little unusual.