Class E AIS, will it be huge?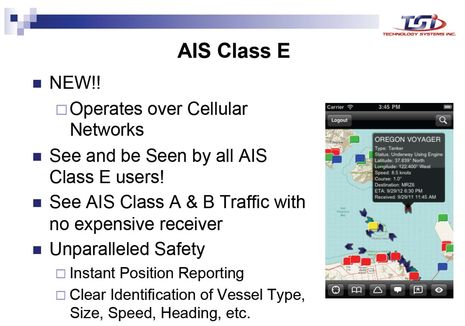 Back in March I wrote about the Small Vessel Cooperative Tracking project that the Department of Homeland Security (DHS) entered into the Small Business Innovation Research (SBIR) program. Essentially, a DHS department called the Port and Coastal Surveillance Improvement Project (PCSI) sought out an innovative way to persuade boaters to voluntarily submit their ID's and locations so that various law enforcement agencies would have better situational awareness. Well, today I get to tell you about the idea that was awarded the SBIR phase two grant of about $500,000. We won't see the results for many months yet, and there are more acronyms involved in thoroughly understanding the concept, but I think Class E AIS will eventually be a huge advance in boating safety and enjoyment…
As the presentation slide above suggests — and Dan Corcoran guessed in a comment to that March entry — the consumer side of Class E AIS will be internet-connected smartphone and tablet apps. The prototype will be called Smart Chart AIS and it's being developed by a Maine company called TSI (Technology Systems Inc). The idea is a free app so loaded with useful marine data like NOAA charts, weather, Class A/B/E AIS tracking, ActiveCaptain cruising POIs, and much more that boaters will gladly trade their tracks for it…
And the further idea is that such apps can become so popular that they can also support various forms of marine social networking, and thus become even more pervasive. If there's a free and open national — perhaps even global (read on) — online database of unique boat ID's based on the existing AIS format, then apps devices and the network effect could make things like boat-to-boat chatting and photo/route sharing easy and commonplace. In fact, there's enough bandwidth in cellular Class E AIS that extra information like your home port and state registration or documentation number can also be included (plus more personal data like phone number and emergency contacts that will not necessarily be public but might be available to search and rescue authorities). There's even room in the Class E data specs to identify both the individual operator of a boat and the boat itself…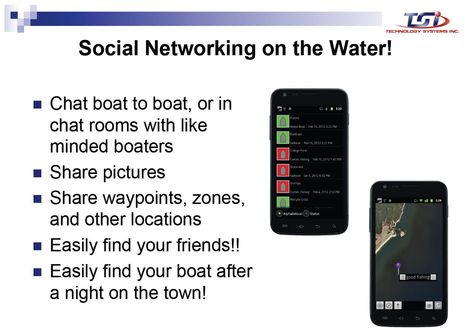 By this point, some readers are probably getting uneasy about privacy issues but let's remember that Class E AIS is completely voluntary; it's all carrot and no stick. Nor does it interfere in any way with regular VHF-based Class A and B AIS because it's segregated to the Internet, quite like the mAIS and Boat Beacon apps I've been testing this summer. Using Class E will not put your boat on the bridge of a ship unless the watchkeepers are using a Class E app themselves (though I'm realizing that some ship drivers, like my local pilots, are interested in any small craft info they can get).
Readers who develop marine apps without government help might also be uneasy, but they'll be glad to hear about TSI's underlying business model (remember that it's working on an SBIR grant designed to foster small businesses). There will eventually be a software developer's kit (SDK) so that any company or organization can interface with the Class E AIS data servers, as long as they deliver back the prerequisite user ID and track data. Any app — heck, any marine electronics system — could eventually be Class E enabled. That's because if all goes well TSI's future Class E revenue will come from tracks delivered to DHS, not from apps sales or advertising. Their real focus is the server side of Class E, and a peek at that reveals even more of interest…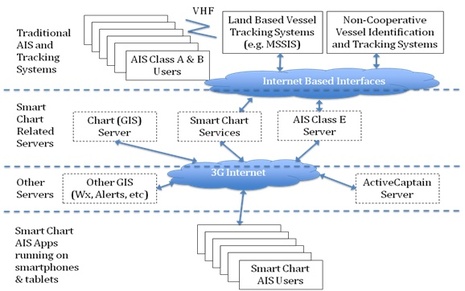 For instance, note that TSI is building its charting app on ArcGIS, which apparently is uncommon in marine mapping but quite common for government-level geospatial data (like all these NOAA ArcGIS layers). As I understand it, that means that overlays like, say, the exclusion zone the FAA setup for an antique plane aerobatic show I boated to recently (as part of the Penobscot Bay Rendezvous) could be easily pushed out to Smart Chart type apps. Similarly, oil spills or dredging operations, or who knows what overlay of interest, could be delivered from government agencies to boaters. Or delivered from private sources to certain boaters using a certain app, as long as the Class E server gets ID and tracking back. What service can you imagine?
Meanwhile, a feature that might be unique to TSI's own Smart Chart apps for quite a while will be augmented reality views of the data, as in the draft screen of ActiveCaptain info below. That's because TSI has a long history with marine AR, which is how I came to meet founder Chuck Benton back in 2004. That's when I wrote about TSI's remarkable video-based LookSee navigation system, which did not quite make it in the yachting world but is apparently still in use aboard vessels with missions as challenging as the 88-foot LCAC (Landing Craft, Air Cushioned) mentioned in the article. And I'd like to add here that anyone who figures Class E AIS is some diabolical invention of The Government ought to meet Chuck. Among many other distinctions, this the guy who wrote Softporn Adventures on an Apple II in 1981, and thus is the father of Leisure Suit Larry in the Land of the Lounge Lizards! It would be hard to confuse Benton with a spook…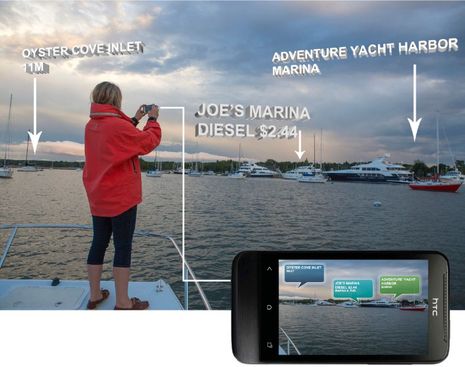 In fact, learning about Class E AIS over the last few months has been a reminder to me that The Government is actually a fairly chaotic mashup of agencies and individuals who rarely do anything with one mind. So while I think that the Class E AIS concept is a pretty brilliant way to provide the security folks with small vessel tracking — with boater benefits, and little taxpayer expense, to boot — not all those folks are necessarily into it. So, for instance, the government's high quality Class A and B coastal AIS info will not be available to the Class E servers, at least not at first, and TSI will be using the public sources like AISHub and MarineTraffic that I've been contributing to (even more reason you should set up a station).
On the other hand, the technologists and problem solvers at DHS who got behind TSI's SBIR idea are not shy about their enthusiasm. In fact, they presented Class E to a NATO symposium on Port and Regional Security in May, and I'm told that it was one of the most appreciated presentations. Hence my reference to global Class E above. And in September Chuck Benton and others will also present the Class E AIS concept at the RTCM Conference (which overlaps with the annual NMEA conference). The hope is that Class E will eventually become an RTCM-approved standard with the TSI Smart Chart AIS apps as the prototype. Isn't all this a pretty huge deal, at least potentially?