Comar AIS-MULTI receiver, looks great but…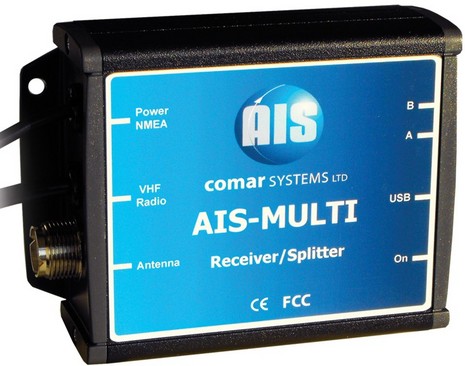 After METS 2007, I wrote about how many new AIS products Comar had in the pipeline. Well, this U.K. company hasn't slowed down, and has even developed a snappy new logo and Web site. Comar's latest is this AIS-Multi, which seems like quite an able AIS listener at $399 (from U.S. distributor Milltech Marine). It features true parallel receivers, so slow Class B updates will plot as well as they can; an amplified VHF splitter, so you don't need to add another antenna; USB data output, so you can connect it to a modern PC without needing a serial converter; and, finally, the ability to multiplex in NMEA 0183 data at 4800 baud (GPS most likely), so the unit's 38,400 baud data output can be easily used with a plotter whose NMEA 0183 port was already in use (and the PC will get it, too). But…

But, as reasonably priced and feature rich as this AIS receiver is, why not spend $330 more and actually become part of the Automatic Identification System with your own Class B transponder? I use that number because Milltech itself offers both the Comar CSB 200 and the ACR Nauticast-B for $729 each, with GPS and VHF antennas included. I'm not sure everyone realizes that these transponders will do everything a good AIS receiver does, and much more. As Milltech clearly puts it, a Class B "can also
be used as a dual-channel Class A /
Class B AIS receiver
and GPS receiver.
This allows you to
connect the unit to
computers and chart
plotters and use the
transponder's GPS
and AIS information
from other nearby
vessels to display
your position and
other vessels on
AIS-capable
applications and
devices. In other
words, this device
can function as an
AIS Class B
transponder, a GPS
receiver and a dual
channel AIS receiver
– all at the same
time."
Meanwhile, yours truly (when not fixing windows) has continued to check out Siitech.com and is seeing more Class B's every day. I even saw one with screwed up name and dimension data, but that's very rare, and this guy will still show as a target on most any AIS-equipped bridge within a 5-10 mile radius. Isn't that worth $330 and an antenna install (with a backup GPS thrown in)?