Digital Switching: Raymarine, Empirbus, Simrad, Naviops, Offshore, Octoplex, Garmin and CZone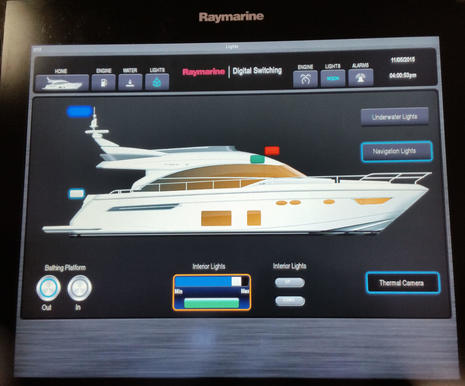 Digital switching is one of the most intriguing aspects of modern marine electronics, but also one of the most mysterious. At FLIBS, for instance, I wasn't the only boater jealously admiring sexy screens like the one above running on a Raymarine gS15 multifunction display. But when you try figuring out how you can get this elegant level of system control and monitoring onto your boat, you'll eventually realize that there is a complex conglomeration of hardware and software behind it, and it's usually under marketed and lightly documented. In fact, the whole concept still mainly makes sense for new and higher end boats, because it's an expensive and entirely different way of doing things, and those builders remain understandably cautious about adopting it. Nonetheless — and another sign of a re-invigorated recreational marine industry — I detected lots of digital switching progress at the fall shows…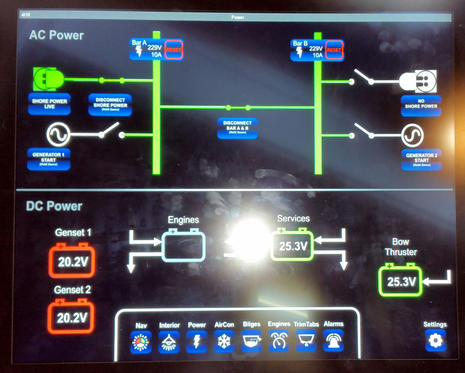 Raymarine seemed to show even more elaborate MFD digital switching screens at METS, and rumor has it that such features are becoming standard on certain Azimut and Sea Ray models. But don't expect to see specifics about digital switching systems on the websites of those builders; they seem especially reluctant to call out separate brand subsystems like these, preferring to let them look like the custom integrations they largely are. (This Azimut Technical School page is revealing, however). At any rate, lack of publicity is one reason why I hope you'll tolerate my poor boatshow photos – fingerprints and glare included.
This is a good time to note that digital switching almost invariably includes microprocessor-based circuit protection and monitoring. The results are a significant reduction in wiring, often called distributed power, and the ability of the system to sense the electrical currents passing through it. In other words, the switching seen on the screens above is not just the fancy equivalent of an electromechanical button or toggle switch panel; when the nav light graphic icons illuminate with a screen touch, for instance, the system knows that they're actually consuming a specific current at a specific voltage and can alarm you if otherwise.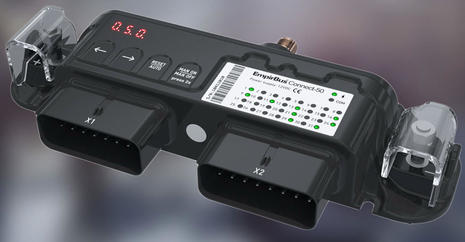 As described here in 2013, the primary module in Raymarine's digital switching system has been the powerful EmpirBus NXT. But now Trigentic has developed the Connect 50 "for smaller and less complex installations." The Connect still has 20 programmable DC output channels with niceties like built-in light dimming and advanced wiper controls, plus 11 input channels for mechanical (like) switching and analog sensors. Measuring and digitizing tank levels, voltages, pressures, etc. is another common feature of digital switching systems and, as you'll see way below, EmpirBus is not the only brand adding flexible multi-channel I/O designs that should cost less and install easily in smaller boats.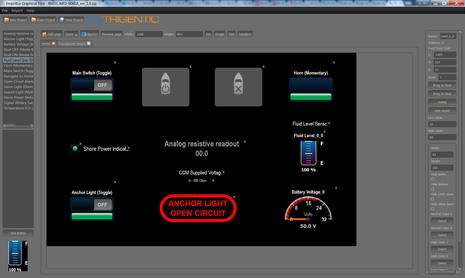 I was surprised to find EmpirBus Graphic software available for download on the Trigentic site, and it appears that a boat builder, electronics installer or end user can use it to build those lovely Raymarine digital switching screens. However, the EmpirBus Studio program used to actually configure the modules — and thus create the function file represented in the upper left window above — is not available. The process, as I understand it, is that Trigentics does the module programming in consultation with Raymarine and the client, and then Ray maintains an offboat copy as part of its global support for the system, which seems like a good thing.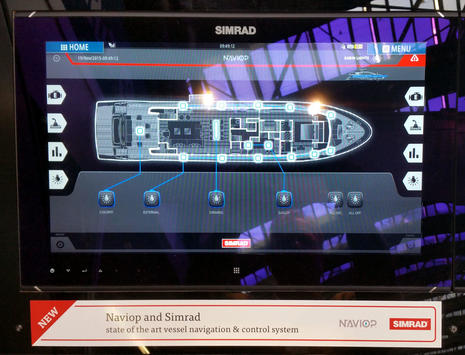 Simrad — which trailblazed digital switching on an MFD with CZone in 2010 — showed off a new partnership at METS. I was not familiar with Naviop Marine Automation, but it didn't take much time in their booth (or on their website) to see that they are deep into the complex world of bigger boat system management. They offer their own nav/monitoring touchscreen displays, for instance, and the graphic interfaces are highly customizable. So the Simrad relationship is not so much global distributor as alternate interface screen provider. In fact, Simrad told me that it was relatively easy to create a Naviop server within NSS evo2 and they're open to doing similar with other digital switching developers.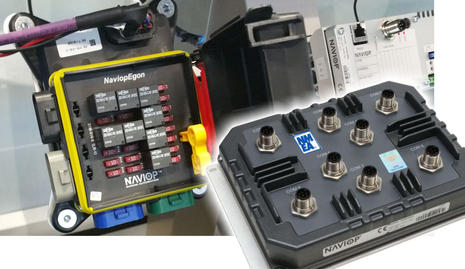 Note the large quiver of Naviops power distribution and data interface modules available, like the Egon, the Nova, and especially that wild T-Box N2000 sprouting Ethernet, N2K, multiple CanBus and RS232/422/485 ports. "More than 50 communication protocols implemented (engines, air conditioning, generators, battery chargers, entertainment systems, digital switching systems, etc.)" is the Naviops' claim, and I was told that EmpirBus and CZone are included. In short, the sophisticated-seeming digital switching I'm most familiar with can be a subsystem of a bigger boat install, and all of it can now be seen and managed on Simrad helm displays.
Offshore Systems now has similar capabilities. While the company used to specialize in relatively simple though often unique NMEA 2000 sensors — like this cool fuel fill — at METS 2015 they were posing in the Superyacht Pavilion with their own BlackGlass Bridge Systems, touch screens and highly evolved control and monitoring software/hardware included. Managing Director Bruce Coward (at left) is very proud of the highly flexible screen design software they've developed, but before I get further into BlackGlass, let's sidetrack to that Dual Engine Display, which we honored with an Innovation Award at IBEX 2014. Its beauty is not just how sleekly it can fit onto a modern helm — as seen in this Princess 68 sea trial video — but how it can completely display whatever is coming from the engines in J1939 or N2K format, replacing the clunkier gauge displays from most major engine manufacturers at significantly less cost and with no warranty issue! (Note to the trade: Coward allows that it was big engine customers like Princess that got the manufacturers to relent on the warranty issue, not his electronics company.)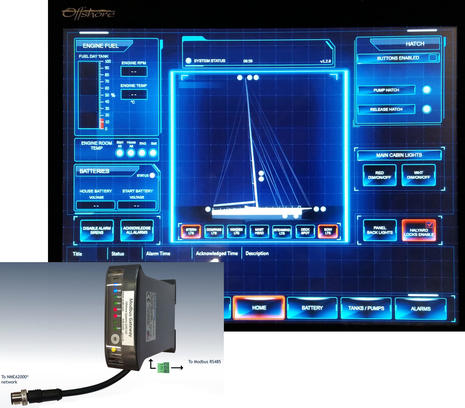 The home screen for the 88-foot sailing yacht above is just one of many BlackGlass interfaces you can check out online, but again you can see how digital switching has moved well beyond lighting and similar commonplace functions. Apparently you can lock off the boat's halyard with this touch screen, for instance. One thing that's going on here, and with Naviops too, is that N2K sensing and switching is becoming a component of the bigger do-anything PLC-based systems that are nearly "traditional" on very large yachts. Hence Offshore developed its NMEA 2000 to Modbus Gateway and added ABB Programmable Logic Controllers to their behind-the-scenes tool kit.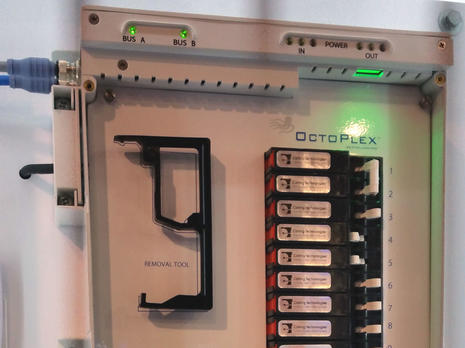 When it comes to bigger boat switching and distributed power, OctoPlex is still very much in the game, with Gen2 components coming online and the relationship with sibling brand Maretron deepening. (Maretron has its own basic digital switching, by the way.) Digitally managing AC switching and circuit protection remains one of the tough issues in this niche, because it still can't be done solely with transistors, and (probably thanks to the Carling Technologies mothership) OctoPlex seems to offer exceptionally slick solenoid-activated AC breaker panels. Note the redundant N2K control cables, the included breaker removal tool, and the "all's well" green LED that usually glows through the window on the panel's (not shown) outer cover, but will go red if a breaker trips. The OctoPlex team at FLIBS was especially proud of the stellar uptime record their many Viking installs have accrued, evidenced by the fact that their system has been chosen again for the new 80 Series (great in-build PDF here).
I'll add that not all digital switching systems have accrued a good record, though the stories are very hard to document. Rumors abound of light switches that suddenly operated anchor winches, not to mention total system burnouts from nearby lightning strikes, plain old fires, and — perhaps the technology's greatest setback — builders who had to replace entire bow-to-stern systems with the traditional power cabling they could have done for a small fraction of the cost in the first place. But those stories are mostly old, some of the purported culprits have shrunk or vanished, and there are getting to be a fair number of successful boats out there with digital switching.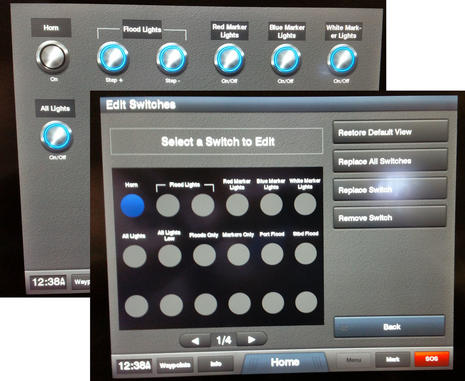 Integration with the big color touchscreen display systems that dominate many new boat helms these days is certainly part of how digital switching is succeeding, and Mastervolt CZone is seen as the current winner in this area, with relationships to both Garmin and the Navico brands. At FLIBS, I was pleased to see that Garmin now lets users modify CZone pages, though the underlying configuration remains at OEM level.
But the big CZone news is the new COI module seen below (though there's nothing about it online yet). The COI will pack the capabilities of several existing CZone modules into one less expensive box that can conceivably control all the power needs and many of the sensor needs of a modest vessel. Note that all the labeling on the show demo below is for one specific boat configuration. The 14 power outputs can protect and switch most any circuits as long as the total amperage doesn't exceed 150, and similarly the 8 analog and 6 digital inputs can do all sorts of tasks besides the ones listed. Meanwhile the IN-D port is for boats that don't even use N2K interface and the USB port means that a CZone system with a COI can be programmed without a separate gateway. And remember that CZone seems more willing than most to deal with a retrofit and/or a lone dealer/installer (or sometimes even a DIY guy like me).
Mostly though, digital switching is going to be seen on new boats, and I believe it will make those boats more and more tempting.