Discount Marine Electronics, ripping off Panbo?!?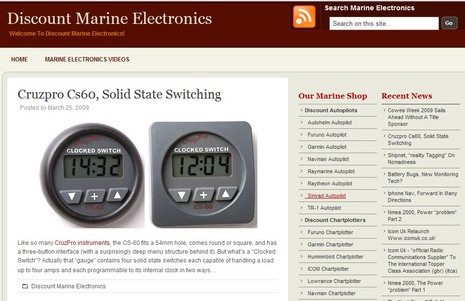 Well, ain't that a bitch!  Thanks to the vigilance of Steve Roberts I now know that an online "store" called Discount Marine Electronics is posting Panbo entries as though "it" created them. Actually all they're doing is putting up the same first picture and paragraph anyone can get via XML feed or email (see Subscribe button top right). But Discount Marine Electronics is cutting out the "read more" link, so readers really don't get the whole jist of the entry but may be fooled into thinking that the diligent staff of Discount Marine Electronics is testing gear and writing about it on a regular basis.
Here's the irony: I've spent the last two days surveying and test running the still maybe future Gizmo, and am so besotted that I don't care if these rip off artists suffer consequences immediately, or just rot in hell at a later date.  But I will be pleased if Discount Marine Electronics has automated the posting of my posts, and hence we might see this post go up on their site.  If so, grab that screen!  And don't forget to buy all your marine electronics at Discount Marine Electronics.
PS (six hours later):  Ah, God is good. And so are you guys. Thanks to everyone who sent in delicious screen shots like the one below.  And especially to the various Panbots trying to sleuth out the perpetrators or alerting eBay about how Discount-Marine-Electronics is abusing its Partner Network by presenting itself as something it's not in order to attract Google hits and skim affiliate commissions.  But Web shoppers (and Google) are getting smarter all the time.  Many have learned to Google the shopping site itself, and if they do that to discount-marine-electronics.com they just may end up here 😉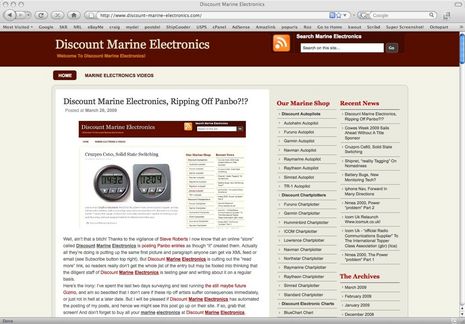 PPS (eighteen hours later): Discount Marine Electronics did the right thing, taking down all the Panbo content they were presenting without credit (and even claiming copyright to). Cased closed hopefully; thanks all!