Finally! Raymarine SeaTalk NG to NMEA 2000 backbone adapters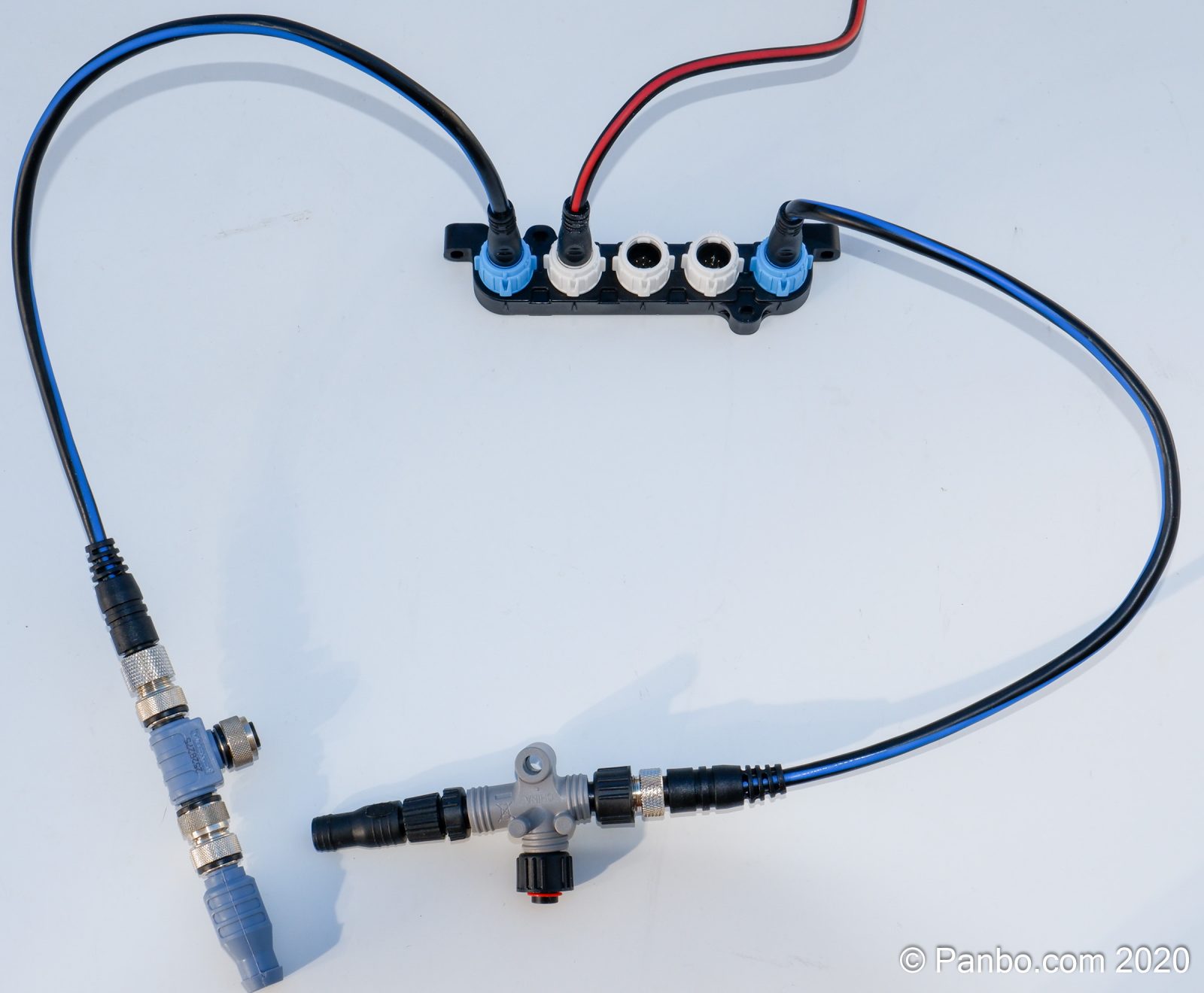 Raymarine's SeaTalkNG is Raymarine's proprietary version of NMEA 2000 cabling. It's compatible with NMEA 2000's standard DeviceNet cabling through the use of adapters. But, until very recently, Raymarine has not offered an adapter to convert the blue-striped SeaTalkNG (STng) backbone cables, only the white-striped spur cables. Good news! Raymarine now offers cables that adapt STng backbone to male (Raymarine Part number A80674) and female (A80675) N2K connectors.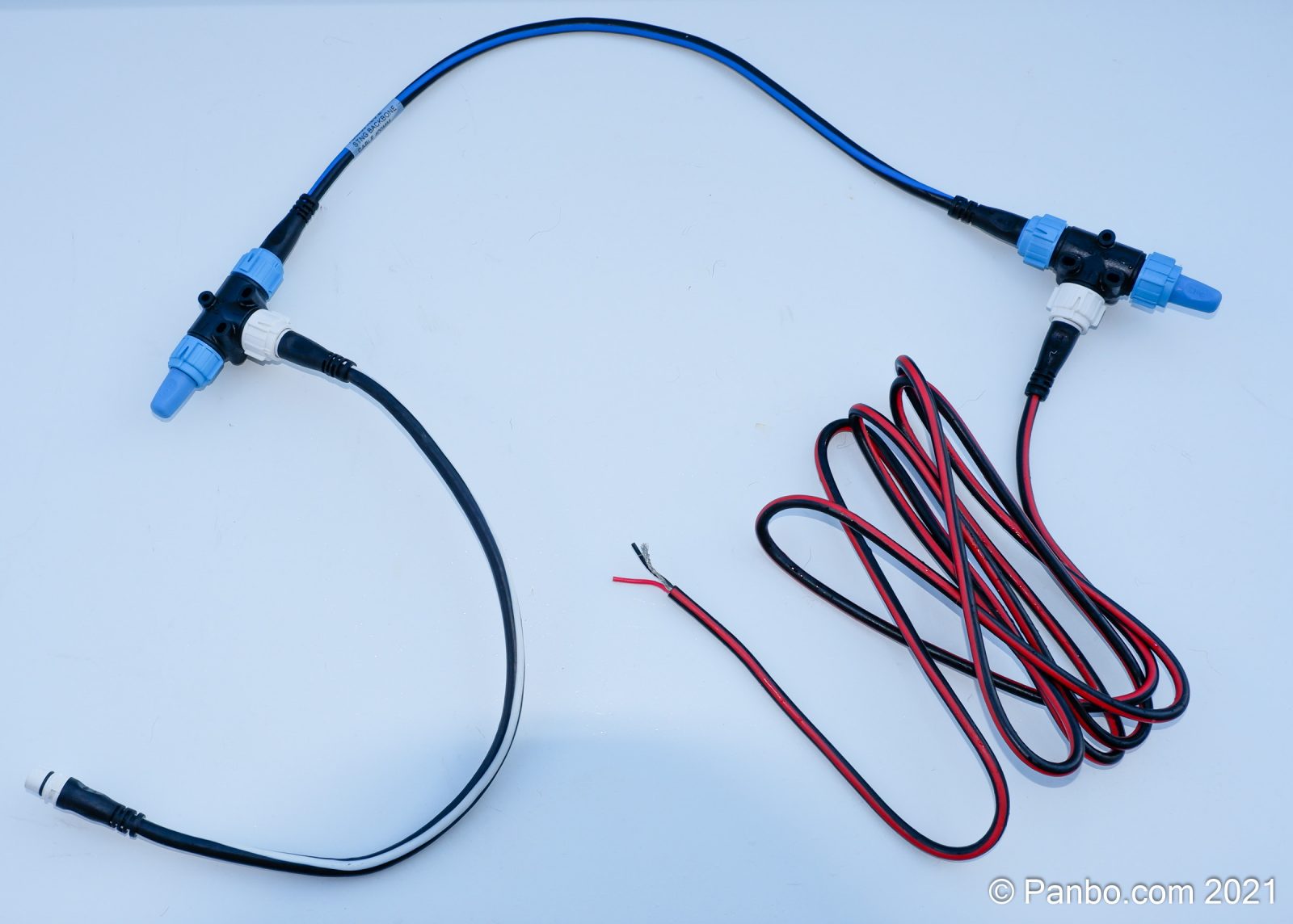 In a departure from NMEA 2000 standard cabling, SeaTalkNG uses separate backbone and spur cables. The backbone cables have a blue stripe and blue ends on the connectors while the spur cables have a white stripe and white connector. Sockets on STng devices and tee connectors have blue and white locking collars to indicate the cable type. Backbone cables won't fit in spur sockets and nor will spur cables fit in backbone sockets.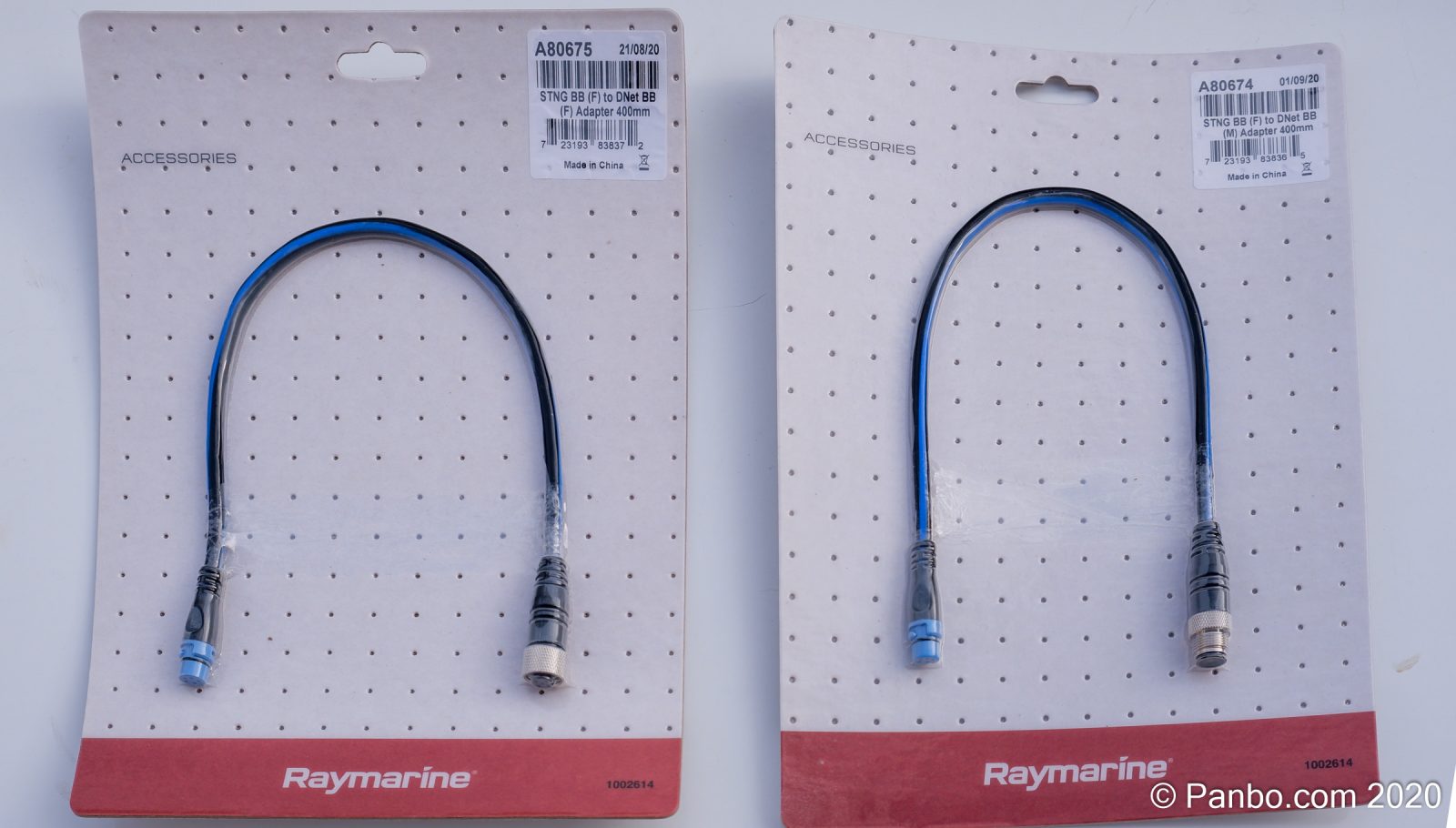 I'd love to provide you links to Ray's web pages for these adapters, I'm guessing they will appear in the adapter cable section of the SeaTalkNG page soon. It's always been a mystery to me that Raymarine didn't offer an STng backbone to N2K plug adapter even though the spur adaptor was available when SeaTalkNG launched in 2007. In fact, on their own forum, Raymarine suggests chopping off one end of STng backbone and standard N2K cables and then splicing the two together. This never seemed like a good solution, so I'm very happy to (finally) see Raymarine offer these adapters. Also, I'd say that Raymarine offering these adapters validates the fact that STng is truly N2K with a different cabling scheme.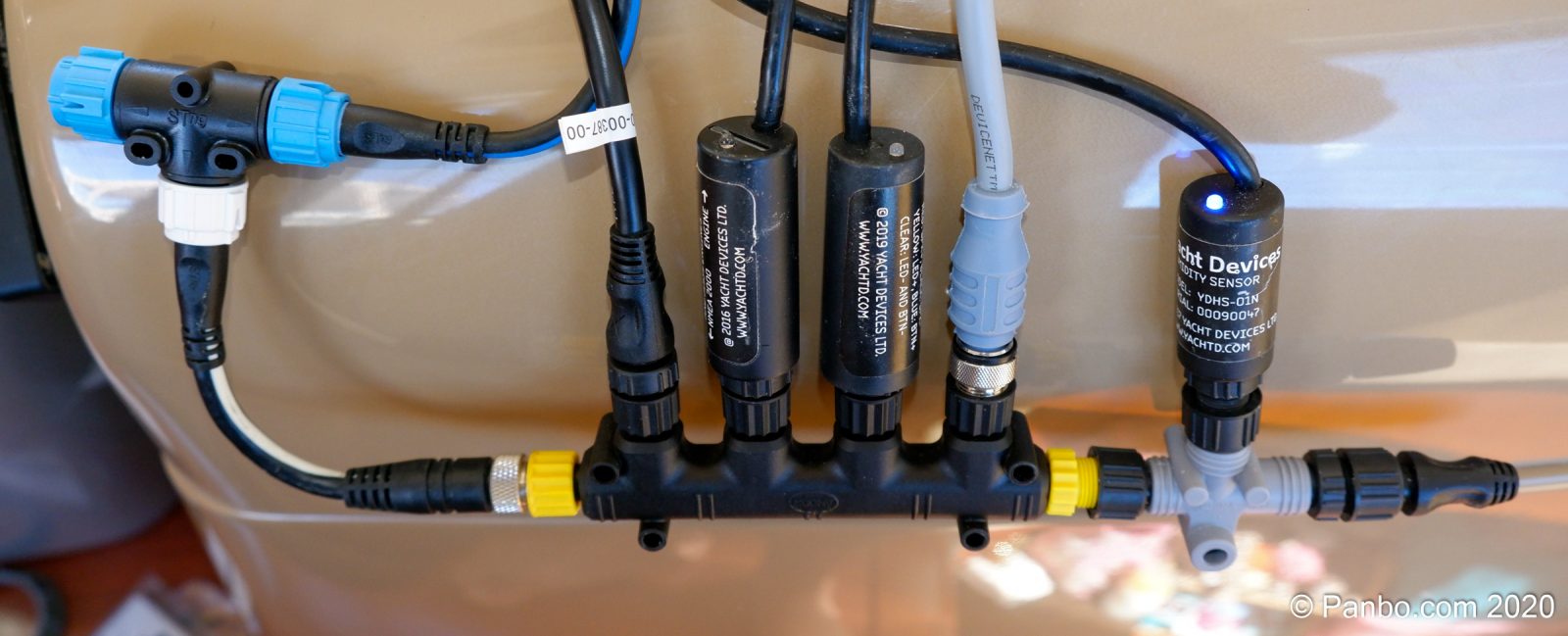 I know this issue well because I built Have Another Day's first NMEA 2000 network using SeaTalkNG cabling and since then have converted most of it to standard N2K DeviceNet cabling. Thus I learned that there's an alternative to the backbone splicing method, easier though not any more pretty.
In the top left of the photo above, note the STng tee with the incoming blue-striped backbone cable. But rather than continuing the network through the other backbone port in the tee, I ran an STng/N2K spur adapter cable to the backbone port of an Ancor 4-device tee. From there I've connected an additional tee connector and finally a terminator to provide the appropriate termination to the network. The use of the spur adapter has never caused any issues on my network, but it's always bothered me that I had to rely either on this hack or hand-splicing cables to adapt the network.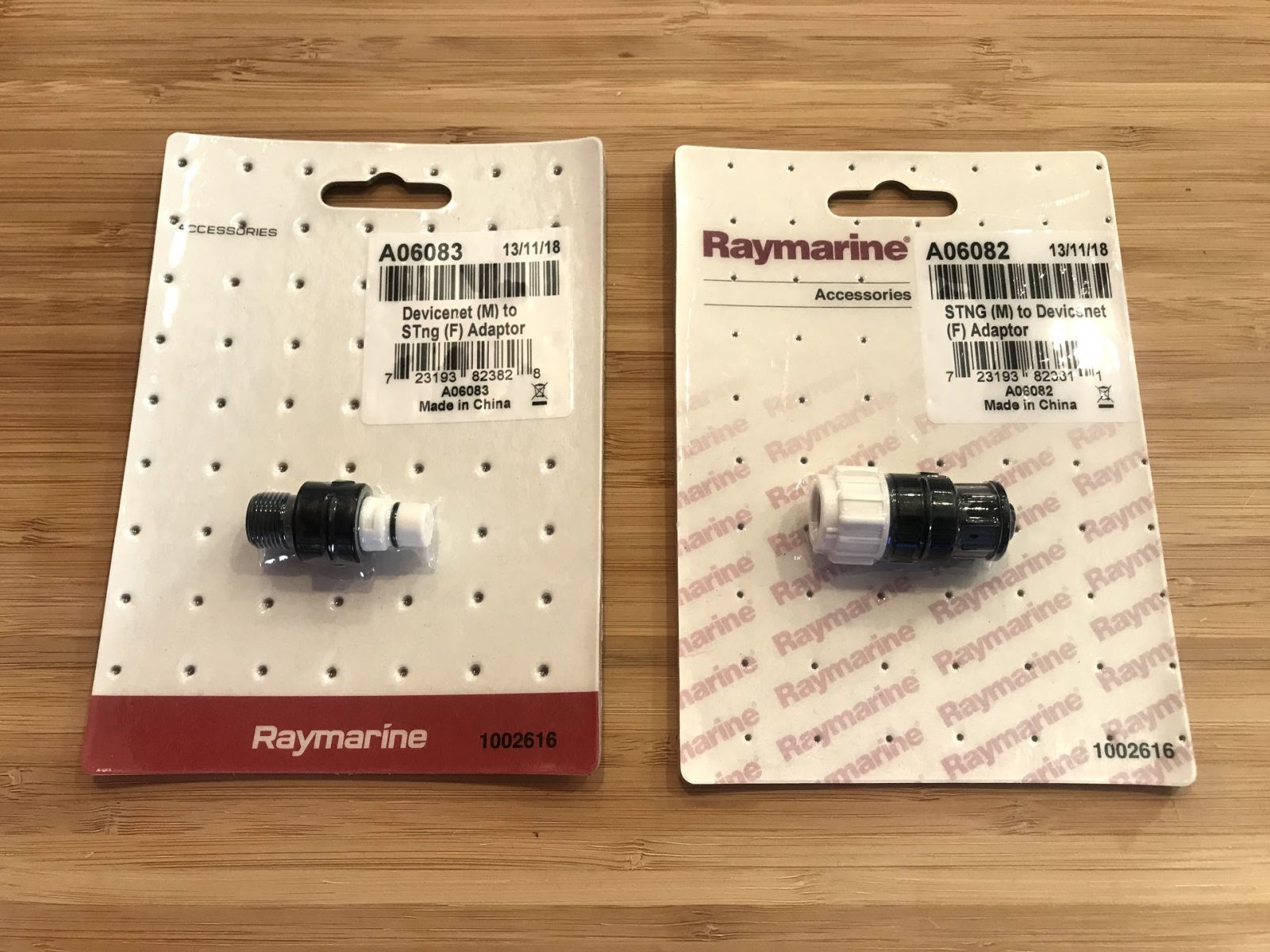 The new backbone adapters join several other STng adapters Raymarine introduced in January of 2019, and along with the many spur adapters also available, I think that Raymarine now has a range that fits just about any need.
I've been trying to figure out if Raymarine is moving away from SeaTalkNG for some time. Axiom MFDs all have a standard NMEA 2000 DeviceNet connector on the back, not STng. So, is Raymarine sunsetting STng? I thought so for a while but then I've seen new products, including their brand new YachtSense boat control system, with STng connectors. I've asked Raymarine about their plans and haven't gotten a clear answer about where the system is headed.
Although my default position is always to prefer a standard versus proprietary system, SeaTalkNG is definitely not all bad. Raymarine deserves credit for the fact that STng uses larger power wires than standard N2K micro cabling. Plus, STng cables are easier to pull through tight raceways with smaller diameter connectors on the ends of the cables and they're self documenting with blue stripes down the entire length of a backbone cable and white stripes on a spur cable. So, I'm not sure if STng is going away anytime soon, but I do know that these adapters make it easier to live in a world of both STng and standard NMEA 2000 cabling.