SeaTalkNG, an N2K parallel universe?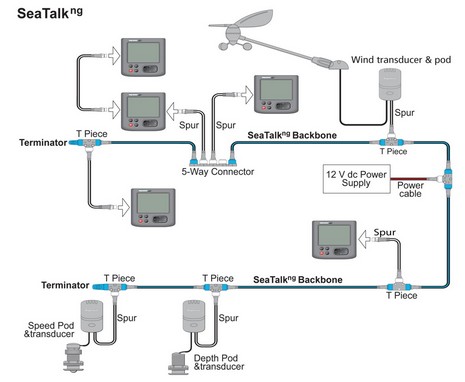 I'm not sure what Raymarine's rational is for creating its own proprietary NMEA 2000 cabling system, though I've been studying the brochures and manuals available (on Ray's nicely updated site). Aside from the small diameter (11mm) of the connectors, the features touted in the ST70 brochure—"rugged and waterproof", "quick and easy" install, etc.—are similar to the DeviceNet cabling NMEA tried to impose as a standard physical layer.

Judging from the NG backbone kit price of $280 versus Maretron's pricing, the cost doesn't seem much different either (though installers and boatbuilders may pay much less?). I also notice, from the NG parts list at the back of that ST70 brochure, that there don't seem to be field attachable connectors, and the spur cables and backbone extenders are different (made-up DeviceNet cables are interchangeable).
But maybe it doesn't make much difference. Ray does list adapter cables both for patching SeaTalkNG devices into a DeviceNet backbone or a DeviceNet device into an NG backbone. And more options might be possible, though probably not "recommended". I once patched the lab's standard N2K backbone into a LowranceNet backbone—properly terminated, of course, and with only one power supply—and it seemed to work fine. Ray also has a patch cable to connect NG to its…ahem…other proprietary N2K connector, the SeaTalk2 plug on C– and E-Series MFDs and ST 290 instruments. In other words, I think you can picture that network above with Maretron, Simrad, Garmin (eventually), and other manufacturer's displays and/or sensors included, or even with a DeviceNet backbone, if desired.
Now a particularly cool aspect of SeaTalkNG is that an ST70 display head can bridge existing SeaTalk(1) data into an NG network, as shown below. That's the original SeaTalk, a variant of NMEA 0183, and it's already installed on many boats. However, I came across this little gotcha in the NG manual: "If SeaTalkNG and SeaTalk(1) products are used together, do NOT connect an NMEA2000 backbone, as this product combination could compromise the integrity of the NMEA2000 system." But that verbiage could be more about unknown liabilities than actual problems. We still have a lot to learn.