Furuno NavNet TZTouch, best use of MFD WiFi yet?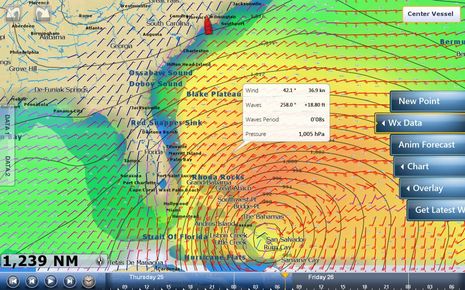 I first learned about Hurricane Sandy in an interesting way. While enjoying sunset in the Calabash River anchorage a week ago today, I was also fooling with various WiFi features built into a just-installed Furuno NavNet TZT14. Actually I was trouble shooting the seemingly flaky WiFi connection when I discovered that the TZT could connect to my Android phone's WiFi hotspot and even use that connection to quickly download a GRIB weather file. I've never seen an MFD do that before! Then I was admiring the TZT's neat controls for viewing the GRIB predictions — like the intuitive way you can slide your finger along the forecast time bar seen at the screen's bottom — when I noticed the tropical cyclone headed my way! But I lucked out; Sandy just slapped the Fort Lauderdale boat show around a bit, and now I'm aboard Gizmo is in a hurricane hole that's below the immense storm anyway. Today I'll be thinking particularly about other cruisers who didn't get this far south already, but I do have time to describe how Furuno is trying to do MFD WiFi different…
First of all, the TZTouch is so far the only WiFi MFD that can be more than a direct access point which onboard mobile devices use to run control and viewing apps; it can alternately join an existing onboard WiFi network so you can run other apps and even be online all with the same AP. Thus the easy weather download through my phone. And thus you won't find a menu like the one below on a Raymarine e- or c-Series or on the software update that will enable Navico's GoFree WiFi1. So if you're, say, running Raymarine's RayControl on an iPad and you want to use the app that can control a Fusion 700 Series A/V system that's wired by Ethernet to your boat's WiFi router, you'll have to go into the iPad's WiFi setup and change access points.
Truth be told, though, I have not yet gotten my iPad to connect directly to the TZT. Furuno acknowledges problems, gave me some tips I'll try later today, and promises improvements in TZT 2.0 software coming out soon. In fact, when my the TZT 14 was online via phone last week, a dialog box popped asking me if I'd like to download an update (though that was apparently just a test and I didn't dare say yes anyway). The TZT has also declined to join my M/V Gizmo onboard WiFi router network so far, but I did get a peek at Furuno's unique NavNet Viewer app via the phone…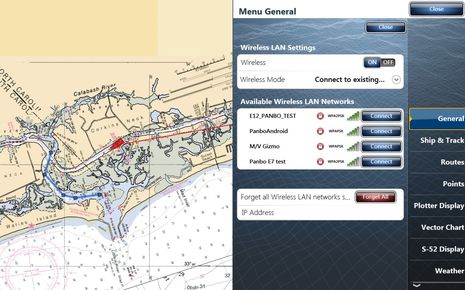 What's unique is that what's on the Viewer screen is completely independent of what's on the TZT screen. In other words, it's the app itself that creates the gauges below from data supplied by the TZT. It's a good example of what should be possible with Navico GoFree tier one and two data (i.e. data that came to the MFD via NMEA 0183 and 2000) and hence I suppose Furuno could open TZT to third party developers if they feel like it.
It's noteworthy, though, that NavNet Viewer can also show a stream of fishfinder imagery if you have a Furuno fishfinder in the system (I don't). And building custom screens like the one below is dead simple. There's also a NavNet Remote app like Raymarine's and Navico's. But let's have a look at why an independent viewer app has value…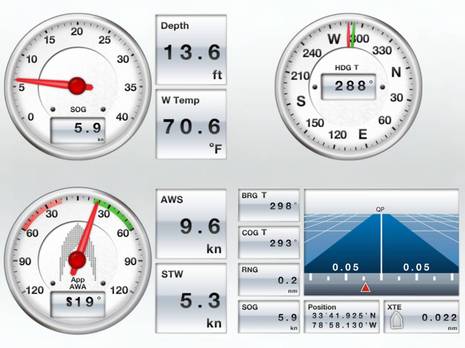 TA TA! Here's a look at the latest and grandest iteration of Gizmo's flying bridge test set up. Aside from the TZT I've just put a lot of miles on all that gear and the systems below; they definitely made the trip easier and I've got lots to say about things I like or would like to see improved before I take the boat north again in a few months (after installing more stuff!).
But here's the more specific purpose of the photo: It's great that I can use RayControl or NavNet Remote to fully duplicate the functionality of those respective MFDs elsewhere on the boat, but the beauty of NavNet Viewer is how I can use right alongside the TZT. It's amazing how many ways WiFi (and Bluetooth) are going to expand marine systems, but I'm also realizing that making WiFi work well with marine Ethernet networks is not as easy as we might presume.