Fusion 700 Series update, mission accomplished?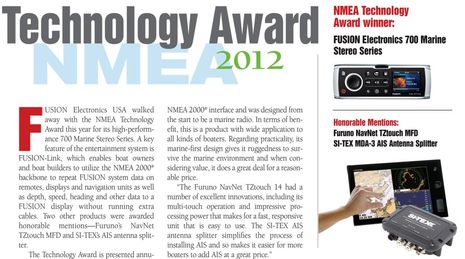 I've been testing (and enjoying) a Fusion MS-IP700 and MS-NRX200 system since I installed them in June and I wholeheartedly support the 700 Series as NMEA's Technology Award winner of the year. And note that I wasn't a judge myself this year and unfortunately wasn't even there (especially as I've heard repeatedly that the 2012 NMEA Conference was the success hoped for). You can read all about it in this online version of the ME Journal, and further note that the judges didn't see the cool multi-manufacturer Fusion MFD interfaces that debuted in Fort Lauderdale…
First up is Garmin's MS-700 interface, which is done over NMEA 2000 and will soon be available in a software update for all Garmin 4000 and higher networked MFDs. I got a quick tour and didn't see any Fusion 700 controls missing, and that's saying a lot. Multi-zone volumes, playlist browsing, etc. are all there. Besides the menu system seen below, there's also a small control bar that fits under navigation windows, plus I was told that iTunes videos work fine if you run an RCA cable between the video ports on the Garmin and the MS-IP700 (plus DVD video if you have an MS-AV700 and iThing dock)…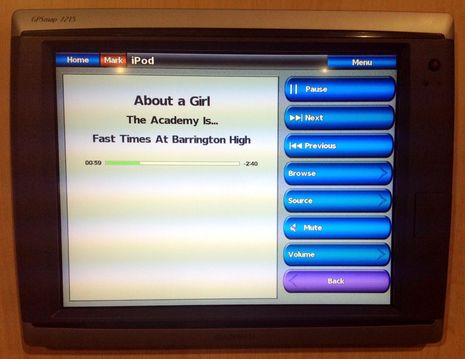 But then again Raymarine previewed its version of FusionLink which runs over Ethernet and therefore can include all of the above plus cover art, and in fact somewhat mimics the Fusion WiFi remote control app. This software update will work on the a-, c-, and e-Series (but not the C- or E-Wide Series or earlier, I'm pretty sure), though it won't arrive until Lighthouse 6. However, Lighthouse 6 is coming sooner than you might think, and the 5 version that debuted in Lauderdale is loaded with goodies I'll soon write about.
And those of you with fairly current Lowrance, Simrad, or Furuno gear shouldn't feel left out just yet; I've only heard rumors, but they're good ones. Fusion seems to have pulled off quite a coup, adding both N2K and Ethernet to what was already an innovative marine AV system and then getting several of — maybe all of! — the major MFD companies to add yet more value to the systems. Definitely NMEA award worthy, don't you think?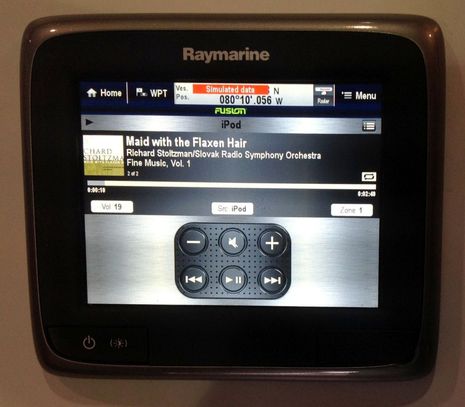 However, I know at least one Panbot who passed over Fusion for his new boat because he wanted the Bluetooth streaming available in a Clarion CZ501, which is also a feature coming to a new version of the clever AquaticAV Media Locker I saw at last year's IBEX. Is there any end to all the I/O a marine AV system can have? In fact, Fusion says they'll be adding Bluetooth eventually, though they're a bit concerned about the EMI on some boats. I believe that they will also get rid of their annoying proprietary NMEA 2000 connector in future models, and that they've got more feature ideas in the works. Right now, though, Fusion has every right to crow.