Garmin 3D AIS, & an 0183 issue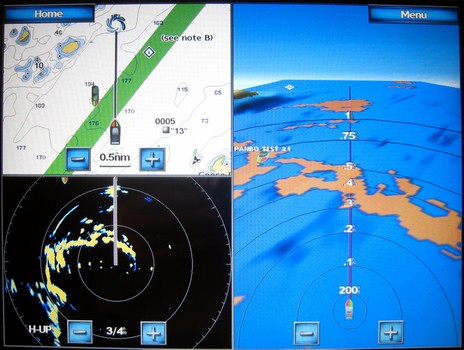 Not one of my better pictures, but the bigger version here will give you some sense of how the Garmin 4– and 5000 Series handle AIS targets. At upper left you can see the AIS target on a the regular 2D chart; my first impression is that the icon representation may in some situations be a bit too busy compared to a standard AIS triangle. But I do rather like the 3D target representation in the Mariner's Eye 3D view (sorry it's a bit indistinct; I'm going to have do videos of this stuff at some point). You can also see the target icon just showing on the radar screen (which also gives you a reference to how the 3D radar overlay looks in 2D).

Note how each window is individually zoomable on the 5212's touch screen. But they can not be synched, as best I can tell (not everything is in the manual). I also don't think the AIS targets can show projection lines, though Rate of Turn does show up graphically. Touching one of the windows will pop it up full screen, where you can, say, touch query an AIS target or make adjustments, then hit "back" to return to this "combination" screen. I'm still really liking the touch screen interface.
There's some interesting input going on behind this screen. I've got both a PC AIS simulator and an Airmar Weather Station going through the Ship Module Multiplexer and into one of the 4212's NMEA 0183 ports, which is set to high speed. It's then traveling via a Garmin Ethernet cable to the 5212, which is also in simulator mode. That latter connection worked fine without any setup at all. And if I turned off the simulator and went to a screen that showed wind data, you'd see the real world conditions outside my lab. But, strangely, neither networked Garmin seems to understand the GPS data also coming from the Airmar, or any other NMEA 0183 GPS data I send them. I called Garmin support about this a week or so ago, and was told that these units will only work with the included Garmin 17 active GPS antenna. What, you mean you can't wire in an alternate or backup 0183 GPS (or a NMEA 2000 one either, yet)? This later came up in my phone interview and the gentlemen I was speaking to were sure it wasn't true, or wasn't meant to be true. I hope they're right, but am still waiting to hear for sure.