Garmin buys Nexus, Simrad IS40, plus Raymarine i40, i50 & i60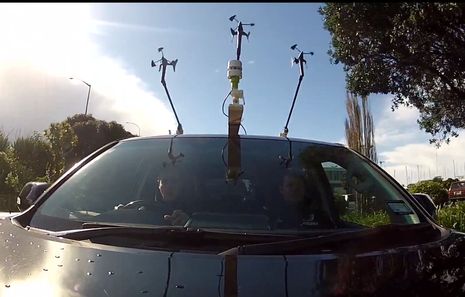 The boat show season begins with a bang, at least in terms of Instruments. Who knew that Garmin would buy Nexus Marine? And what does it mean for the extensive lines of Nexus racing and cruising instruments? I have no idea, but it is a good excuse to publish that odd screen shot above. It's from a fascinating video purportedly showing the America's Cup ETNZ team calibrating wind instruments for their AC72 in a unique fashion. And while that's an Airmar ultrasonic weather station being used as the reference (I presume) those are three cleverly-designed Nexus wireless nWind sensors whirling away on the streets of San Francisco…
Nexus has been through a lot of ownership change over recent years, as I noted in 2006 at METS and at MIBS 2010 (note photo at bottom!). Will Garmin use Nexus tech to get into the racing world, or perhaps reemphasize the gear that many cruisers value, or what?
It's no surprise that Simrad is introducing an IS40 version of the B&G Triton instrument display introduced here one year ago as well as an OP10 version of the nifty Triton autopilot control pad. What Kees Verruijt reported at Yacht Electronics, though, is that the software in the displays is slightly different and may get more so as Triton becomes more a B&G high-end tool and the IS40 more cruiser friendly (and purportedly less expensive, though "suggested retail" for the IS40 is $599). Note, for instance, that the IS40 won't show the graphic True wind with Apparent, though otherwise the screen below is exactly like the Triton's (which, oddly, is not exactly like the wind graphic shown in that introductory pr shot). At any rate, after putting first hands on the Triton set in June, I've finally got them properly installed on Gizmo and plan to put about 400 miles on them next week. I will report on performance…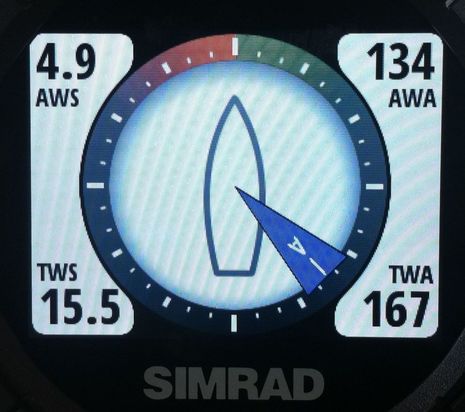 As for Raymarine's new i40, i50, and i60 instrument displays, stay tuned! I only heard a glimmer about them yesterday and don't know beans yet (though a West Marine bezel entry suggests the latter two are the same size as the i70). But the official news is supposed to drop today, and if you're at the Newport or Southhampton boat shows, you could check them out and report in (please).