Garmin GMI 20, hand's on, surprises found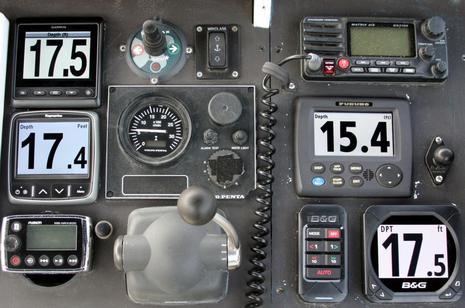 I'm embarrassed about how shabby Gizmo's fly bridge electronics panel has gotten, but isn't it great that with the arrival of the Garmin GMI 20 all four of the major manufacturers now have similarly large, bright NMEA 2000 all-in-one instrument displays? Oh, there are subtle differences on view — like how the Raymarine i70 seems to have a little less black/white contrast but also seems to have a slightly larger active screen, and how it and the B&G Triton nicely de-emphasize decimal depth — but the main thing is that many boaters can have a highly versatile display that matches your other Big Four brand gear. Or, since most of the data displayed arrives in a standard protocol, we have four quite competitive all-in-ones to choose from (plus N2K displays from Maretron and others). Of course there are many, many more subtleties and that's what I looked for on the test GMI 20. I discovered some mysteries too…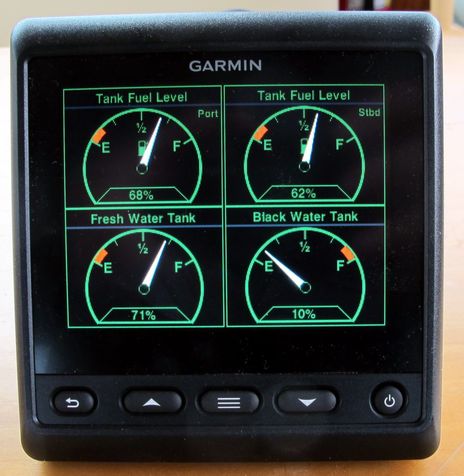 Above is the GMI 20 set to green night mode, which I find quite attractive (and which can be used during the day too since brightness is controlled separately). I like how the white needles stand out and I appreciate that some developer realized that I care about three of the tanks getting low and one getting full. But I was especially impressed with how Garmin handles the naming of tanks beyond the generic categories provided in the N2K standard…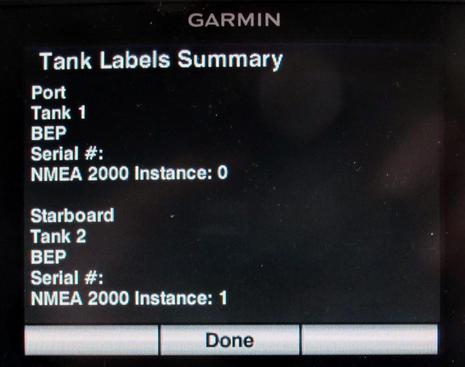 The GMI 20 not only gave me a long list of possible fuel tank labels like 'Port', 'Center' and 'Aft' but also summarized the finished labeling with N2K source manufacturer and instance info. This is the sort of nuance that will make installation and trouble shooting a lot easier, especially as more and more systems sensors get on the N2K bus. Of course the ideal is custom labeling, preferably done with a keyboard, but I've only seen that so far with BEP CZone, source of the tank level info, and with Maretron gear, which is doing digital switching and much more on Gizmo these days. But those custom labels only show up on the displays of the specific developer or partner, and even the fuel tank "Port" and "Starboard" designations possible with the Garmin GMI 20 and Furuno TZT (just discussed) do not travel around the network well. I believe that custom labeling is built into the NMEA 2000 standard but hasn't been utilized; can anyone elaborate?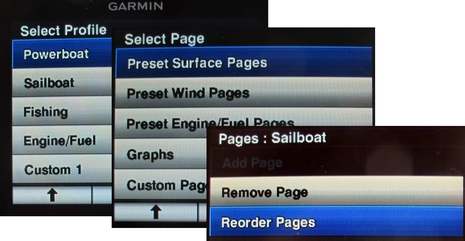 But I digress. Another nice nuance I noticed on the GMI 20 is Profiles, which let you pick a whole set of screen pages by boat type or your main data interest. Then when you customize a profile you can select from pre-built "fancy" screen pages related to surface, wind, etc. and you can also reorder pages within a profile. I'm not sure that any other manufacturer has made it so easy to set up the screen selection(s) you want.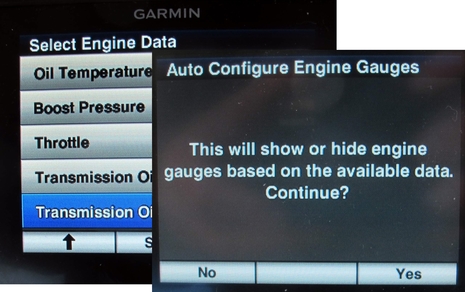 I don't yet have Gizmo's engine sensor data translating into NMEA 2000, but it's getting toward the top of the to-do list and I suspect that the GMI 20 may be the easiest display to see it on. For one thing, the list of engine related data that it can display is long (which I also noticed on the Raymarine i70). Plus when I put an N2K engine simulator on the backbone (thanks again, Lowrance), the Garmin offered to adjust its fancy gauges screens (which were discussed when the GMI 20 was introduced). And when it saw RPM information, it asked if I'd like to enter the full throttle value so it could built its digital tachometer gauge to suit. Nice! (In my experience Maretron is the king of highly custom digital gauges, by a long shot, but they do take work and you won't get fancy gauge clusters.)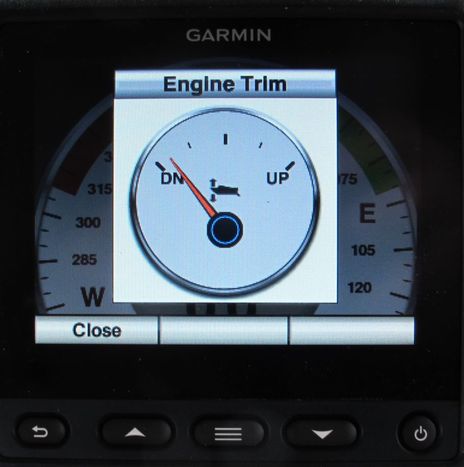 How about engine and/or trim tab pop-up windows, so the information is only taking up screen space when it's changing? I think they were available on the original GMI 10 — as other of these 2nd generation display features may be, since it received LOTS of firmware updates — but does any other display have them? I also noticed that you can specify how much angular change triggers the pop-up and how long it stays up once you've stopped changing the angle.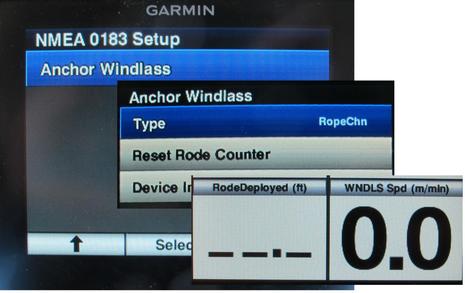 Now to the surprises. I'm pretty proud of sleuthing out the screens above. In regular mode the GMI 20 with its current software doesn't mention its NMEA 0183 port. But in Demo mode there's a setup routine for an anchor windlass and if you dig around you'll also see related display values. So let's be clear: the GMI 20 does not yet support windlass rode and speed display. But the evidence is strong that it will, and I've got a good hunch about the specific hardware/software that will make it possible. Check out the AutoAnchor 601 "Black Box" from Kiwi Yachting Consultants and recall that Garmin bought Nexus from the same company. So I'm also guessing that the 0183 port will eventually be used to integrate the wide world of Nexus sailing instrumentation with at least the GMI 20 and maybe beyond. (Unfortunately, it seems that the appropriate boast — "Elementary, my dear Watson!" — may be mythical.)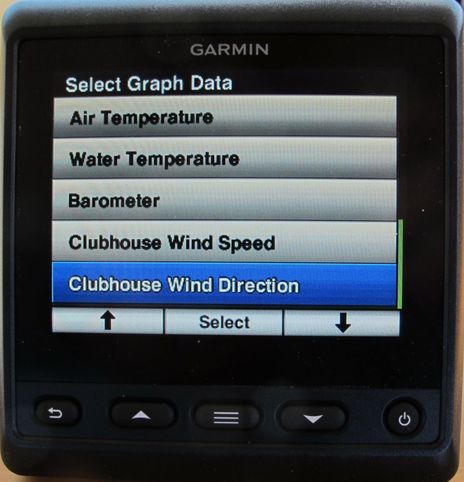 The last screen I don't understand at all. What the heck is Clubhouse Wind? And if it's a wind value from shore, like it sounds, how would it get to the boat? Will the GDL 40 cellular NMEA 2000 connection, as I'd hoped, finally be used for something besides weather (which it does well)? And why would you care what the wind was doing at the clubhouse anyway, if you have a clubhouse? I'll close with a photo showing some of the fancy screens the different N2K displays are capable, some of which are unique (and should perhaps be copied on the others). If it ever stops raining here, I am going to do some cleaning and touch up that black paint.