Garmin's new flagship chart plotters, the GPSMap 9000 series announced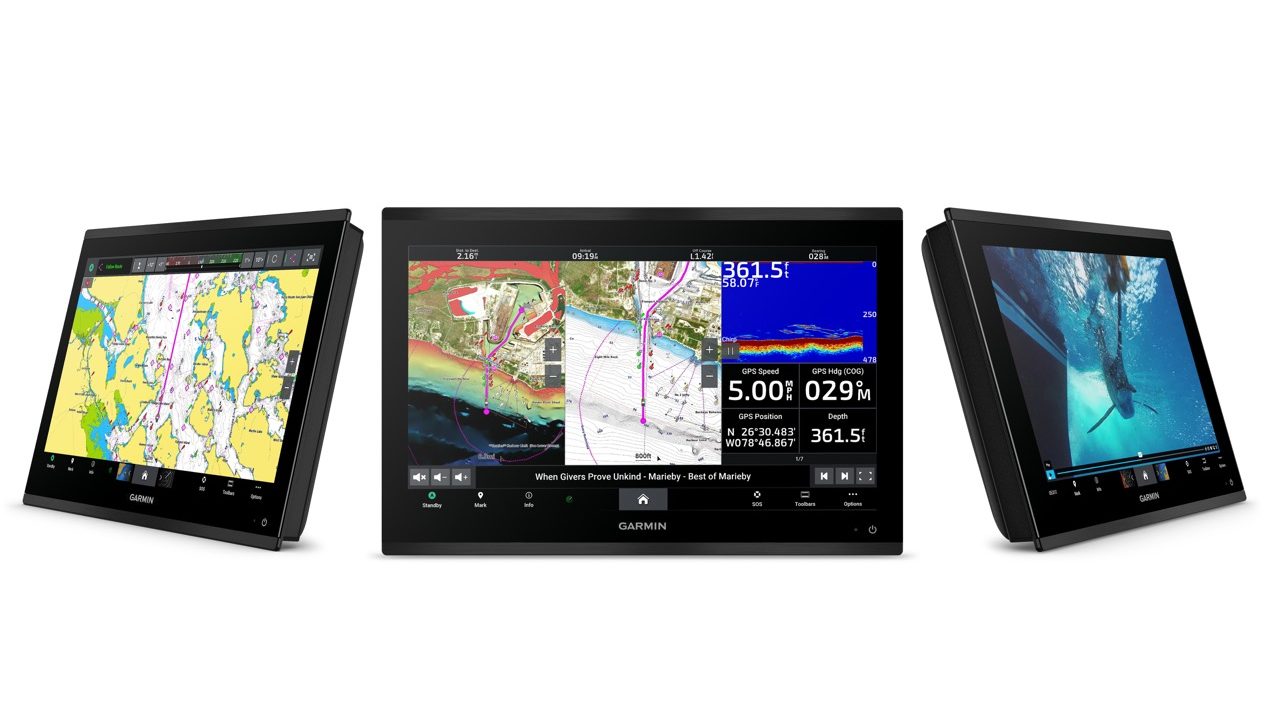 It's been seven and a half years since Garmin unveiled its flagship GPSMap 8600 chart plotters and more than 10 years since the 8000 series was announced. The new GPSMap 9000 series — today's press release here — represents quite a few firsts and appears designed to anchor the top of Garmin's line for many years to come. Let's take a look at the new chart plotter, networking technology, and accessories.
I began covering marine technology in late 2017. It's amazing to me to think the 8600s had already been shipping for over a year and they're only now being replaced. At the time, one of the biggest complaints about marine electronics was the short product lifecycles and the feeling of constant obsolescence. I think it's fair to say that with a seven-plus-year run, there's not much room for complaint.

But, before moving on from the past, I want to recognize some of the capabilities the 8000s gained over the last decade. When introduced, Garmin's OneHelm system of HTML 5-based app integration didn't exist. Livescope live sonar hadn't been brought to the market yet, nor had technologies like Surround View, universal digital switching support, and so many others. In fact, the screenshots from the 8600 launch are barely recognizable compared to current systems.
Key improvements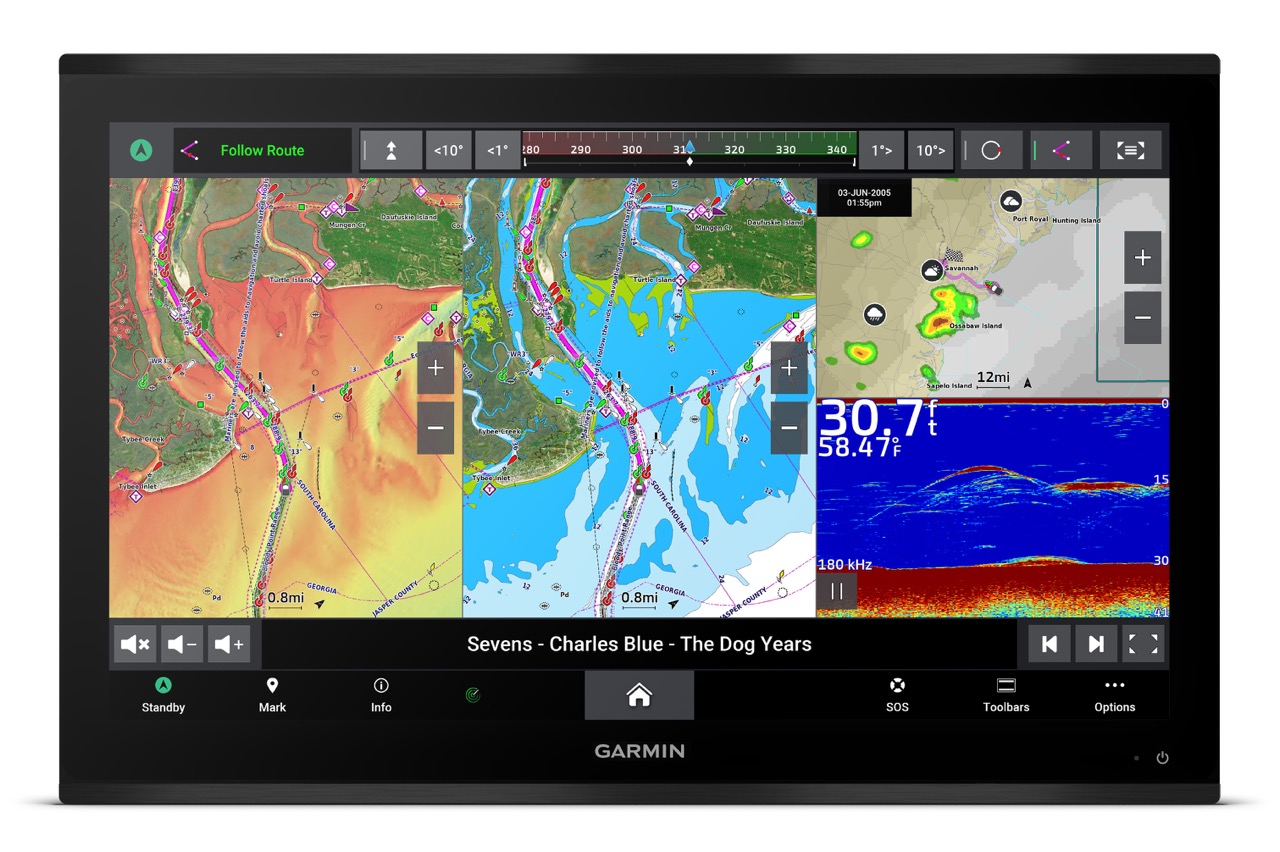 The 9000 is out with several pretty major firsts, improvements, and innovations. Those advances include: 4K resolution screens, 10/100/1000 megabit per second BlueNet Ethernet interfaces, 19, 22, 24, and 27-inch displays, and a processor Garmin says is seven times faster than the outgoing models.
4K displays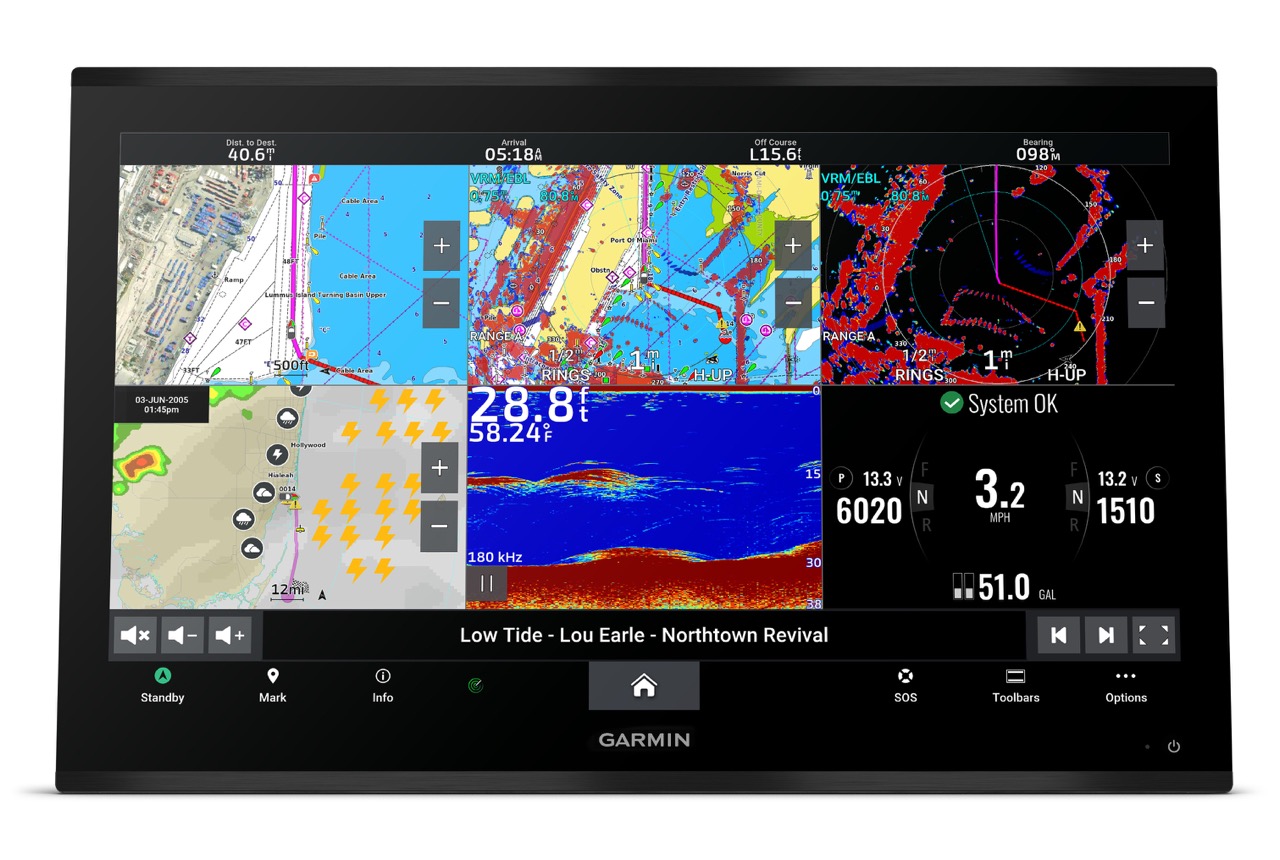 I think I'm the most excited about 4k resolution (3,840 x 2160 pixels) displays. One of the things I've always found interesting is that once you get to 12-inch displays, the resolution almost never changes among the models. For example, the outgoing 8000 series units all utilize 1920×1080 or 1920×1200 displays. Both the 8610 and 8624 have 1920×1200 pixel displays. So, although the 8624 has a display area more than four and a half times as large as the 8610, it has the exact same number of pixels.
The physical difference in display sizes likely makes things a little easier to see, but ultimately there is no more information on 24 than the 10. On the 9000, Garmin isn't utilizing different display sizes, but they are starting with gobs more pixels. Consider, a 4k display has about 8.3 million pixels compared to 2.3 million for a 1920×1080 display.
I use a 27-inch 4k monitor on my main computer and find that I have to increase the zoom a bit to make the fonts a readable size. That need is because even at 27 inches, the pixels are very small. But, those small pixels also allow the monitor to display a tremendous amount of information. For boaters, I expect those improvements will show in much more usable split-screen views. Especially on the larger size models.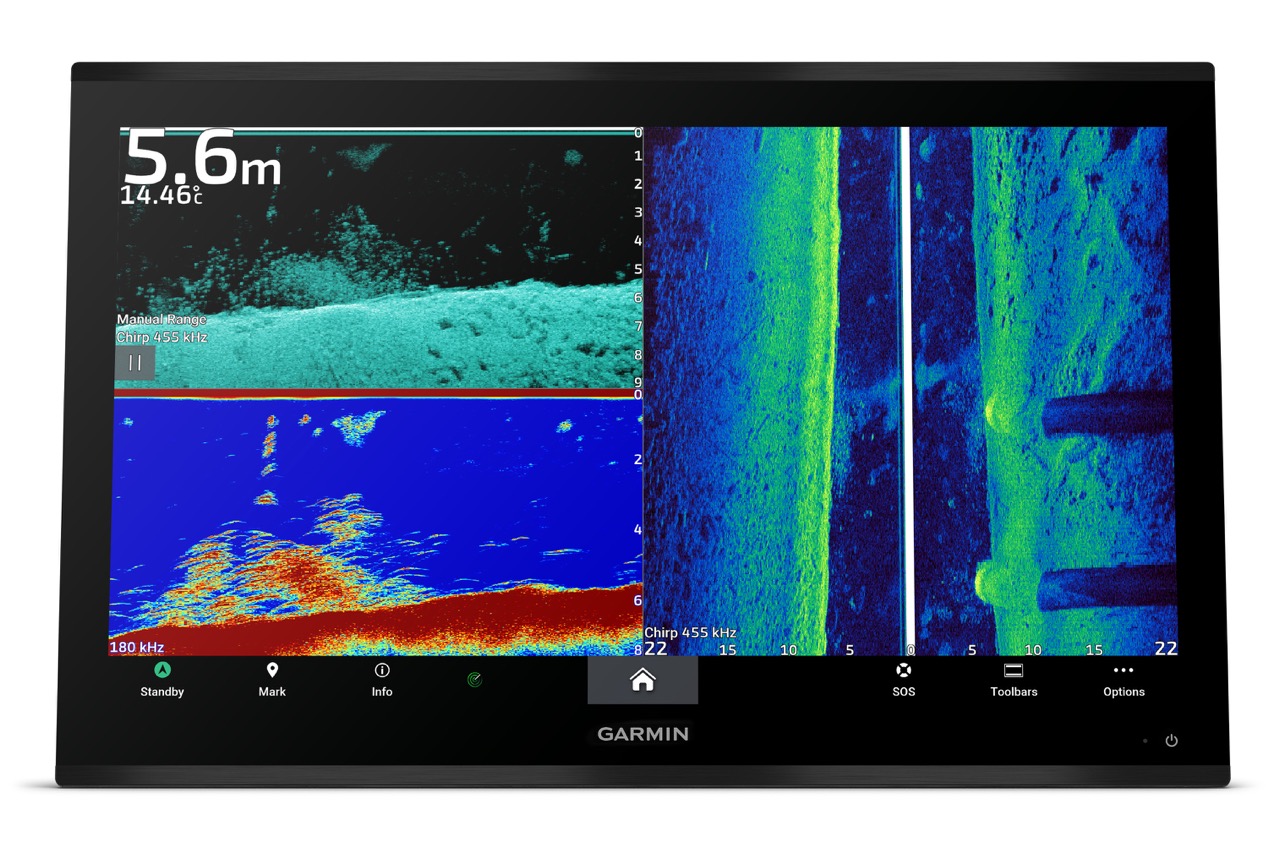 As you may have noticed in the screenshots above, the 9000s will be able to display quite a few different split-screen configurations. Like the 8000s, they can split the screen both horizontally and vertically. If the screen were to be split four ways, two side by side and two on top of each other, each area would have a resolution of 1920×1080. On the 27″ display each quadrant will be approximately 11.75 inches wide and 6.6 inches tall. That's roughly equivalent to a 13.5-inch display. And while the 9227 isn't likely to be cheap, I have a feeling its cost might look a little better when compared to the cost of four 12-inch chart plotters.
BlueNet Gigabit Ethernet
Although often with a non-standard connector, nearly every chart plotter made today utilizes Ethernet for communication between chart plotters, radar, sonar, cameras, and many other systems on the boat. Until now, every chartplotter I know of uses a 100-megabit-per-second network connection.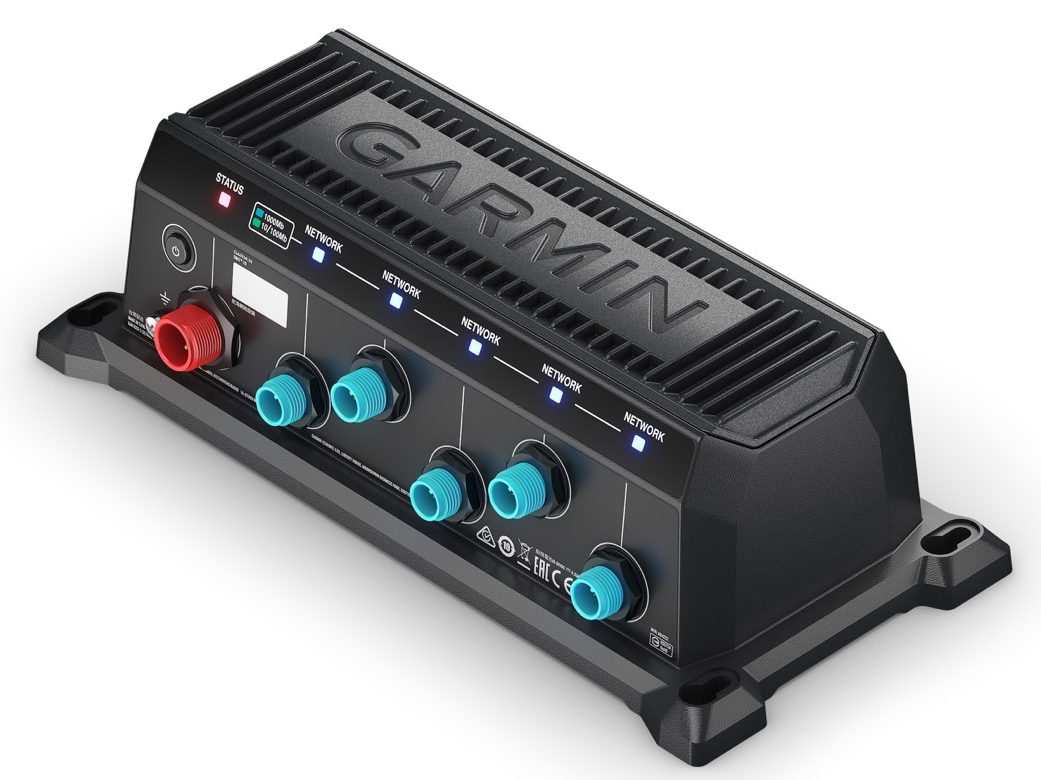 With the 9000 series, Garmin is also introducing Bluenet. Bluenet supports gigabit Ethernet, power over Ethernet (POE), IPV6, and other standards. OneNet switches provide POE power to connected devices. That will enable small devices like displays to connect a single Bluenet cable that provides power and data.
Several of those features may sound familiar as they are the same technologies that underpin NMEA OneNet. From what I understand, the 9000s won't support OneNet at launch. However, the bits and pieces are there to add support in the future.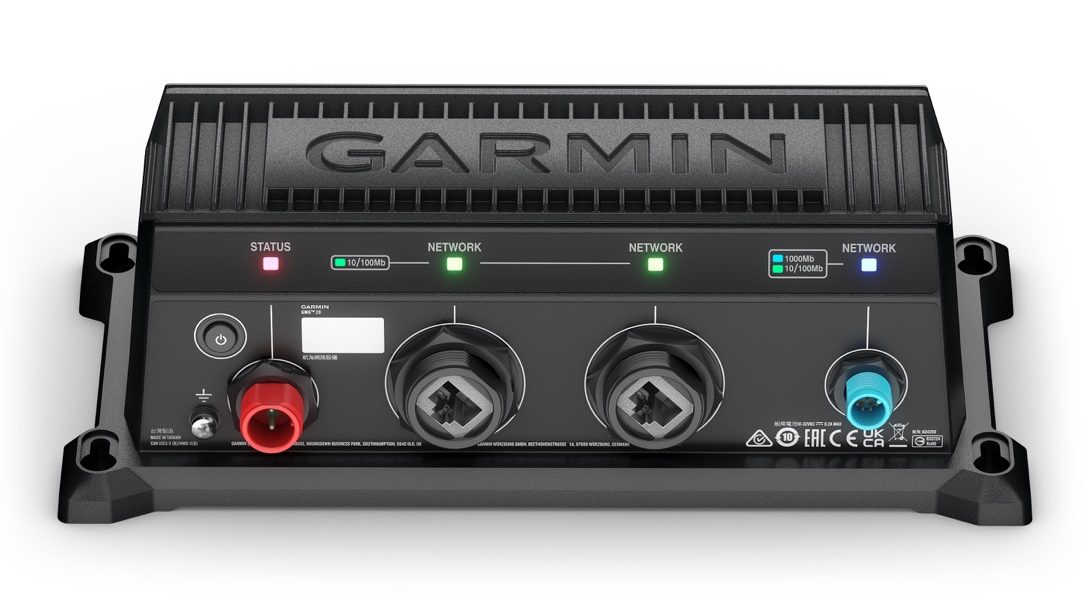 Connecting Bluenet devices with devices and systems utilizing the Garmin Marine Network — the current 10/100 Mbps Garmin Ethernet network — will require the use of a Bluenet gateway. That gateway will make the necessary conversions between the two networks. Additionally, for some time now Garmin has been releasing devices with Bluenet in mind. Those devices will be compatible with Bluenetw without the gateway. I expect we will see a list of compatible items soon.
27-inch displays
I believe the 9227 is the largest integrated chart plotter available from any of the major marine electronics manufacturers. A black box system and a large monitor could be used to equal or exceed the 9227's 27-inch display, but until now, I don't think you could buy a 27-inch single unit.
Faster processors
Garmin typically doesn't like to talk too much about the underlying hardware specs of their chart plotters. Instead, they'd rather talk about the user experience the hardware delivers. For the 9000s, they say the processors are seven times faster than those in the 8000s.
I've seen a 9000 running pre-release software. The unit responded crisply and showed no lag, even when scrolling wildly around full-screen, 4k resolution charts. Rendering all those extra pixels and keeping up with everything happening on screen can certainly consume a lot of processing power, but it appears the 9000s have enough to keep up.
The backside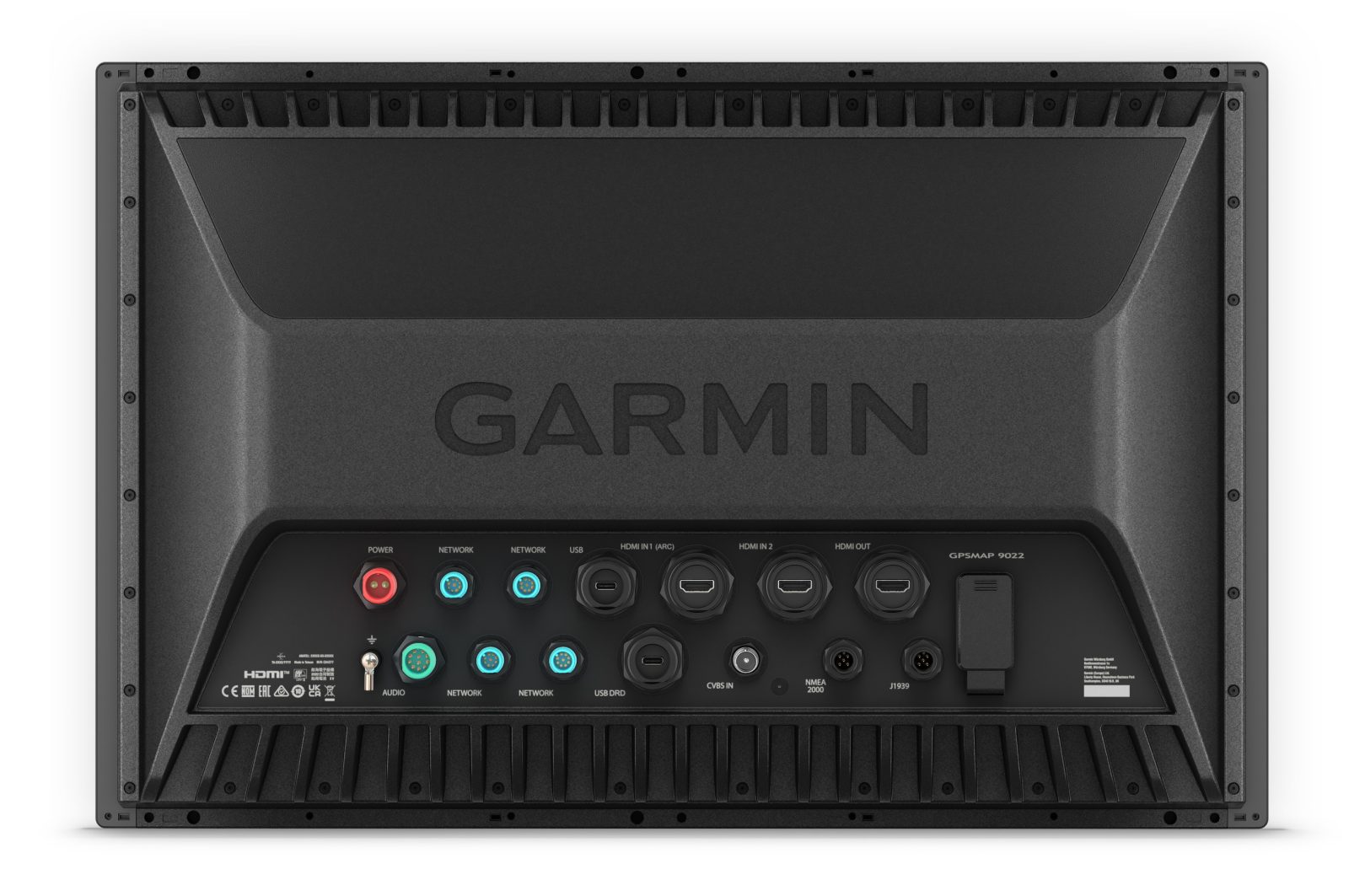 Ben Ellison often refers to this as the booty shot. He also emphasizes the importance of getting a peak at the backside to understand what all is happening. Similar to the 8000 series, the larger 9000 series displays don't have built-in sonar sounders or GPS receivers, though a GPS24xd will be included with each unit. Also, note there are four Bluenet network connections, so smaller systems may not need a switch at all. Lastly, It's nice to see two HDMI inputs, one more than previously. I don't know how often those inputs will get used, but those big and bright 4k displays have some serious potential.
Availability and pricing
I don't have size by size pricing yet, but the 9000s start at $9,999.99 (let's call it $10k) for the 19-inch model. There isn't currently a 19-inch model avaialable but an 8617 is $7,800 and an 8622 is $10,300. So, it looks like the additional resolution and features nudge the cost up. That pricing does include Garmin Navionics+ cartography, a GPS 24xd GNSS receiver, and the display. Units will begin shipping next month.