Garmin GPS 24xd: inexpensive Heading data to stabilize charts, radar, and AIS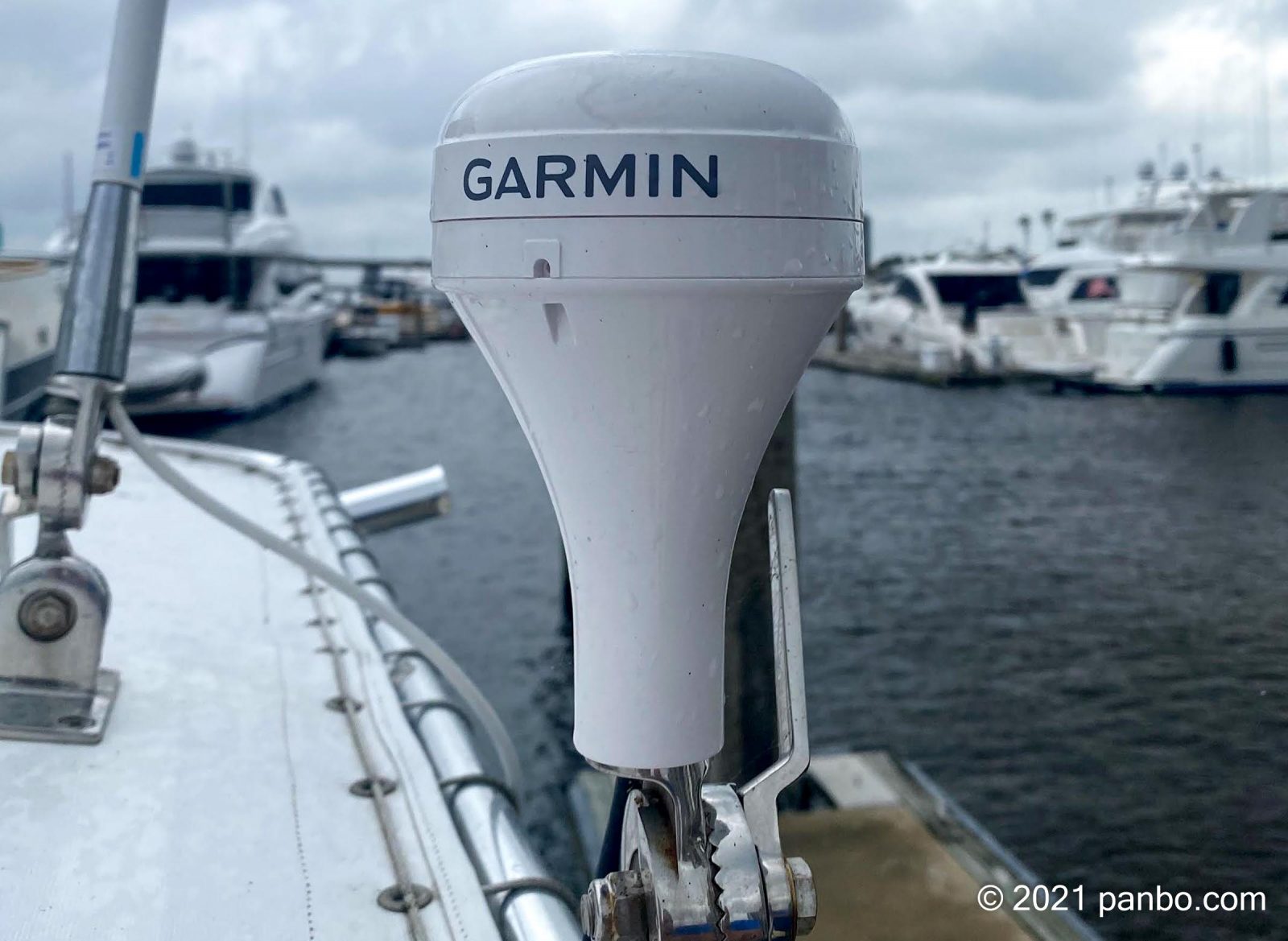 The Garmin GPS 24xd combines a high-performance GNSS receiver with a heading sensor though it only costs $50 more than their GPS 19x GNSS receiver. Thus it can inexpensively stabilize chart and radar views on your MFD while also ensuring that your boat's AIS target is headed in the right direction even when it's tied up. I've been testing one, successfully, and also investigating why the GPS 24xd is not a good replacement for a more accurate, faster-updating, and likely better located Heading sensor that's appropriate for autopilots and radar ARPA/MARPA calculations.
The $299 GPS 24xd shares the funnel shape and mounting options of other Garmin GNSS receivers like the $249 GPS 19x. The 24xd can use GPS, Galileo, GLONASS, and BeiDou satellite constellations for high accuracy positioning, and it can output the data up to 10 times per second (10 hertz) over NMEA 2000. I used the included pole mount and a standard 1-inch 14 thread VHF antenna ratchet mount to install it on Panbo(at)'s T-top frame, and complete deck and underdeck mounts also come in the box. So the GPS 24xd is a lot like a familiar GPS receiver except that it also includes a magnetic heading sensor with plus or minus three degrees of precision, which also outputs an N2K data message — known as a parameter group definition, or PGN — at 10 Hz .
Edit 4/23/2021 – When I first wrote this entry I failed to cover the increased accuracy the 24xd offers when compared to any other currently available marine GNSS receiver. The 24xd is more than twice as precise as Garmin's GPS 19x. Garmin quotes a 50 centimeter spec for 50% circular error probability for the 24xd versus 120 centimeters for the 19x. The additional precision comes from the new L5 GPS frequency. This is a new, more precise GPS frequency that began launching in 2009 but has only recently reached more than 50% coverage in the GPS constellation. Garmin has published a blog about the L5 frequency and the benefits it delivers.
Most small boats I've seen don't have a heading sensor unless there's an autopilot installed. Instead, the boat's GPS-derived Course over ground (COG) is used in lieu of its actual Heading. But COG and Heading aren't always the same. Course over Ground indicates where the boat is going, whereas Heading means where the bow is pointing. If there's a strong current or wind-induced leeway, COG and Heading can differ substantially. Plus, COG data is only accurate when a boat is moving. At anchor or tied to a dock can not use changing positions to calculate a course direction well, and so the COG output is usually quite random because it's based on tiny measured movements usually caused by small GPS errors.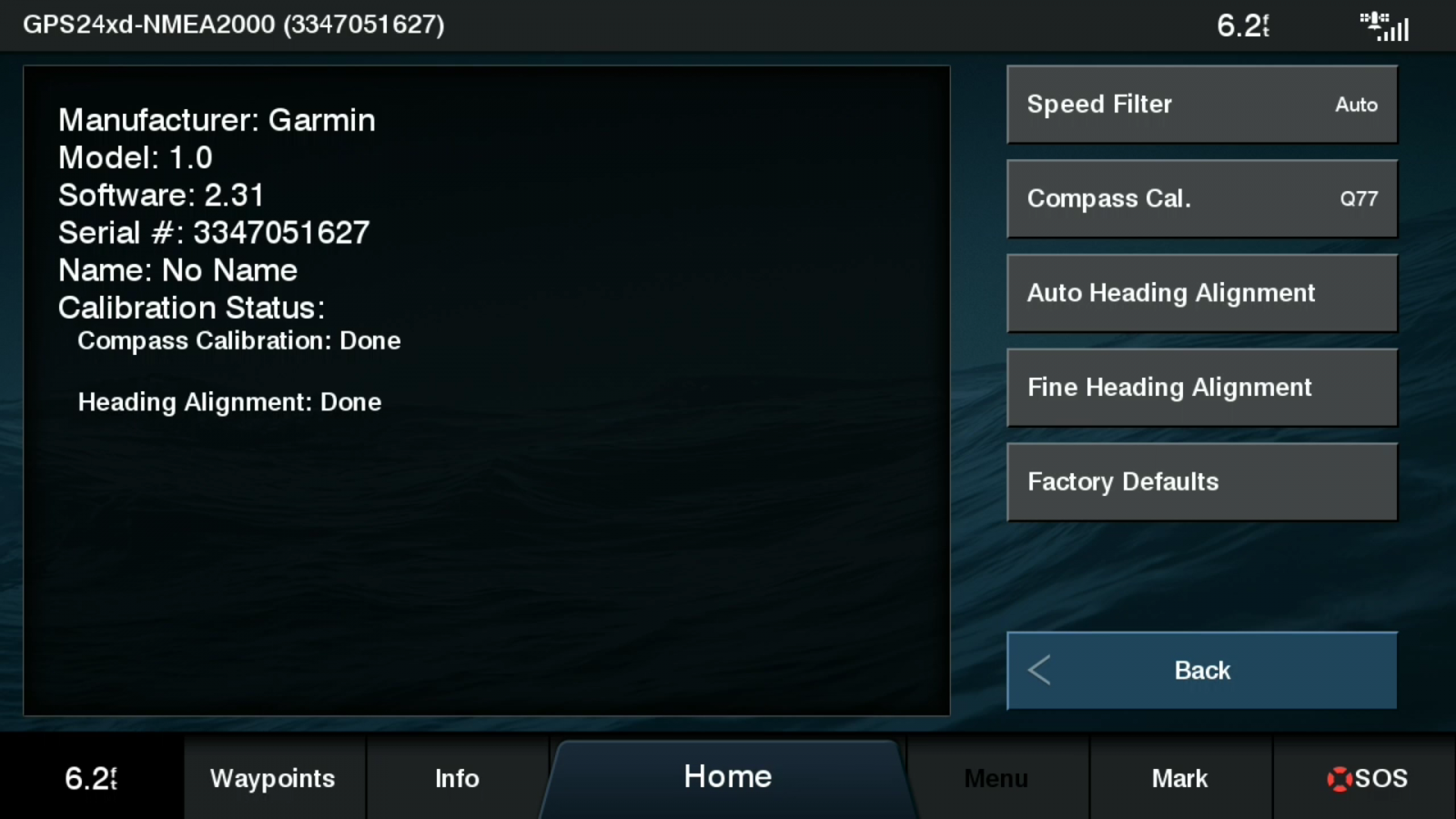 Once the unit is connected to NMEA 2000, you use any Garmin display to calibrate the compass for magnetic deviation at its location on the boat and to align it with the bow, either automatically or with manual fine-tuning. (But much of this can also be done without a Garmin display, as explained below.)
The calibration required turning the boat in a circle one and a half times in either direction. And while the screen instructions don't specify a target speed, I found through experimentation that I got better results — higher quality scores at the end — by completing the circles at around six knots.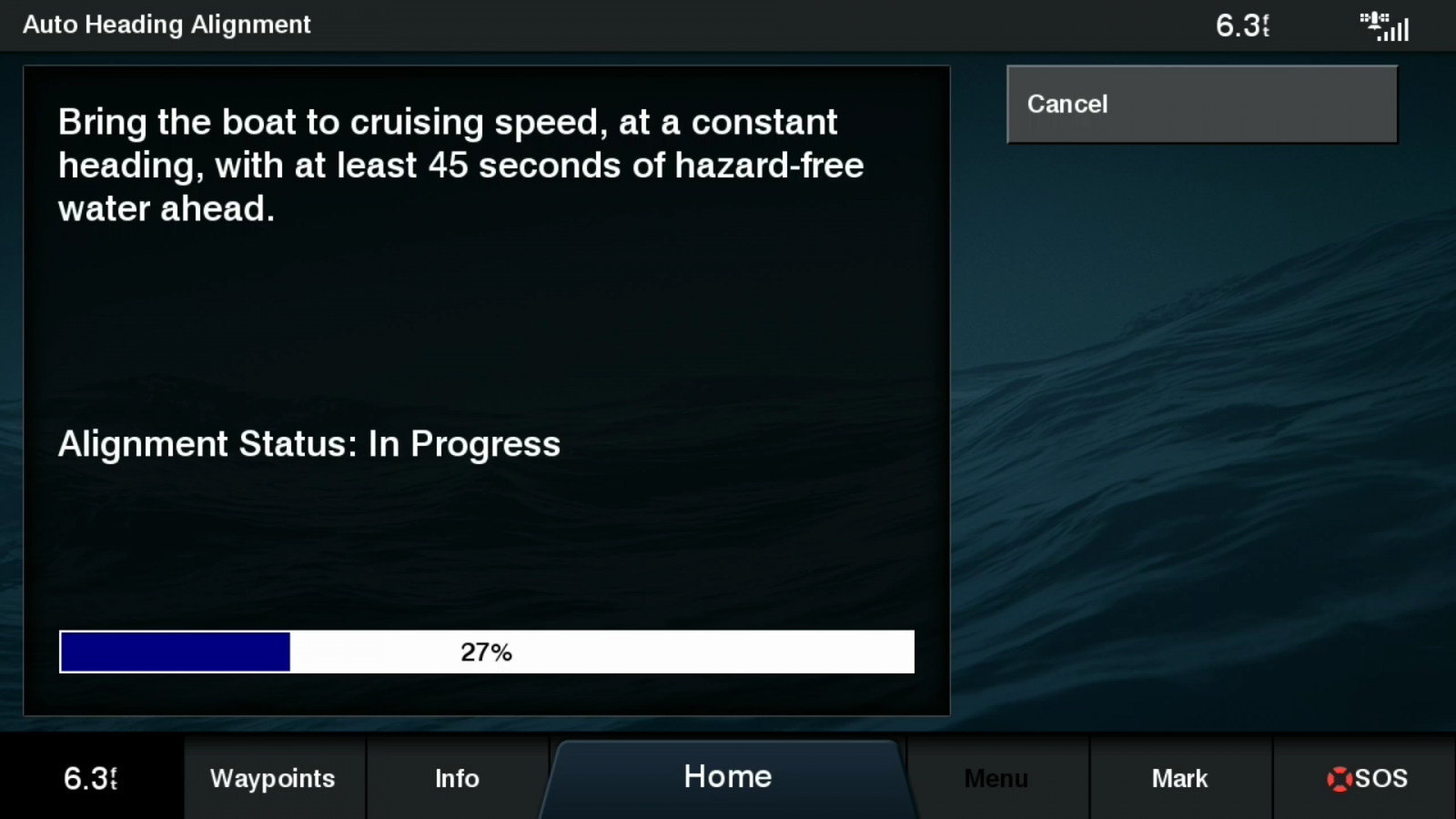 The automatic heading alignment is even easier, only requiring that you cruise in a straight line for 45 seconds. I had a little better results for this at higher speeds, around 20 knots, and that makes sense because the alignment is corrected by comparing Heading to COG. For same reason, all of this calibration should be done when leeway and sideways current set are minimal.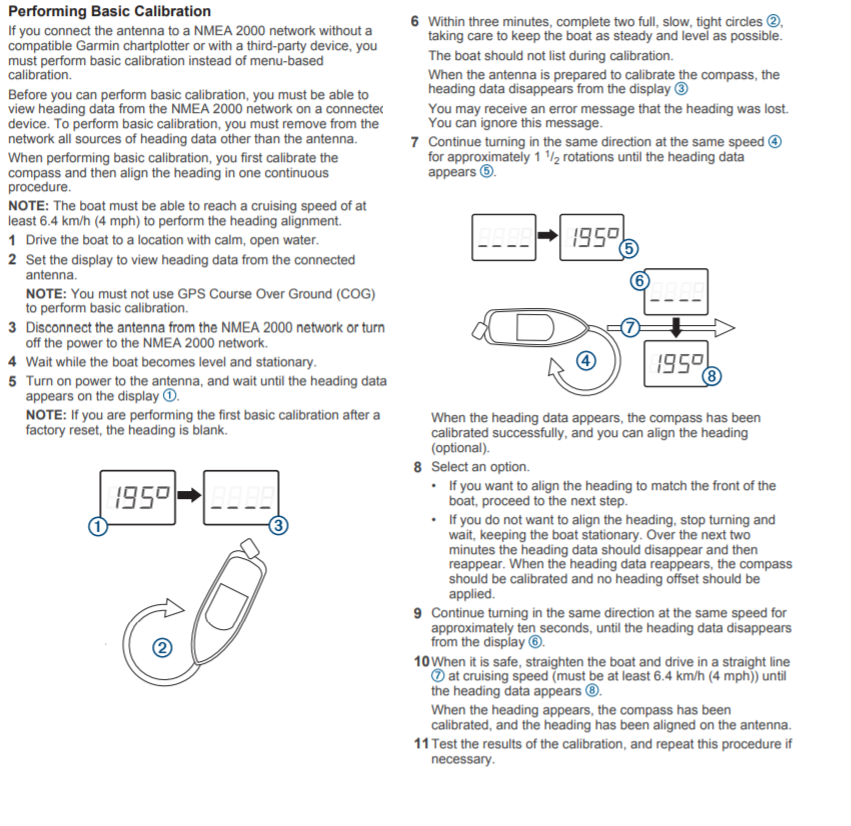 How do you calibrate a GPS 24xd without a Garmin display? You just disconnecting/reconnect its live N2K connection and drive those circles in a specific sequence. The directions don't look particularly complex but this calibration mode doesn't include the screen menus, prompts, and status displays that made the process easy for me with a Garmin MFD.
Once I'd successfully calibrated the test 24xd, Panbo(at)'s Heading numbers started closely agreeing with the helm's traditional compass. Heading and COG values are also close, except when the boat's Heading is impacted by wind or current. In those cases, the sensor is accurately reflecting the boat's actual running conditions and can help the operator understand them.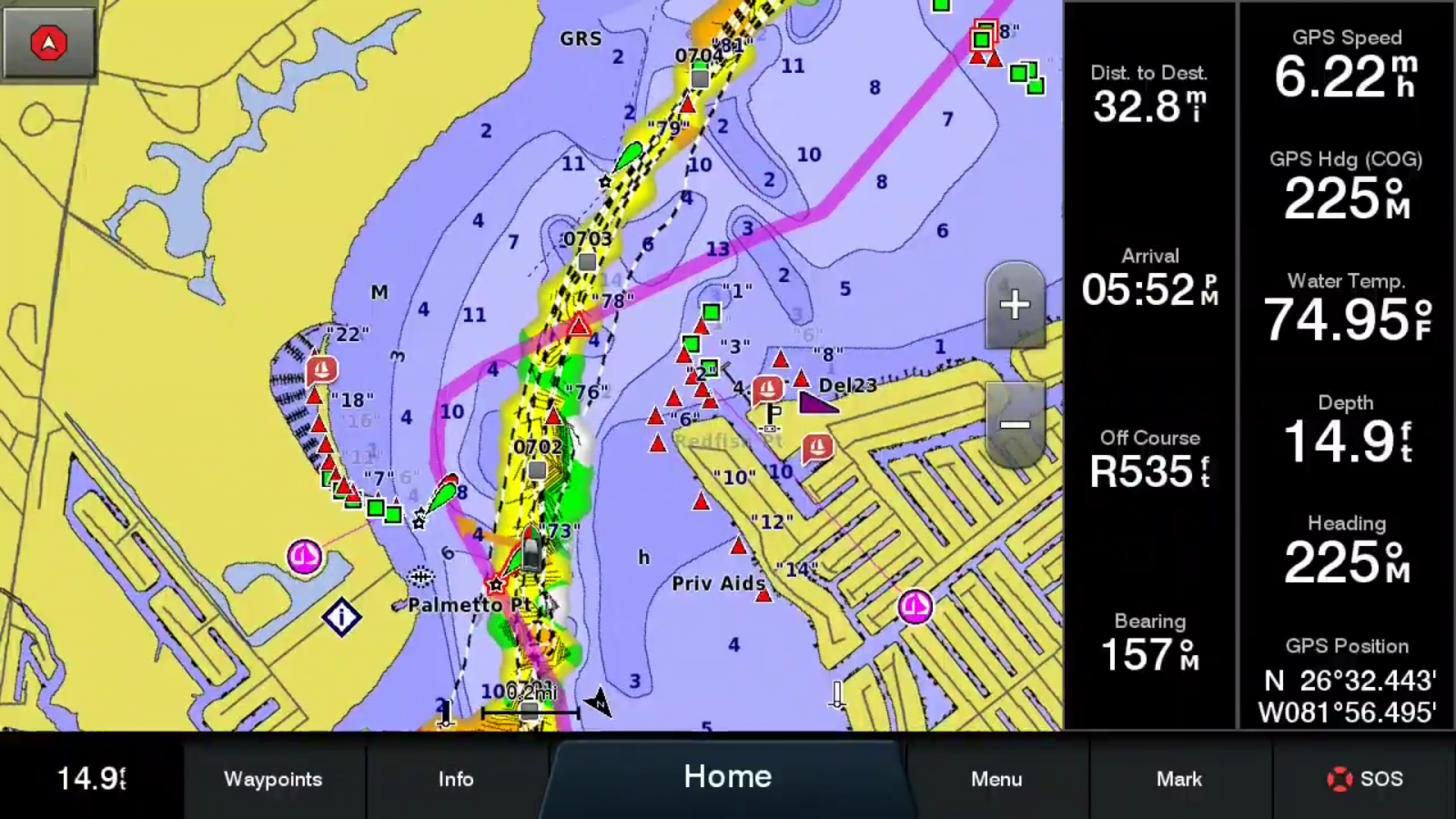 Garmin's marketing and press release promote the GPS 24xd's Heading capabilities for chart and radar display stabilization and also for synchronicity when radar target display is overlaid on electronic charts, but use with an autopilot is not mentioned. The 24xd only outputs vessel heading, not rate of turn or vessel attitude data that I understand autopilots use for smoothing of the data and optimizing performance.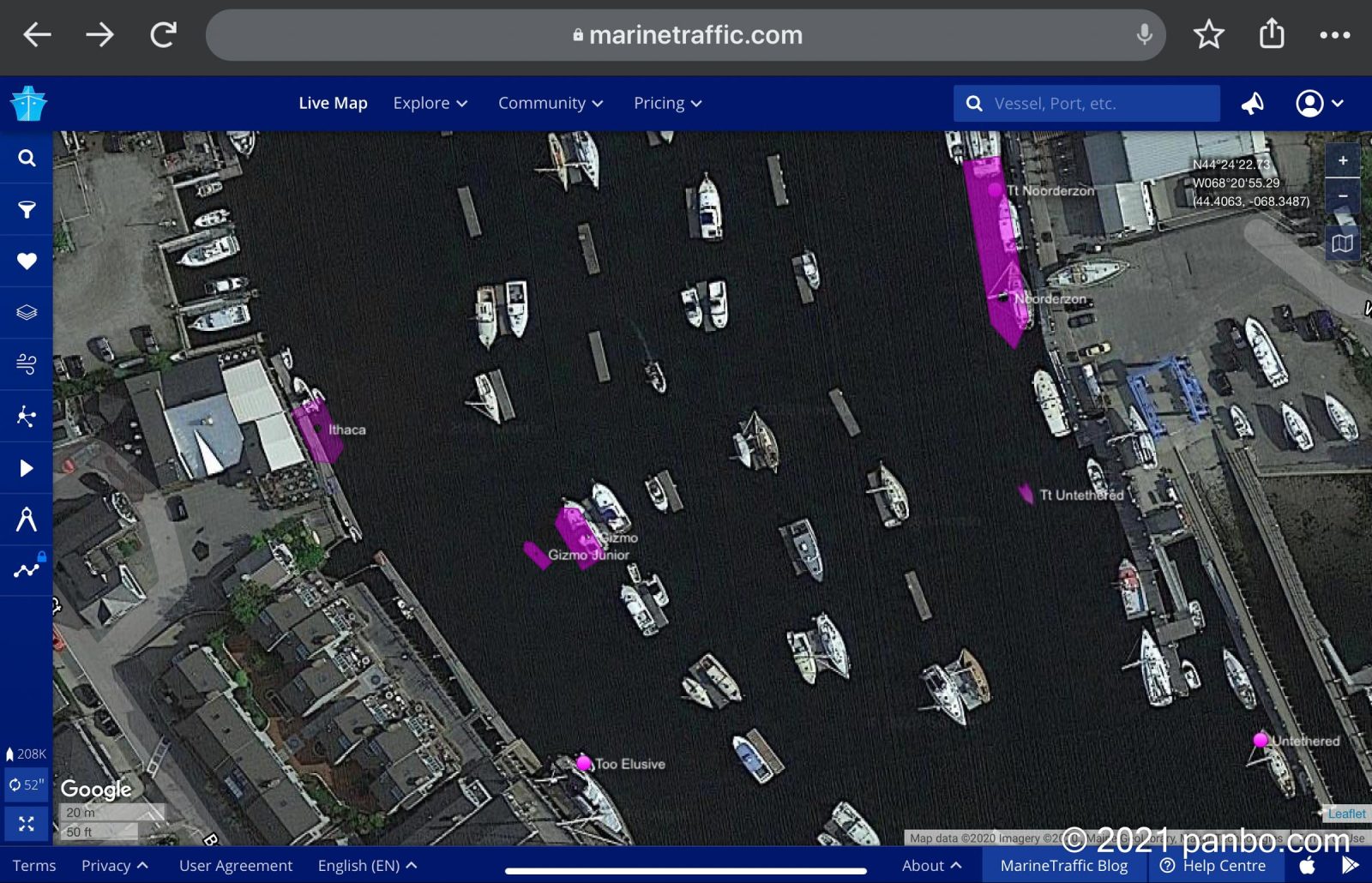 Although the heading data might not be appropriate for more demanding applications it still provides valuable data for chart and radar display, plus it can provide heading data to NMEA 2000 connected AIS transceivers. This data is then incorporated into the AIS message sent by the transceiver and allows AIS display devices to appropriately display the heading of the boat. The Marine Traffic screenshot above shows Gizmo and Gizmo Junior both properly oriented even though they're not moving, which wouldn't be possible without Heading data.
In fact, the screen also shows how Marine Traffic no longer tries to indicate a stopped boat's orientation unless its Heading is available, using a dot-like icon instead. Few chart plotter displays do similar, and the results can be messy, especially when zoomed in enough that the target icons are scaled to the actual length and beam dimensions included in every vessel's AIS output (relative to the location of its AIS's GPS antenna).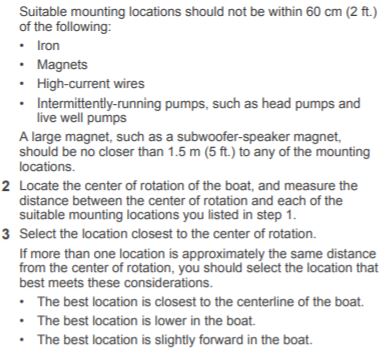 The GPS 24xd is best installed somewhere with a clear sky view for its GPS receiver but the best location for a heading sensor is typically low in the boat and on its centerline. So the optimal install locations compete and the likely result — Panbo(at) an example — is a 24xd mounted high and well off the centerline, which may especially compromise performance for more critical uses like autopilot.
But if you're in the market for a new GPS (GNSS) receiver, I think that the $50 additional cost for the 24xd Heading output is a no-brainer. Even with higher precision Heading sources on board, I'd feel good knowing I had an inexpensive backup. I also suspect, though I haven't been able to test it, that the data provided from the 24xd may well be good enough to make autopilots work, albeit with reduced performance.