Garmin MSC 10 installed and testing underway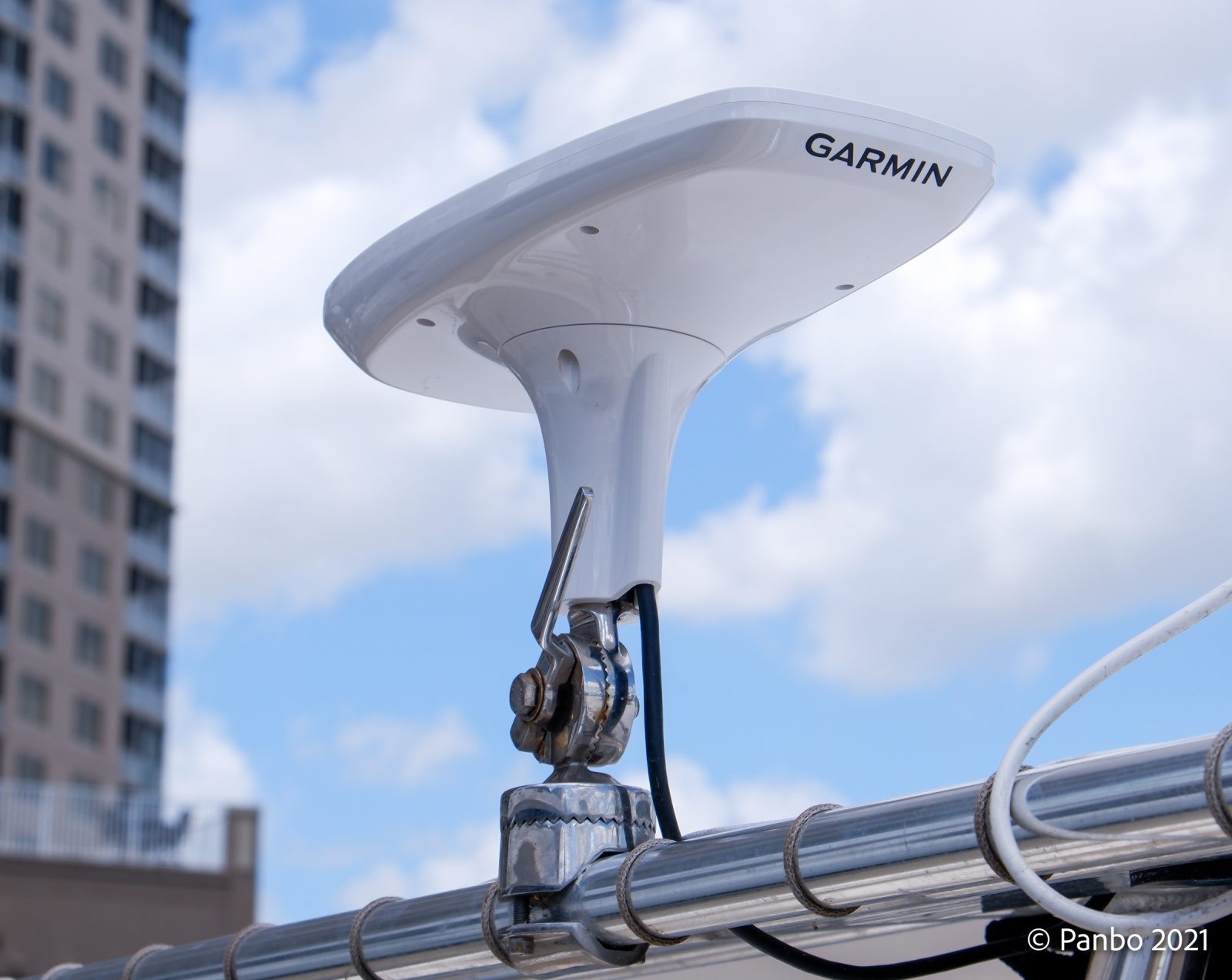 Garmin announced the MSC 10 satellite compass just as I finished my review of their GPS 24xd GNSS and heading sensor. So, I'm anxious to test the MSC 10 and see how it performs, how it compares to the GPS 24xd, and how it stacks up against other manufacturers' satellite compasses.
Satellite compasses offer stable, high-precision heading data with multiple GNSS receivers. Vessel heading is computed by comparing the position data received from two receivers. Satellite compasses aren't susceptible to magnetic interference like traditional magnetic heading sensors. Although, the MSC 10 includes a magnetic heading sensor to backup the satellite receivers in the event of a loss of satellite reception. I've done a lot of digging, and I can't find another satellite compass with a magnetic heading sensor. All the satellite compasses I've seen recently include attitude reference heading systems (AHRS) that provide pitch and heave data to make the heading measurements as precise as possible.
Precise heading and heave data provided by satellite compasses allow displays to correct for the boat's movement. So, instead of showing the bottom get closer and further as the boat heaves in heavy seas, sonar displays can correct for vessel heave and display steady depth data. With accurate heading data, radar displays — especially radar trails — can be corrected for the boat's heading variations as the boat moves around in a seaway.

The $1,100 Garmin MSC 10 uses two GNSS receivers to compute heading and position data. Furuno's SCX20 and NMEA 0183 sibling SCX21 (written up by Ben E. after our demo ride) have four receivers and can use six different pairings of antennas to ensure accuracy and interference rejection. Satellite compasses can be prone to multipath interference — when the signal from a GNSS satellite to the antenna on the boat is either blocked or reflected off other objects on the boat — and Furuno's use of four receivers and interference guards around the sensors seems to greatly reduce interference. I'm hoping to get my hands on an SCX20 and compare the performance of the two units.
I am paying more attention to what's included in the box with marine electronics. I was pleasantly surprised to see that Garmin includes not only mounting hardware and NMEA 2000 components but also a tube of 3M 4200 to seal any penetrations if you mount the compass on a flat surface.
Installing the MSC 10 on Panbo(at) couldn't have been much easier. It comes with a 1-inch 14 antenna mount or you can mount it directly to a flat surface. The MSC 10 has a built-in magnetic compass that can provide heading data when GNSS signals are unavailable. But, to take advantage of this, you will need to mount the compass in a magnetically safe location. Because it met all the requirements for a mounting location, I mounted it to the same antenna ratchet I'd previously used for the GPS 24xd. The compass has a single NMEA 2000 port on the bottom so all that's required is connecting one NMEA 2000 drop cable, which Garmin nicely includes.
Once the MSC 10 is installed and connected to the network, it starts working without any calibration. If you plan to use the magnetic compass, Garmin recommends calibrating it. Calibration is similar to the GPS 24xd's: one and a half slow circles and then 45 seconds of straight cruising to calibrate and align the compass.
In another similarity to the GPS 24xd, the MSC 10 uses a dual-band, L1 and L5, GPS receiver that allows for greater location precision. The two GNSS sensor Garmin MSC 10's heading measurements are accurate to 2 degrees RMS. By comparison, Furuno's SCX20 offers 1-degree precision. But, Garmin reports position accuracy of 1-meter while Furuno lists maximum accuracy of 3-meters. I believe the dual-band GPS receiver allows Garmin to deliver greater positioning precision.
While comparing the MSC 10 to other GPS receivers I noticed that both the Furuno SCX20 and the Simrad HS60 output NMEA 2000 PGN 127251 – Rate of Turn, but the MSC 10 doesn't. I'm not sure if this will impact the MSC 10's performance in any of its applications, but I also found that Garmin's 9-axis heading sensor does output 127251.
Although it's early in my testing I have seen steady and predictable heading data produced by the MSC 10. Calibration was easy and I'm a fan of the inclusion of a magnetic sensor to back up the satellite receivers.