Furuno SCX20 & SCX21 satellite compasses, the impressive demo at NMEA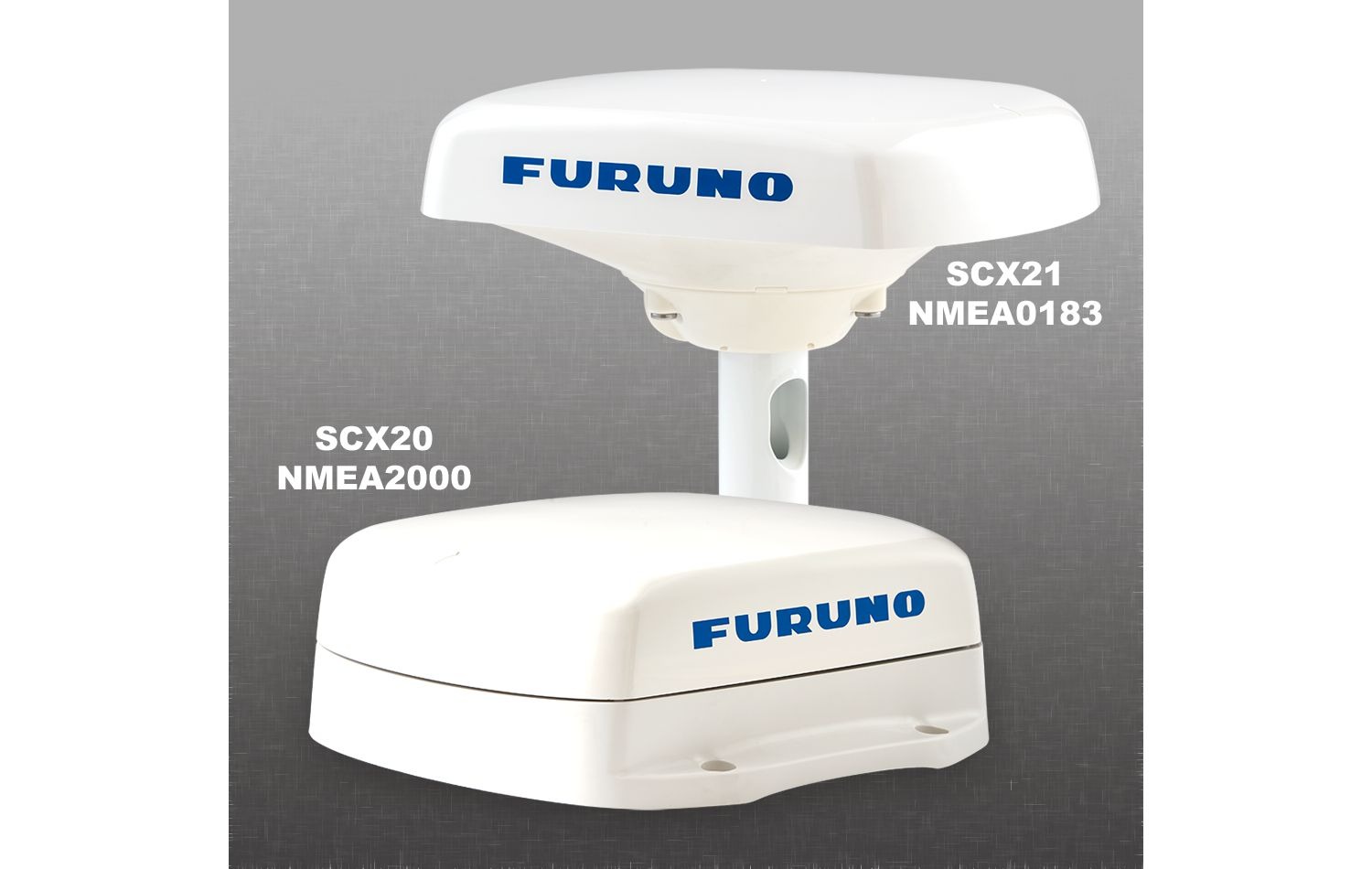 While Furuno has just introduced powerful new TZT3 multi-function displays and NXT solid-state radars, that's all the more reason to highlight their remarkable new SCX satellite compass design. After seeing prototypes demonstrated on the water, I believe that the technology delivers much more than similar sensors at a reasonable cost with lots of install flexibility. In fact, I expect to eventually see the SCX20 mounted on boats that don't even have other Furuno gear and hope to see other brands develop similarly advanced multi-sensors.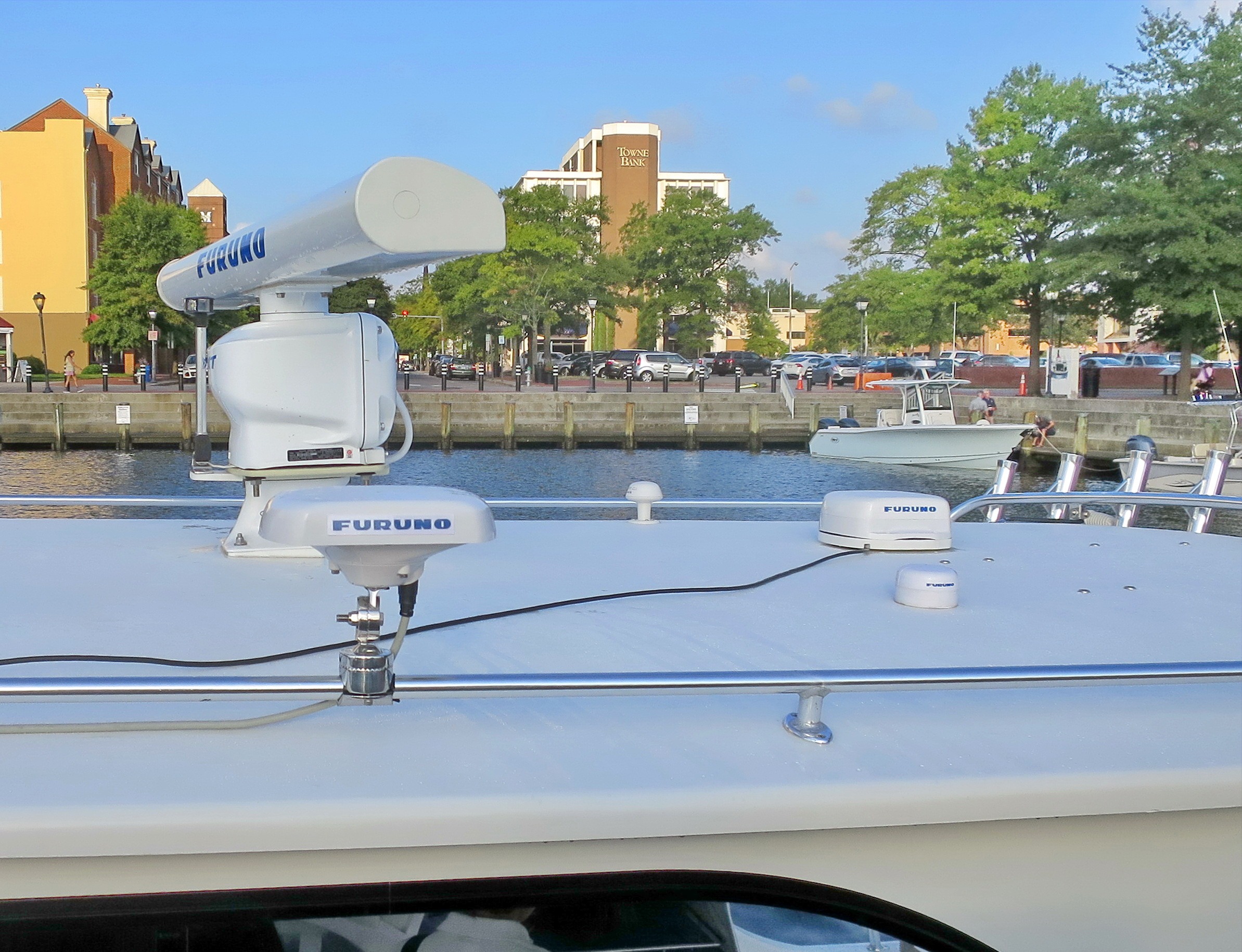 Last September Furuno had progressed enough with the just-now-announced SCX compasses to show off beta units at the NMEA Conference. There was an engineer on board and some of the numbers you'll see in my demo photos below were suspect, but she was downloading a new firmware version as Ben Stein and I left the boat and I'm confident that the SCX data output is even more impressive now.
You can see above that the SCX21 for NMEA 0183 and the SCX20 for NMEA 2000 are both compact enough to fit on fairly small boats. What's more, aspects of the new design detailed below purportedly make the SCX much better at handling the multipath interference that can mess with many satellite compasses if they don't have a very clear sky view.
Note too that the SCX20 can be used with the pole mount base, though the 21 does not work with the roof mount base (probably because of the larger connector).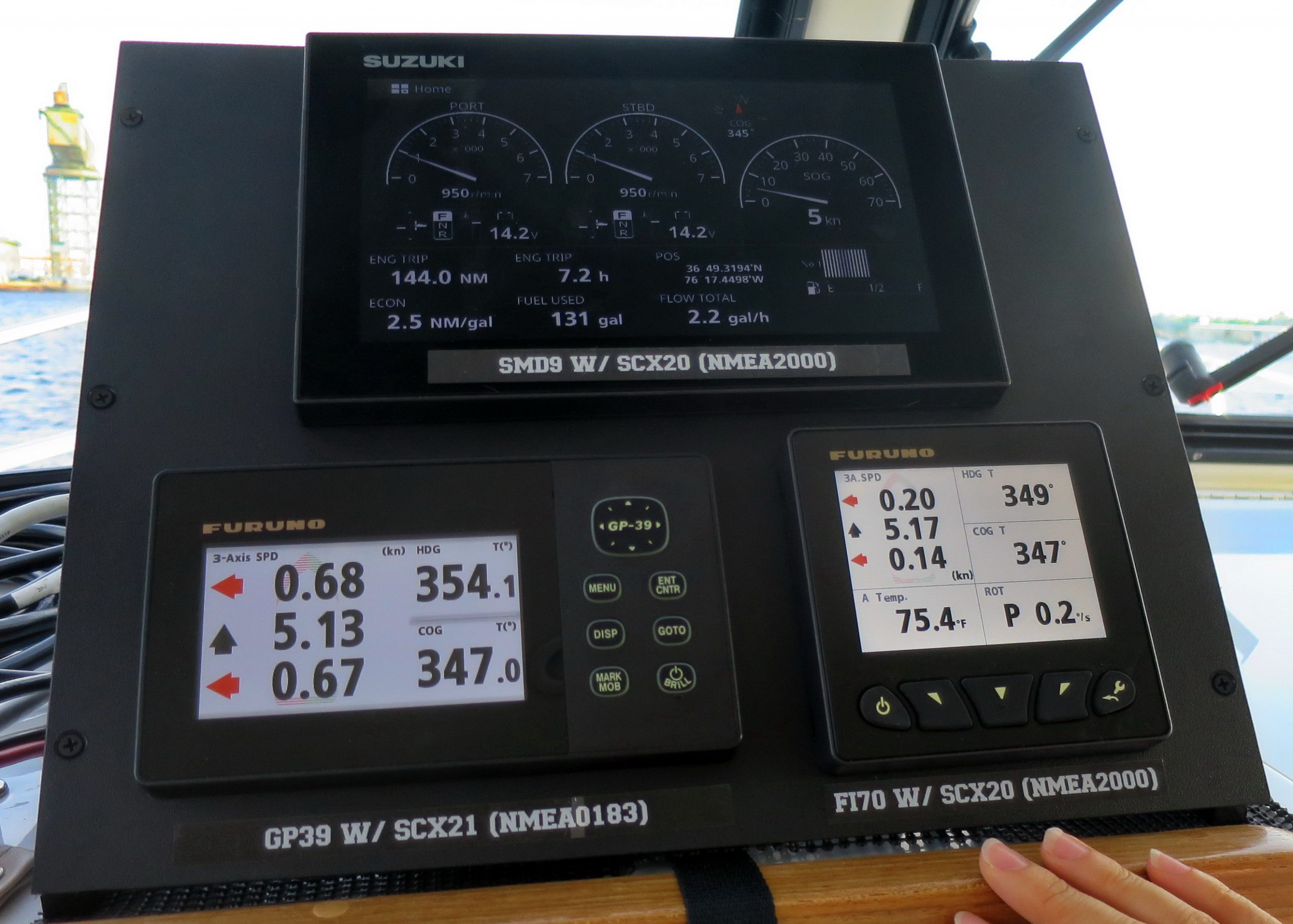 Both the SCX sensors retail for $1,195, a far cry from the venerable Furuno SC33 at $2,595. And while the 33 claims 0.4 degree Heading accuracy, I believe that the SCX design's highly responsive 1 degree accuracy is plenty good enough, plus it delivers valuable data the 33 can't.
Actually, I'd never seen the 3-Axis Speed displayed above on any boat, but I'd sure like to have it on mine. The SCX is measuring the boat's forward Y-axis Speed over Ground like a normal GPS (except for the claimed 0.02 knot accuracy). But because the sensor also knows how the boat is rolling, pitching, and heaving — and because specifying the boat's size and its location are part of the installation process — it can also determine the left-right X-axis speeds at the bow and stern.
You can even set up the SCX to deliver 3-axis speed at the height you'd prefer, like at your boat's waterline. Wouldn't that be handy when, say, thrusting up to a floating dock you can't see very well from the helm?
In the scenario I photographed above, the SCX21 shows the demo boat slipping leftward at 3/4 of a knot, which made easy-to-understand sense given the tidal current in the Elizabeth River and also given the 13-degree COG/Heading difference. I can not explain the similar but different values coming from the SCX20 except to note again the demo's "prototype" aspect.
The SCX design employs four GNSS receivers each able to work with the GPS, Galileo, GLONASS, and QZSS satellite constellations, SBAS augmentation included. And while many satellite compasses use a single two-receiver baseline to calculate Heading, the SCX uses all six baselines possible with this array.
Hence the resistance to multipath interference, though also note how the low altitude signals possible with bounces off other onboard gear are shielded out. Moreover, the SCX can be set up to further filter out low altitude satellites, which might also help if someone is trying to spoof the positioning systems.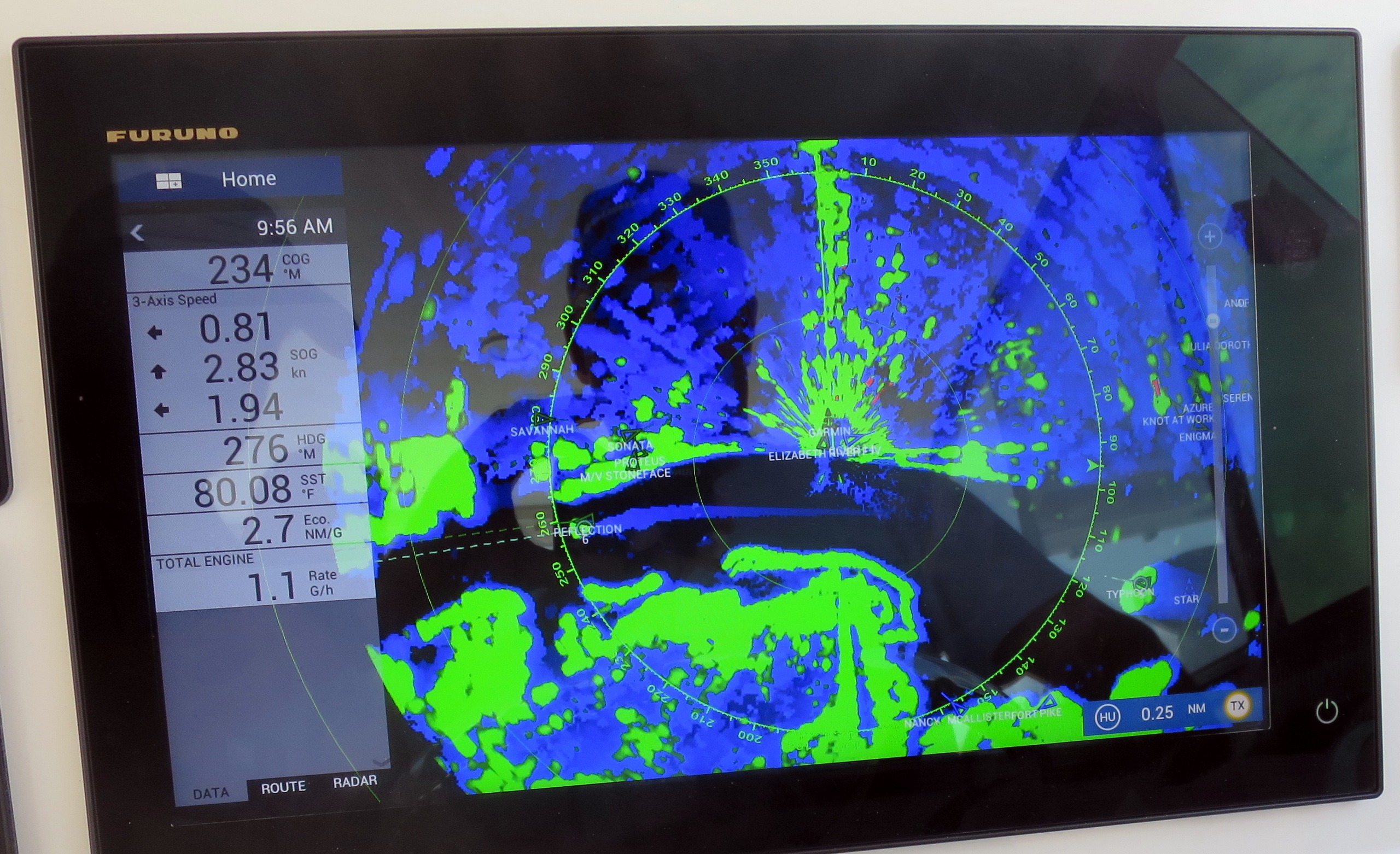 Furuno is particularly proud about how well the SCX can support the True Echo Trail feature available with many of their radars, and it is truly sensor challenging to completely remove your boat's motion from what a radar sees so that the true past motion of a target is shown by its trail. And since the two are sourced independently, data errors show.
In this case, the demo boat is just nosing back into the Portsmouth docks and the steady blue trail behind the vessel out to the left in the river indicates that our sharp right turn and other maneuvers were accurately removed. Furuno calls it "Echo Trail ZIG-ZAG Domination" with comparative screenshots using (unfortunately unnamed) competitor satellite compasses.
The SCX sensors also calculate Heave, which can be used by some MFDs to stabilize sonar imagery, as I saw dramatically demonstrated with a $3,000 SC30 in 2008. The difference now is not just the greatly reduced cost; Heave is now a standard NMEA 2000 PGN which is output by the SCX.
In fact, all the SCX20 data output seems to be in standard N2K format so it should be usable by any N2K display, autopilot, sonar processor, camera stabilization system, or whatever else can read the PGNs. Which is why I think that these compasses will get installed on non-Furuno boats. Yes, there's still the issue of firmware updating and configuration — common to independent NMEA 2000 sensors — but there's good Furuno news in that department too.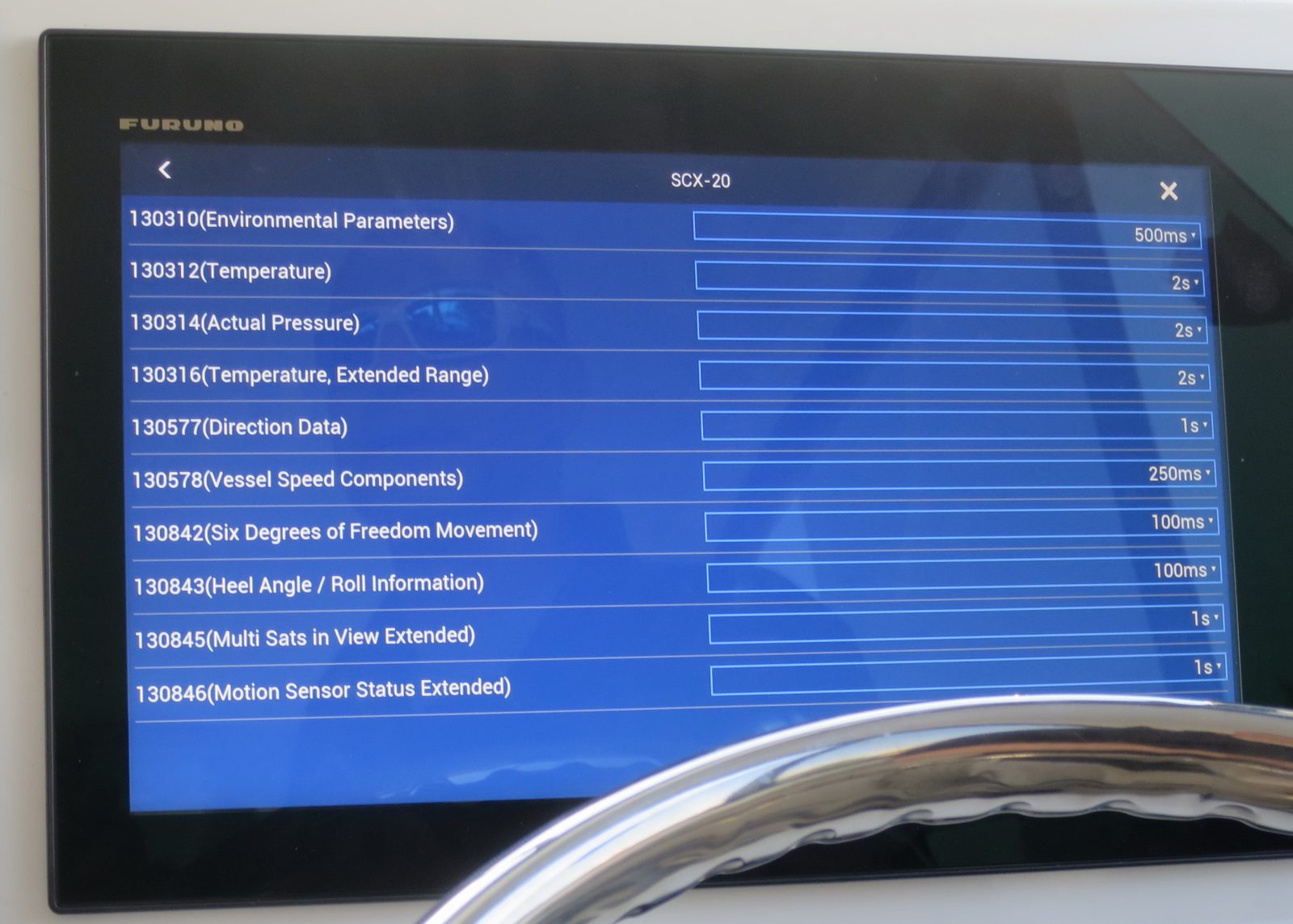 First of all, the configuration possible with both SCX devices is extensive, and setting up or tweaking the SCX20 using a TZT2 (or the new TZTouch 3 MFDs) looks easy. You can read all about it in the SCX20 Operators Manual downloadable here, but note too the SC Tool Operator's Manual.
The SC Tool is a Windows PC program that can be used with either SCX sensor or the SC33. And don't fret when you see that using the tool with the SCX20 requires an uncommon CANbus to USB converter and a patch cable. Your pro marine electronics installer may have these, but Furuno tells me that the Tool will soon work with an Actisense NGT-1-USB NMEA 2000 interface. Many installers and DIY boaters already own the NGT-1, and it's also the standard N2K gateway for the Furuno-related TZ Navigator and Professional PC nav programs.
So now we're talking about a powerful multifunction satellite compass that can be independently updated and managed — even diagnosed if there's trouble — regardless of what other electronics it's helping to perform better. And the SCX doesn't cost an arm and leg.
I've tested two satellite compasses on Gizmo over the years along with several high-tech fluxgate-based heading sensors like the Raymarine Ev-1 and the Lars Thrane LT-1000. They all noticeably improved everyday uses like autopilot, radar overlay, and MARPA targeting when compared to more conventional sensors. They can also help an exotic feature like Auto Slew on a FLIR thermal camera to work well, and all these sensors fed multiple MFD brands over N2K with just a few hiccups. I particularly recommend what is now the Si-Tex Vector Compact GPS Compass as a great value at about $725 online.
But, wow, isn't the Furuno SCX20 a very nice step up?
PS 2/19: I forgot to mention that both SCX models also contain high accuracy atmospheric pressure and air temp sensors. And I just learned that there's even a magnetic heading sensor built into the design. It's used now to speed up the initial satellite heading calculations at startup, but Furuno plans to "deliver a software upgrade that will provide full magnetic automatic backup in the case of 100% GNSS blockage!" The company was hesitant to advertise this feature before it met their "stringent QC tests" but they're "confident" about that now. So we're the first to hear that the SCX engineering is even more remarkable than I thought.