Glomex Resets the Bar With Two New Internet Antennas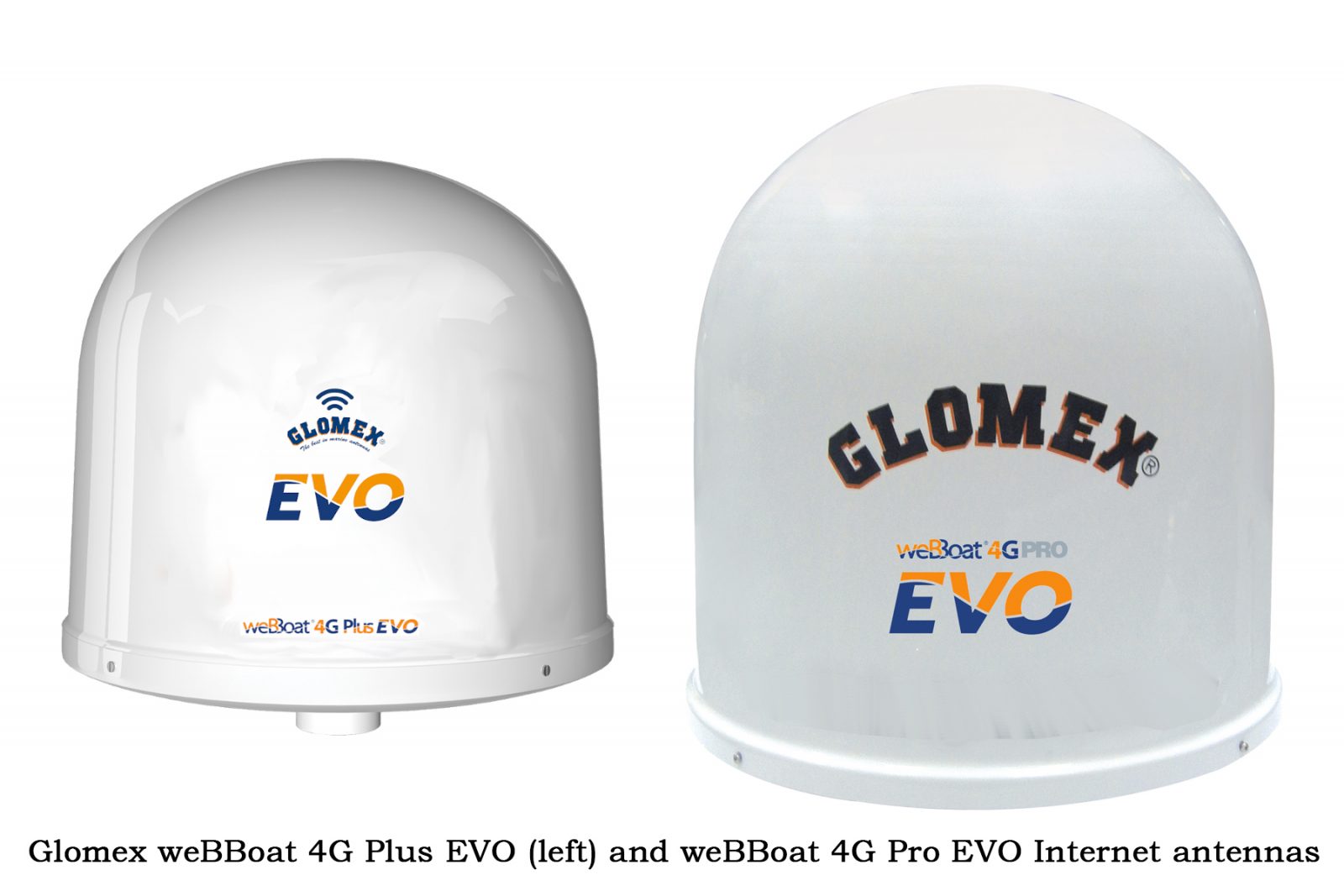 Two new 4G/Wi-Fi integrated Internet antennas have reset the bar for near-shore web access. Available exclusively from GA Communications, the Glomex weBBoat 4G Plus EVO and 4G Pro EVO deliver secure and reliable residential-quality connectivity, plus all the benefits the innovative EVO series offers.
Both the weBBoat 4G Plus EVO and 4G Pro EVO antennas receive 4G and Wi-Fi signals from up to 20 miles away and deploy them throughout the vessel. As many as 32 devices can connect simultaneously via a wireless WAN or an Ethernet cable connected to one of the device's three ports.
The EVO line of Glomex weBBoat marine Internet antennas introduces pioneering functionality. Upon startup, automatic APN instantly connects the device's SIM card to the chosen carrier. SMS management provides user access to Internet consumption data, text messaging and encrypted remote peer-to-peer technical support. An automatic switching mode with onboard satellite Internet devices/V-SAT increases the performance and usefulness of the integrated system.
The weBBoat 4G Plus EVO is controlled via the Glomex weBBoat 4G Plus mobile app for Android and iOS. The 4G Pro EVO version is configured and maintained through a web UI using a computer. This allows full access to the antenna's router controls.
Inside the weBBoat 4G Plus EVO and 4G Pro EVO antennas, there are four 4G antennas and two Wi-Fi antennas. Serious performers, they offer up to 150Mbps in LTE CAT4 and a maximum 42Mbps download in DC-HSPA+. This delivers super-fast and secure connectivity.
While both antennas are built to overcome a harsh marine environment, the weBBoat 4G Pro EVO was engineered for the rigors of commercial use. It boasts a reinforced radome with a larger stainless steel mounting platform and a shock-resistant closing mechanism. The internal components are set on a vibration-resistant chassis for use in rough seas. The weBBoat 4G Plus EVO has a 10″ W x 12″ H radome, the 4G Pro EVO version's is 12″ W x 14″ H.
Plug-and-play, the antennas are powered by 9/30V DC via a single lead for simple installation. They carry CE, FCC and Anatel approvals and certifications. The weBBoat 4G Plus EVO has an MSRP of $1,095 and the 4G Pro EVO, $1,495.
For more information:
weBBoat 4G Plus EVO, U.S. version
weBBoat 4G Pro EVO, U.S. version