How do you test three radars on a 22-foot boat?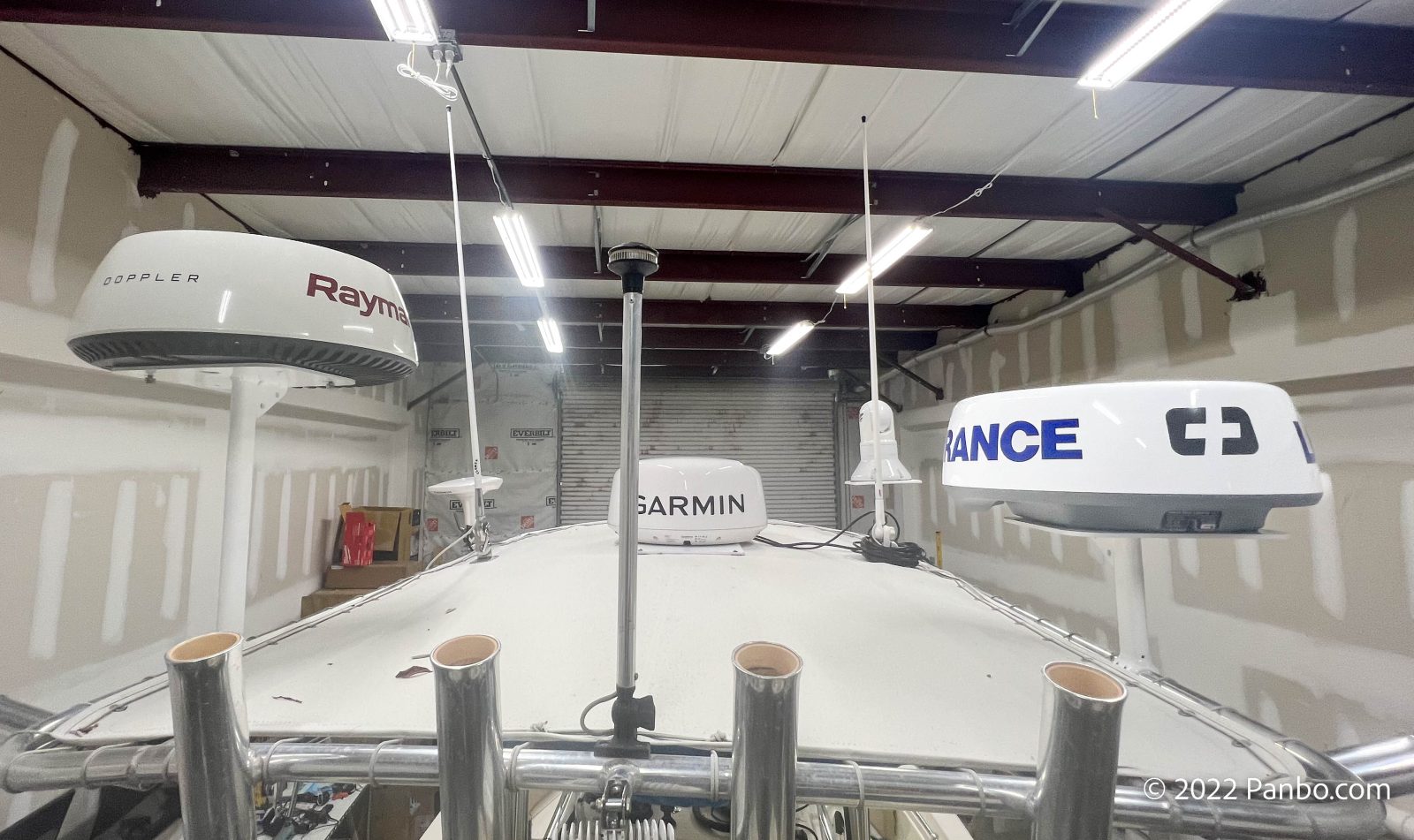 Things in Fort Myers are starting to get back to normal after hurricane Ian. For me, that means getting back out on the water and testing marine electronics. One of my first post-hurricane on-the-water tests will be comparing the current crop of solid-state, enclosed dome radar units. I've planned this comparison test for an embarrassingly long time. But I haven't been able to figure out how to mount all three units on my 22-foot test boat.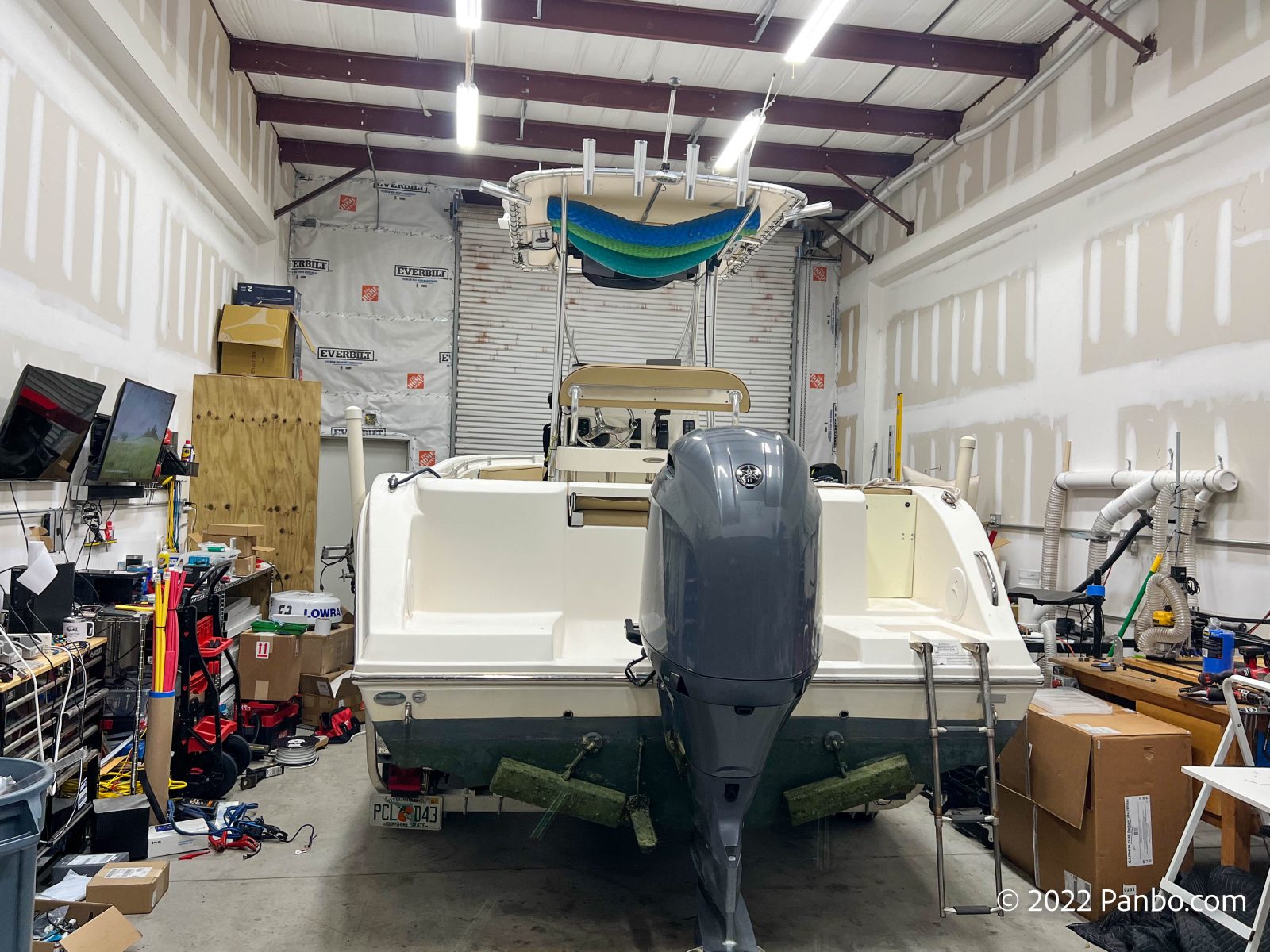 Fortunately, Panbo(at) rode out Ian inside my shop. I moved into the building about six months ago, and it's been very helpful and not just as a hurricane shelter. I'm able to test equipment in a controlled environment, work on Panbo(at) out of the sun and heat, and house larger machinery. Some of that larger equipment includes a CNC router and table saw, which allow me to produce mounts and panels for installing equipment. Plus, during Ian it sheltered both Panbo(at) and my work van.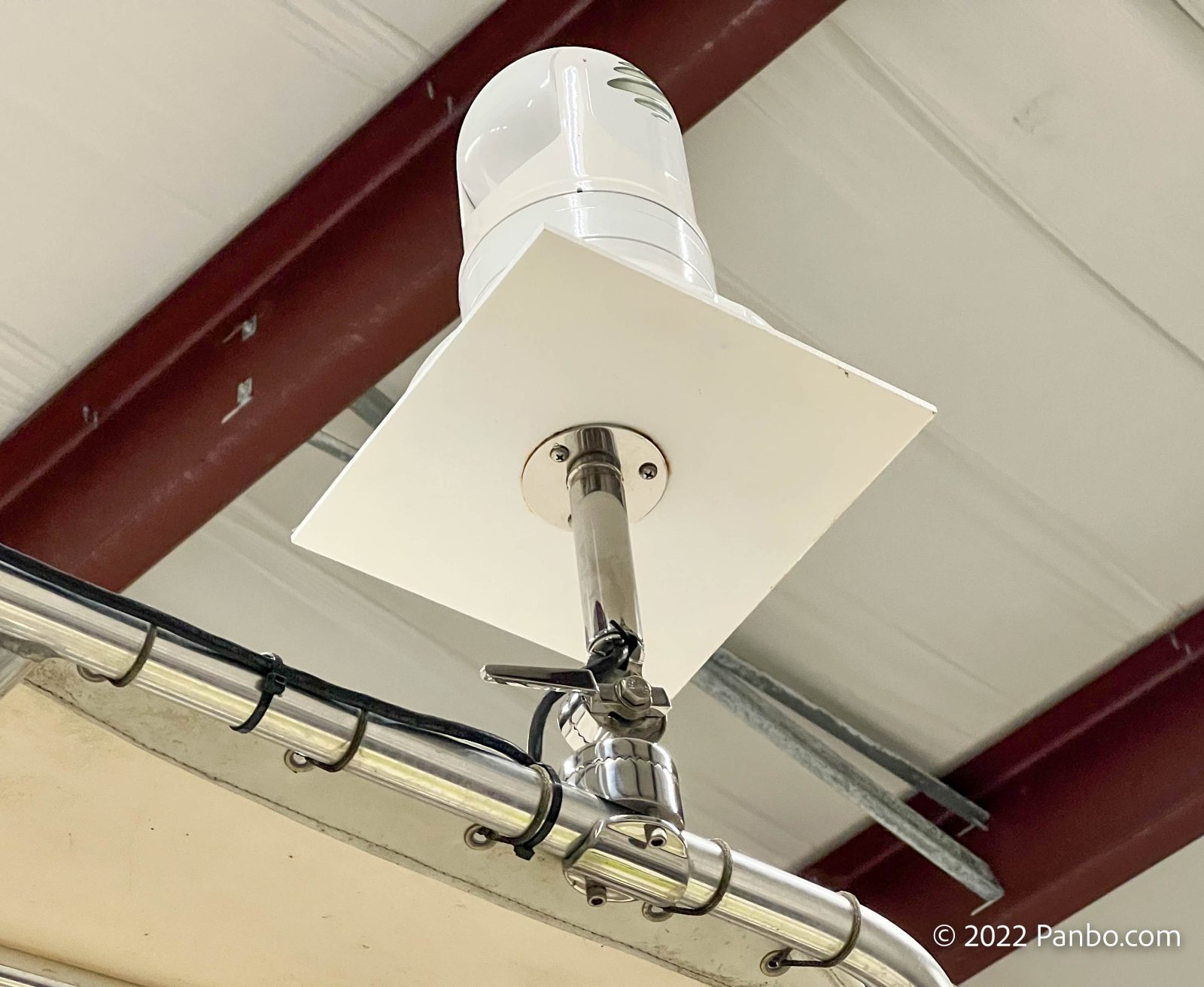 Now that Panbo(at) is the only test boat I have, at least until we buy another big boat, I figure I'll have to be more creative to pull off some of my tests. The first challenge to my creativity is mounting three or four radar units on a boat this size. I'd already made use of rail mount 1-inch 14 antenna mounts for my head-to-head thermal camera comparison. That worked pretty well, but I didn't think my cobbled-together coupler and Starboard mounting platform would be up to the potential loads of a radar unit.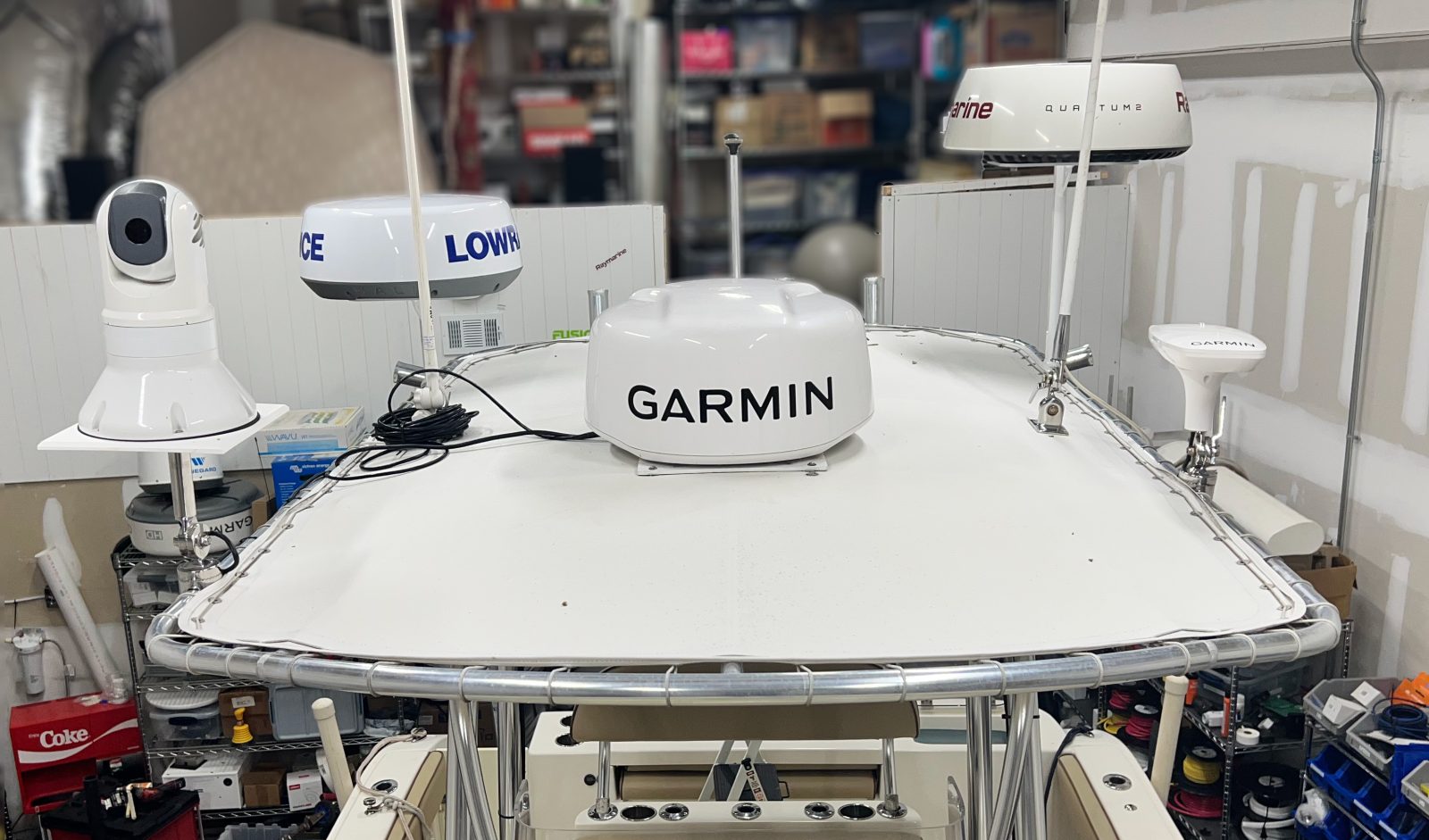 I've worked with William from Nautical Creations on other mounts and have been impressed by his creative, common-sense approach and his willingness to custom fabricate pieces to suit my oddball needs. William came through again, this time with the pedestal mounts the Raymarine Quantum 2 and Navico Halo 20+ are mounted on.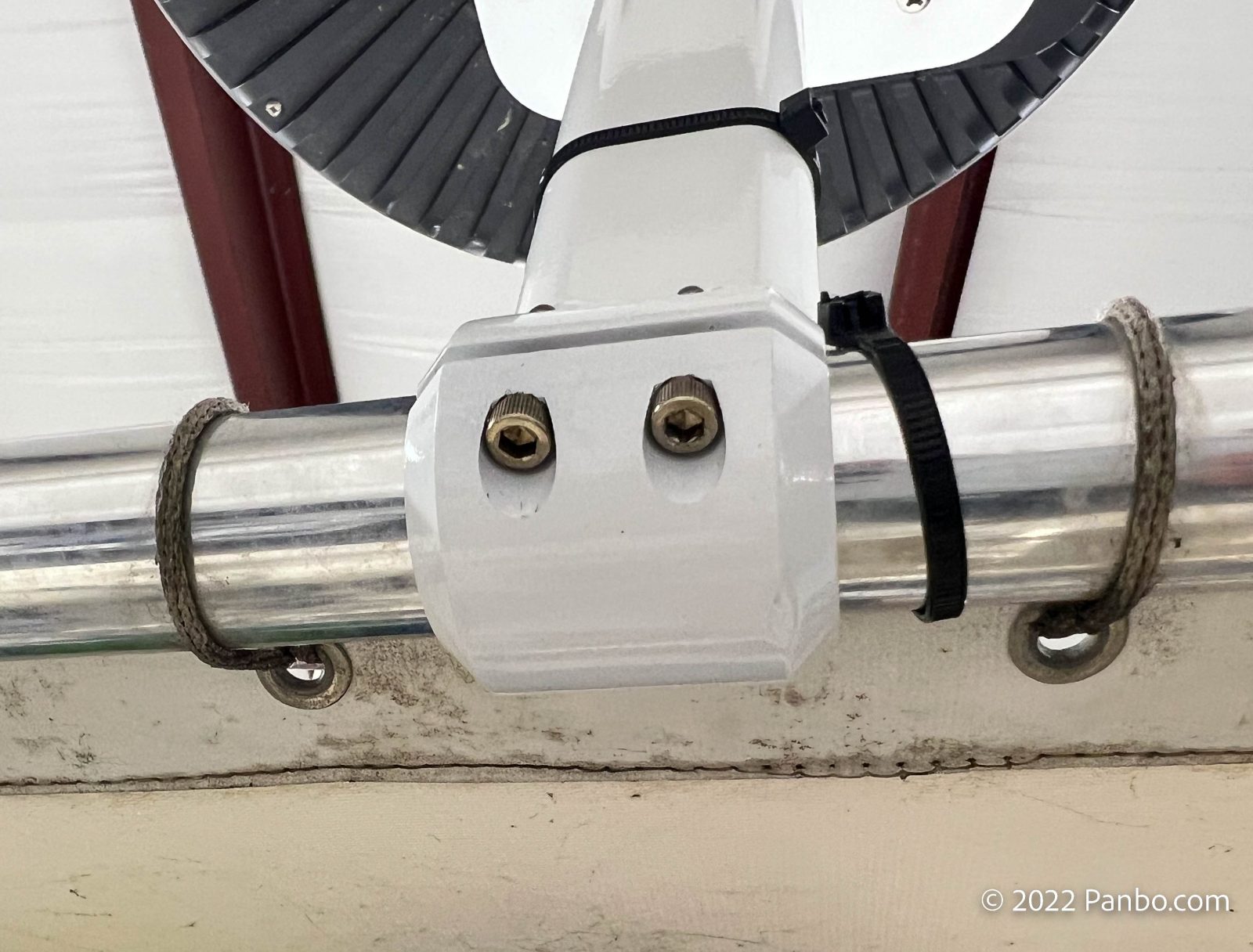 These mounts have a two-piece clamp at their base that wraps around the T-Top with an impressively strong grip. Attached to the clamp is a vertical piece that extends up about 10 inches on one mount and about 22 inches on the other. The vertical mast meets a flat plate with holes pre-drilled to match the mounting pattern of the radar units.
I was nervous that the taller of the two wouldn't stay put. I feared the leverage of the taller mast would have too much leverage for the clamp to hold securely. Fortunately, the clamp has held securely, and the radar hasn't moved at all. That includes during a ten-plus mile tow with the boat on the trailer over some pretty bumpy roads. So, I feel good the radar units will stay put.
Next up will be getting out on the water and putting all three radar units through their paces. I'm excited to get back on the water but also dreading it a little. I haven't seen some of Ian's devastation first hand and know that I will from the water. But first, we need to get through Nicole. As I write this, the winds are picking up outside and the skies are turning gray. We aren't expecting much worse than some gusty, rainy days but I'm very ready for hurricane season 2022 to wrap up.