LED lantern in a bottle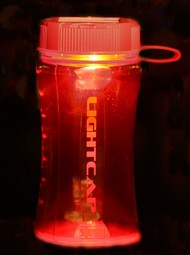 Tip of the hat to Scuttlebutt for today's kind News Brief about Panbo. It's been crazy here, it's Friday, and I'm going to keep it quite light. So meet LightCap, a 32 oz water jug with a solar panel, Ni-Cad battery pack, and both red and white LEDs built into its top. It sounds like a foolish thing but I'm liking the prototype Sollight sent over. You can't quite read by it but there's a wonderful shimmer created by the light passing through the water, which also gives it some stay-put heft. LightCap could definitely add a little more magic to a balmy summer evening spent relaxing in the cockpit.
Do unto others dept: visit Zephyr, a newish blog pleasantly probing "sailing culture for voyagers, zealots, poets and populists".