LED nav lights, a fast moving target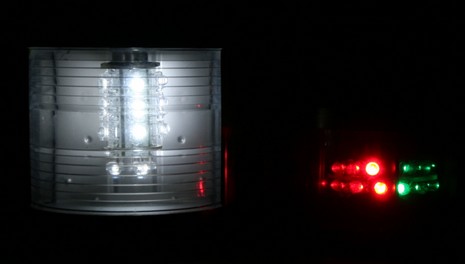 Last winter, thanks to Lee Guite of East Boothbay, I tried some LED bulbs Lee used to replace the incandescent ones in the Aqua Signal nav lights aboard his Dulcinea. Lee got pretty carried away researching available replacement bulbs and the ones he finally chose were "flux" models from the LED Shop in Australia. In the photo above I was trying to get a camera comparison of his steaming light versus an OGM combo LED running light. They both seemed fairly effective, but now the LED Shop has more powerful SMT bulbs, and Orca Green Marine has dropped the multi-LED models altogether in favor of single LED lights. I don't know much about LEDs, but they do seem to be in a state of rapid technological change, which means that one LED may perform quite differently than another, and none of them may be what we'll be using a few years hence.

But most any LED is likely to be more reliable than an incandescent bulb, and there are a variety of inexpensive replacement bulbs. Lee also likes the bulbs coming from Dr. LED and is curious about the extra cheap choices from Super Bright LEDs. There's also exotic Bebi Electronics, and if you can afford to replace your fixtures, you might consider high-end Lobolights (though I heard that one circumnavigator had electrolysis problems with them). And Aqua Signal, Perko, Hella and Innovative Lighting are all making their own LED running lights nowadays, at a wide variety of price points. I sure like knowing that a given light has been tested to U.S. Coast Guard specs, but I know it's an expensive process and might settle for one claiming to meet the spec (which, sailors should note, includes vertical angle of visibility to compensate for heel). And I understand why the USCG permits a lower range of visibility for smaller boats—the equipment is less expensive—but do you really want your smaller boat to be seen less far? Also, does anyone know how European nav light specs compare to the Coast Guard's? Or have any other thoughts of the LED variety?