Look, Ma, I'm blogging!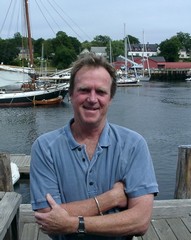 Ben Ellison here, pleased to introduce myself as the new editor of Panbo.com. Yme Bosma did a fine job of starting this weblog last year, and I'm pleased to report that he's staying on to manage and grow the technology behind it. Between us, we hope to take advantage of this new medium to create a lively window into the fascinating and fast-moving world of marine electronics.
As for me, I'm a life-long boat guy — cruiser, delivery captain, navigation instructor, almanac editor, sucker for odd vessels, etc. etc. — who's lived on the coast of Maine since buying an old 40' wooden sloop here in 1971. Nowadays I'm the Electronics Editor for both Power & Motoryacht and Sail magazines (who owns and enjoys both kinds of boats). I'm also an advisor for Marine Electronics Journal and write columns for Voyaging and Maine Boats & Harbors. I've watched yacht and work boat navigation go from RDF and celestial to satellites and PCs, and am enthusiastic to see where the heck the technology is headed next. Yme and I hope you'll join us as a reader and/or contributor to blog about it!