MacENC meets Furuno NavNet BB, a grin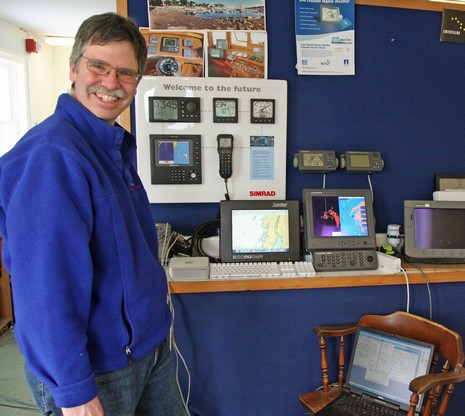 There were several reasons for that grin on John Gass, Electronics Manager at Wayfarer Marine, the most obvious being that he was beating a particularly nasty February Maine day by testing a possible upgrade system in his shop. Second would be how unusual the system was, closeup here, a Mac Mini running MacENC (review link here) and talking to both a Furuno RD-30 and a NavNet vx2, black box model. John was stressing the whole kit by inputing GPS either from the laptop running Nema Talker or a Garmin 192, plus he had an AIS simulator running on a PC in the next room and connected to the Mini via Bluetooth, and a radar simulator that Furuno apparently supplies to dealers. There was also a Keyspan serial-to-USB converter plus lots of wires and alligator clips involved, which made me feel better about some of my test setups, and may account for the embarrassed portion of that smile.
Regardless, John got all the data—routes and waypoints included—running around quite well except for one little MacENC-waypoint-to-NavNet glitch. Despite good support from both companies, he didn't get that one solved before the potential owner of this system—who already has a very nice one, but wants MARPA and AIS—decided to put the R&D on hold. At any rate good geek fun was had, and I also became acquainted with Firma Mats Kagstron's AIS Simulator (source of many other NMEA software products) and Effective Solutions' combined AIS and NMEA Simulation, both of which I'd like to investigate further. Thanks, John!