Maretron DSM250, nice screen config details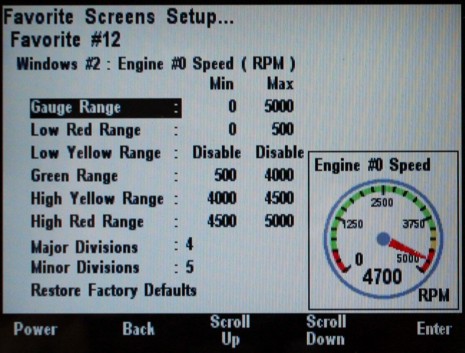 I was pleased to find this fine set of gauge configuration options on the Maretron DSM250. Note how you can set the RPM dial's range, tick marks, and warning colors. Nice! Note too the live demo of the gauge you're building (there are RPMs and other engine PGNs on the Panbo network now, thanks to a Lowrance simulator). Display customization is one reason why virtual gauges can be superior to real ones, but so far few of the N2K instruments I'm testing take much advantage of the possibilities. You can't even set the range on either the GMI 10 or ST70 speed dials, which means you'll constantly be reminded of how fast you can't go. And, good as the DSM250 is, it doesn't even have a speed gauge yet, or a depth graph.

Below is the setup screen prior to the one above, and it shows some more good Maretron work. The DSM250 has twelve "Favorite Screens", which is four more than the ST70 and eight more than the GMI 10 'custom' screen family (though Garmin's concept of multiple screen families has great potential if made more flexible). The DSM also has the most powerful screen mode abilities. There are four choices under that highlighted choice below. Manual means this screen will only show when I'm in Manual and flipping through screens myself. It could also be seen only in Auto mode—with it's own custom interval period—or in both Manual and Auto modes. Or I can shut it off altogether, but not lose the screen. By contrast, the ST70 has an auto or rolling screen mode, but it's all or none with a single setable time interval, and Garmin doesn't roll at all. At any rate I hope all these developers are checking out each other's work intently, because I want to see an instrument with configuration details like this, the iconic—and fun—operating system of the ST70, and the very sleek graphics seen on some GMI 10 screens!