Maretron SMS100, advanced NMEA 2000 monitoring via cell texts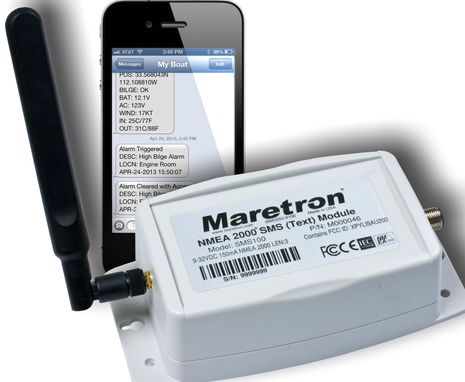 Two recent experiences make me particularly excited about the Maretron SMS100 announced today (and already shipping). During the trip north I learned to appreciate the sophisticated "Alert" features built into Maretron's various NMEA 2000 displays and I also enjoyed some benefits of the Siren Marine cellular monitoring system. In fact, Gizmo's refrigerator currently contains two temperature sensors, a Maretron probe for on board monitoring and a Siren probe so I can keep an eye on the system from afar (even from Korea, by gosh). While the standalone and economical Siren system will definitely remain appropriate for some boats (and Maretron probably has an SMS learning curve to climb), I'm really looking forward to having virtually unlimited N2K monitoring on my phone…
So let's take a look at what Maretron terms Alerts because they are usefully sub-categorized into Alarms and Warnings. An alert can be created for any value in the system based on data "trigger" conditions such as High, Low, Inside/Outside Radius, On/Off State, Direction and Time. An alarm based on a predetermined time from an N2K source like a GPS might otherwise be known as an alarm clock 😉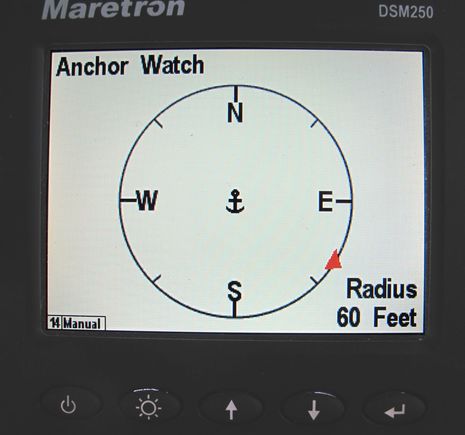 There are also a few special triggers like GPS Quality and the Anchor Watch alert that pairs with the DSM250 screen above (which is also available on the 250's much less expensive little brother, the DSM150). There are arguably better anchor alarms — like the Vesper WatchMate AIS with its plotting feature or the Boat Monitor app that let's you input the bearing and distance to your actual hook instead of creating a radius around where the boat first settles — but I've gotten very fond of Maretron's. Probably the main reason is that Gizmo now has an ALM100 Alarm Module mounted on the main panel near my berth and that sucker can bring me up from the deepest sleep.

Besides blasting an audible alarm or warning (if I want), Maretron alerts also flash on whatever DSM screen is active, as shown above left. A tap on the enter button takes you to the screen above right, where you can quickly mute the sound and where you'll also see some of the sophistication underlying the whole Alerts feature. The Description and Location, for instance, are fully customizable fields that carry themselves throughout the system, including the SMS100 text messages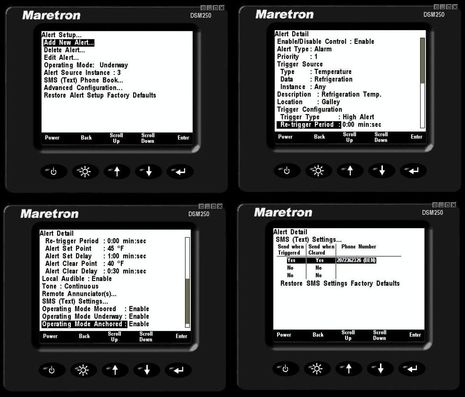 I used the DSM250 emulator that is part of the free N2KAnalyzer program to make the screens above illustrating the Alert creation process (clockwise from top left). Note how they have a priority value so that if more than one is active, the right one shows on screen and the ALM100 makes its particular sound (from a choice of six). Note too how the whole Alerts system has four modes (including disabled) so, for instance, it's easy to arm Gizmo's navigation light low current and block temperature alarms by simply setting the mode to underway. A user can also specify which Annuciators respond to a specific alert, so I can keep my middle of the night anchor watch to myself instead having the fly bridge ALM100 also go off.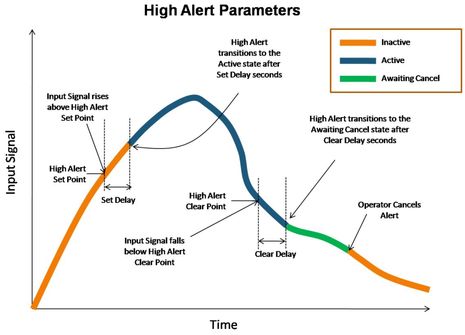 But probably the hardest parameters to get one's head around are the Re-trigger, Set, and Clear time periods. The former is simply an anti-distraction setting as it just re-fires an already Accepted alert if the condition remains the same for a certain period of time (leaving it at 0 leaves it off). Meanwhile the above diagram — found, like many of these screens, in the DSM250 manual you can download here — neatly illustrates the use of Set and Clear delays. The values are sort of like dampening on instruments and they are also more ways that Maretron lets you hone alerts until they work exactly as they should. In my experience boat alarms that go off too often when they're not really needed get turned off permanently.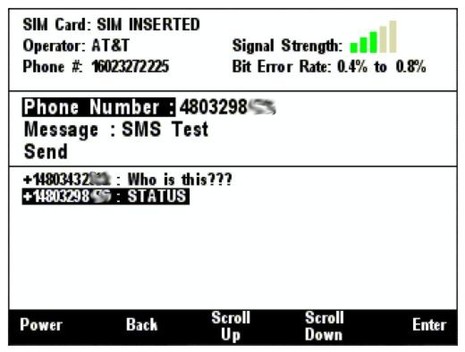 As for the SMS100 itself, it's certainly neat that it has a display because of its DSM association. That screen above, for instance, shows not only signal strength but also recent incoming texts so you can easily test both outgoing and incoming transmission. And I like the sound of a six frequency band modem supporting 2G GSM/GPRS/EDGE and 3G UMTS/HSDPA/HSUPA protocols because that covers so much of the cellular soup. But I wonder if Maretron's plan to have users or installers provide their own SIM cards will cause difficulties. It makes sense on a global basis, but then again I know that Siren Marine has done a lot of trouble shooting to make their SIM cards mostly trouble free.
The SMS100's ability to process text commands is also paltry compared to the Siren. As shipped users will only be able to text it a "Status" message and they will only get back the info seen below. However, Maretron tells me that eventually we'll be able to design custom commands on a DSM that will not only call forth any info on the system but also permit actual control commands like DCR100 digital switching via phone. I've always fancied the idea of turning on boat lights before taking the tender out into a dark anchorage, but I've resisted having to install single purpose gadgetry to do it. Looks like I won't have to. What can you imagine doing with Maretron's powerful system?