MarineBiz TV, from Dubai of course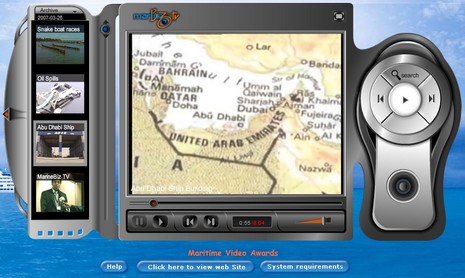 I know I'm beyond the W.Weirdness window, but maybe you need a Monday distraction? Check out brand new MarineBiz online TV. There are lots of curious clips available but search on "Operation Training" and skip right to Part 4 for some work that would make Monty Pyth*n proud. Seriously, though, MarineBizTV is based in Dubai, and Dubai has become a marine industry buzz word. Why? Well, this country is building so much waterfront residential properties, like The Palm Jumeirah, that I'm told it will eventually exceed Florida's by 50%, and new yachts, selling well already, are expected to number 100,000 in the next 10 years. Marine electronics opportunities…you betcha.
PS. Given that "The Vision of MarineBiz TV is to become the single point of contact and reference for all marine activities and information worldwide," should I be worried?
PPS. Truly weird: I had a hell of time posting this silly entry, because it turns out that the correct spelling of Monty Pyth*n causes a .cgi error in this blogging software setup, a little joke by some programmer somewhere I guess!