Mercury's new 600hp Verado V12: truly different & surprisingly smooth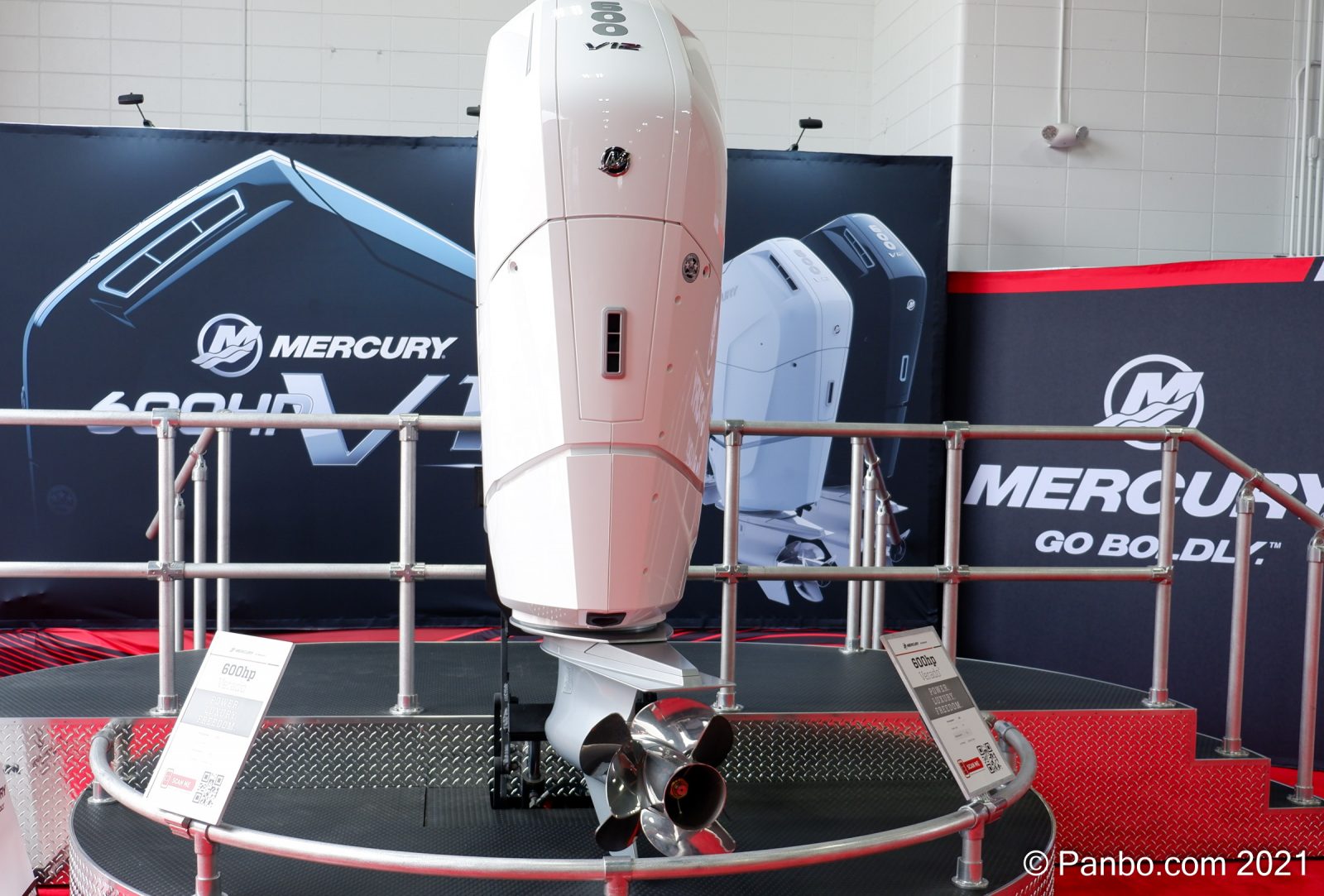 Mercury Marine's highly secure and unusual Lake X facility has decades of history as a research, development, and testing skunkworks for the company's many outboard innovations. So it was a fitting location, even on a gloomy Monday afternoon, for the unveiling of Mercury's latest creation. And what an outboard they revealed: a 600 horsepower, twelve-hundred plus pound V12 with a two-speed automatic transmission, counter-rotating props, and a lower unit that rotates while the engine itself only tilts.
Let's talk for a moment about the elephant in the room: Does anyone really need a 600 horsepower outboard? How about four of them? For me, the answer is no, but recreational boats aren't just about need, and Merc isn't the first manufacturer with a 600 plus horsepower production outboard. That distinction belongs to Seven Marine's 627hp supercharged V8. However, not long after Volvo Penta purchased Seven, they shut down production citing a focus on sustainable technology. Or was doing it well too much of a challenge?
So, although the Verado V12 may be an example of wretched excess, it's also a showcase of impressive and innovative technology.
There's much to tell about what went into the V12. For instance, Mercury developed its own 7.6 liter, 64-degree, V12 block for this project. By not using a repurposed automotive engine block, they could design the entire outboard for exactly how it will be used. Stripping away automobile components and emissions controls complicates the use of more easily sourced blocks and leaves the outboard engineers with less control over the end product.
The huge new Verado also features counter-rotating propellers up to 18-inches in diameter; a pivoting lower unit with self-contained electro-hydraulic steering; all-digital, fly-by-wire controls; and more. Because the lower unit turns (as seen in the video above), the upper portion of the engine — also known as the powerhead — is only designed to tilt. It's weird to watch a V12 boat turn or maneuver and not see the motors move, though everyone who has been running these engines says it quickly becomes natural.
Incidentally, this summer I attended another manufacturer's press event on the Fox River in Wisconsin, which is also home to another Brunswick R&D facility. While out on the river we saw a strange test-mule of a boat with several giant outboards, but assumed they were dummies or some sort of disguise because they didn't turn. In other words, the V12's steering design is so unusual that what I found at Lake X was a complete surprise even though I'd already seen it in action.
It's also natural to assume that a 600hp V12 will be a fire breathing monster, and that's exactly what I was expecting until the moment I heard the engines fire up. They are docile and smooth with a muted note and nearly silent gear engagement. Plus, because they're naturally aspirated, there's no supercharger whine or turbocharger whistle.
I experienced these outboards on four different boats: a triple-engine Tiarra 48 LS, a triple Boston Whaler 420 Outrage, a quad-engine Valhalla 46, and a quad Formula 500 SSC. I consistently heard more noise from water passing under the hull than I did from the motors. In fact, Mercury says that this is the quietest motor they've built over 300 horsepower.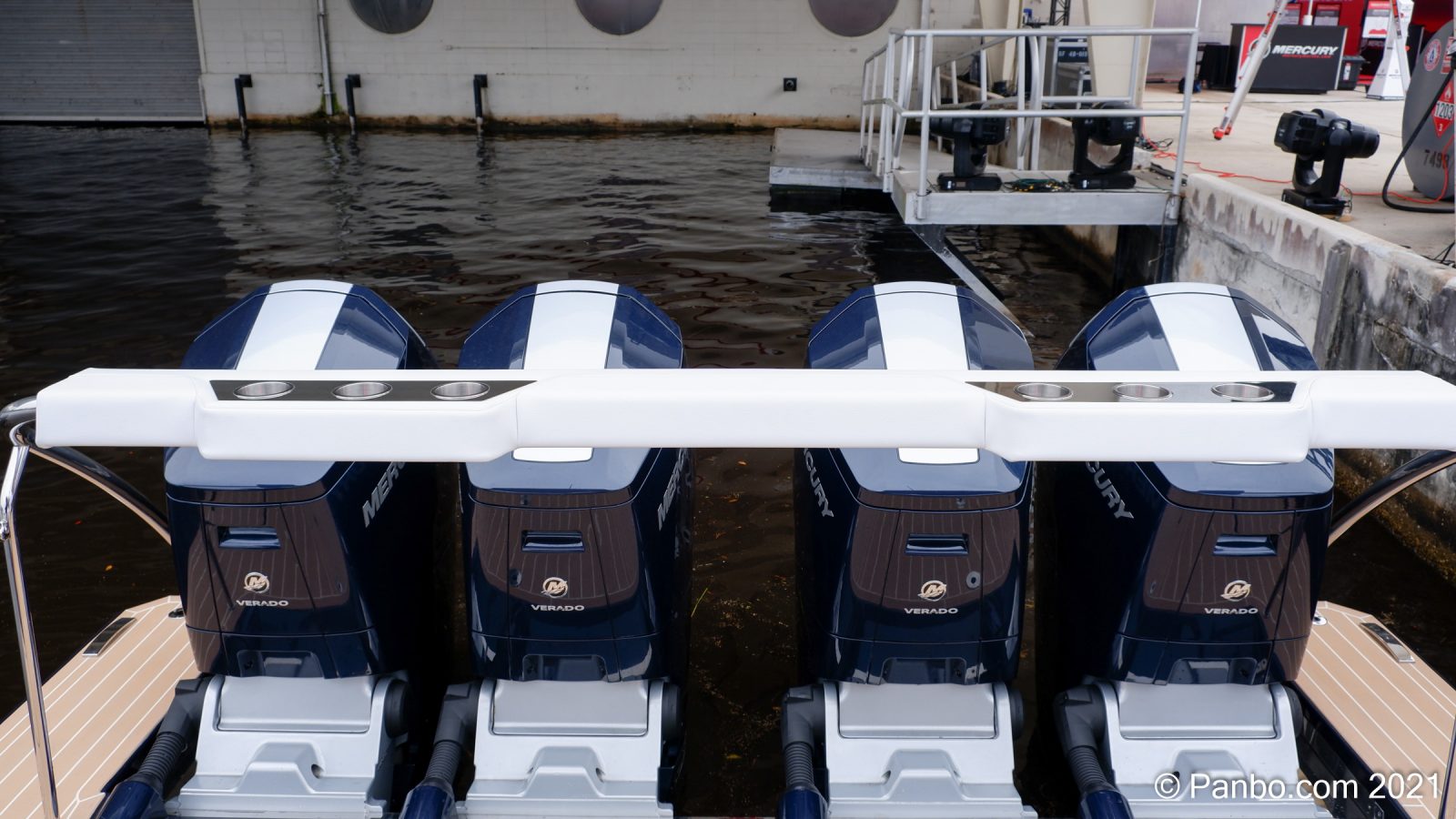 I struggled to get my mind around the scale of this motor and how it compares to others. Does a V12 really make sense? Let's acknowledge that they are designed for a category of boat that barely existed a decade ago. The largest boat I trialed is 50 feet long and weighs 47,000 pounds. Until recently, a boat like this would probably be powered by two large diesels and certainly wouldn't reach the 69 miles per hour the Forumla 500 SSC did.
Fewer of these 600hp V12s are needed to power this new class of boats, and the tilt-only powerhead design means there's even more room for creative stern configurations. And for the same reasons, quad, five, and even six V12 installs suggest that bigger and faster outboard boats are on the horizon.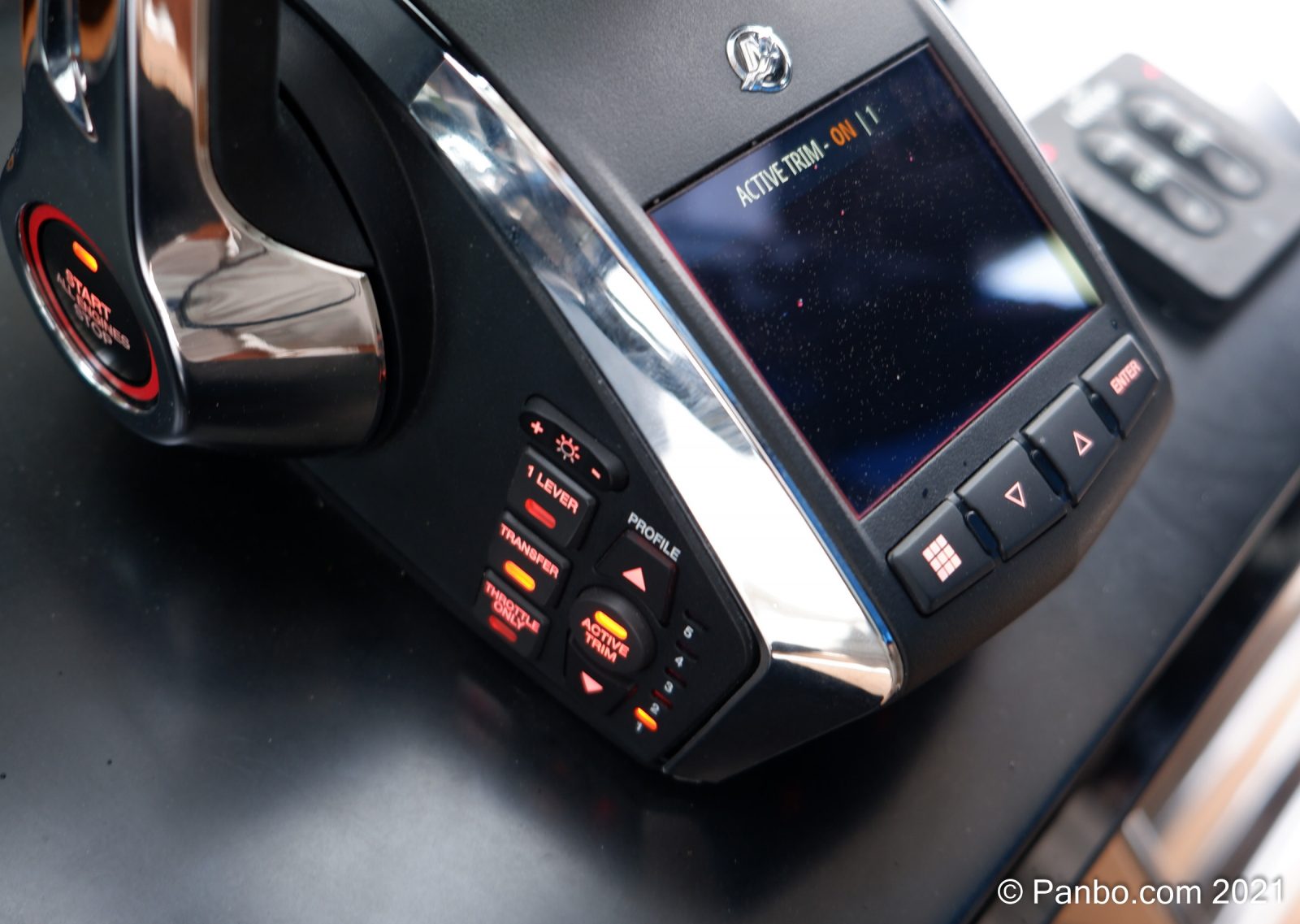 The new control binnacle, or electronic remote control (ERC), comes in regular version or the premiere model above a built-in color status display. Mercury moved the controls so that the top of the ERC — directly under the levers and where your hand naturally rests — is clear to avoid accidental button presses. The start button in the center of the left lever's hub sequentially starts each motor, and a single ERC can control up to six outboards (a jaw-dropping 3,600 horsepower). The placement of the controls felt natural to my hand, but the throttle levers are touchy. It takes some practice to smoothly accelerate, especially given all the V12 power available.
The V12s use Mercury's most recent version of digital throttle and shift (DTS) which includes GPS speed-based automatic trim, reportedly a first in the industry. The system worked well enough that I never touched trim controls on any of the boats I ran. But there are individual trim controls for each engine on the back of the ERC binnacle, should that be necessary.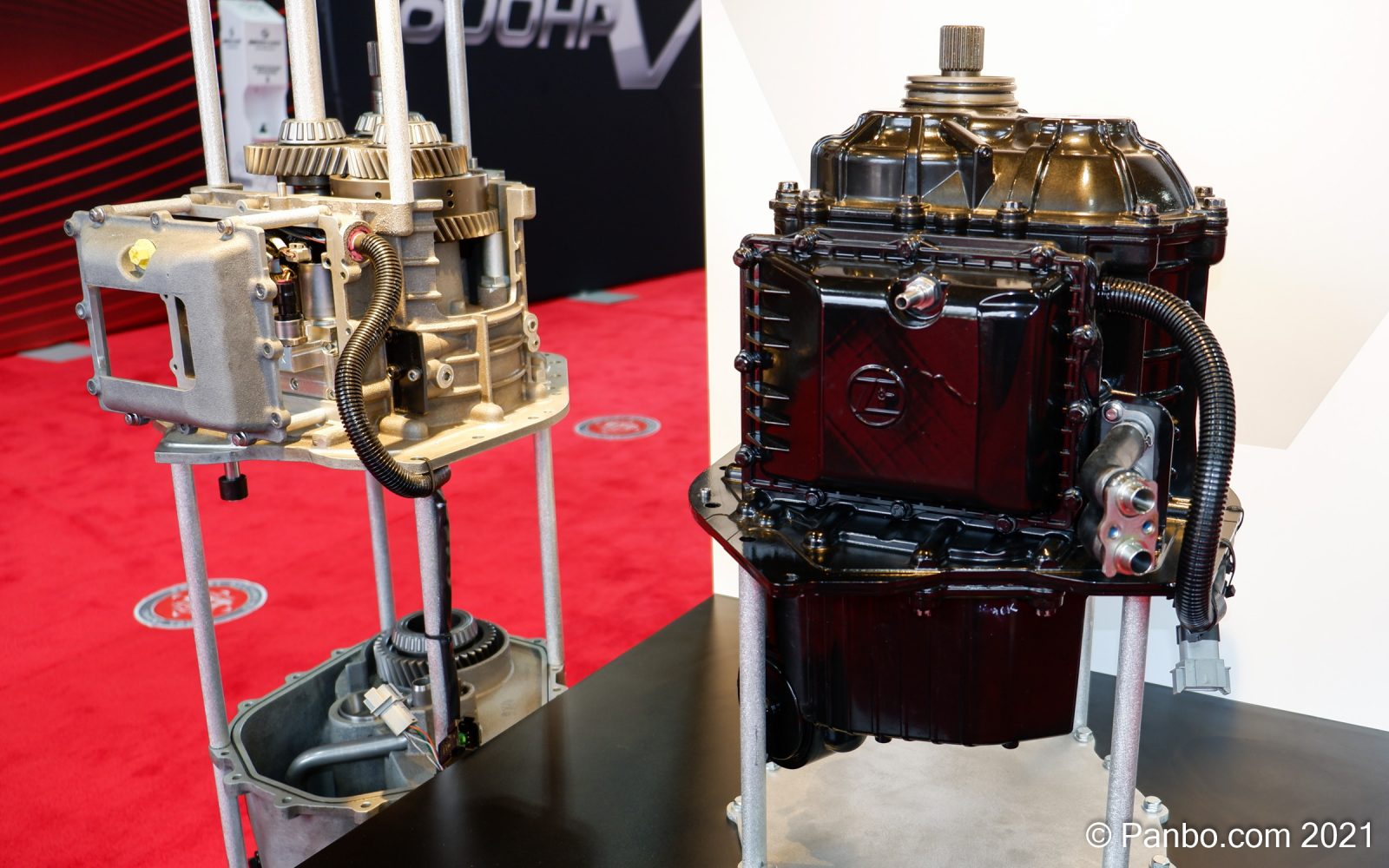 Although I know there have been inboards with two-speed transmissions, I've never seen it in an outboard until now. Mercury and ZF co-developed the automatic transmission to match the engine's thrust properties with the dual-prop lower unit, and the shifting is barely perceptible underway. In fact, I had to watch the tachometers to verify it. It's more noticeable when you hit the throttle while running under light load at about 3,500-4,000 RPMs, but that's because the V12 downshift causes an immediate boost of acceleration.
Speaking of smooth shifting, the V12 does away with the cone clutch used by most outboards — which is responsible for the distinctive clunk when their gears engage — and replaced it with a multi-plate design. The new clutch and lower unit make for nearly silent gear engagement. I've always felt uneasy about the amount of clunking involved when most outboard joystick systems are at work, and also the heavy throttle often applied. But between the new clutch and the way the dual-props can generate thrust with lower RPMs, V12 joystick maneuvering is a calm affair; there's no white water frothing and minimal engine revving needed to move the boat around.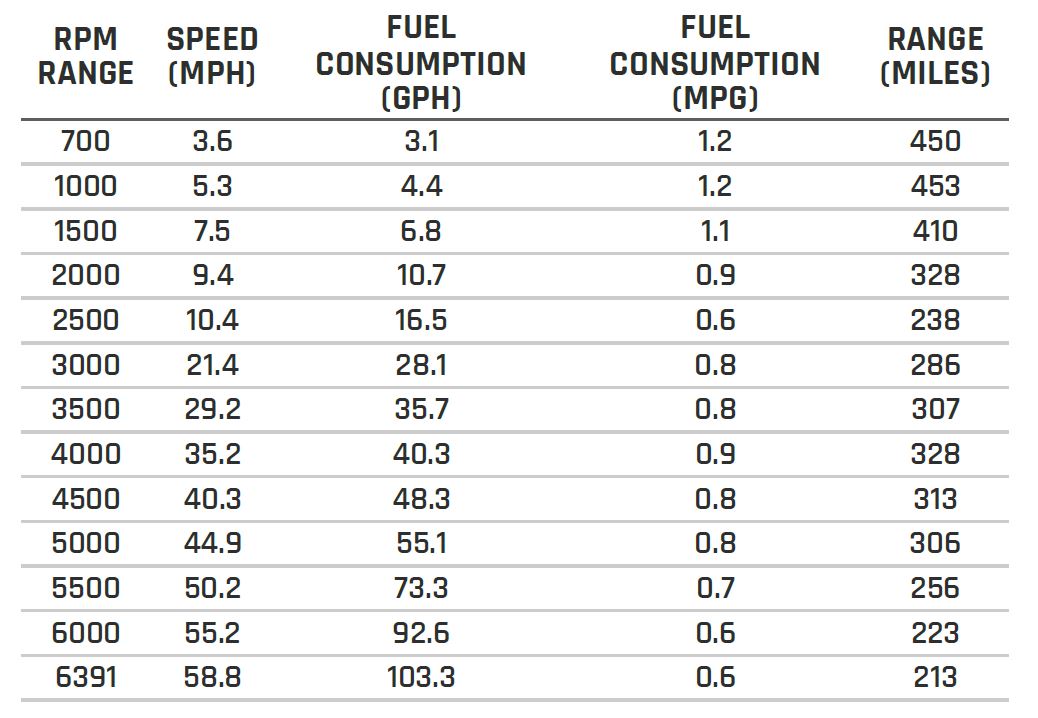 So while the V12 is an impressive design loaded with outboard firsts and technological advances, the innovation doesn't seem to include major advances in fuel economy. The table on the left describes Mercury's Sea Ray 400 SLX dual V12 testing at Lake X and BoatTest.com's analysis of the same model with three 300-hp V8 Verados is on the right. The triple-V8s seem to slightly edge out the twin-V12s up until about 50 mph where the V12 is slightly more efficient and has a higher top speed.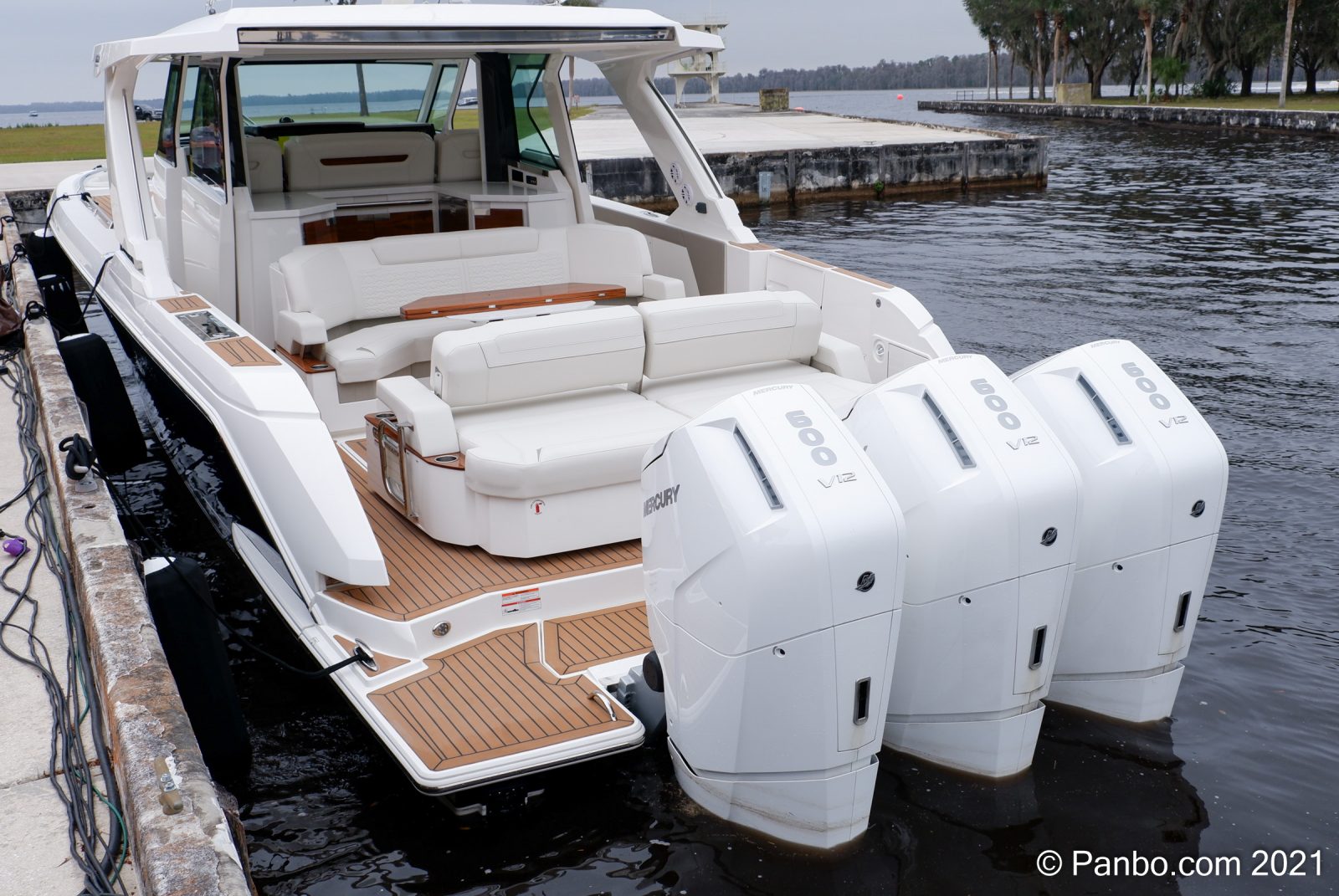 Here's another example of how V12's fixed powerhead design can leave more transom space because they don't rotate. Several boats I saw took advantage of this by snugging swim platforms to the sides of the cowlings. Moreover, the tilt-only powerheads allow the outboards to be mounted on 27-inch centers, just an inch wider than the 450R requires. So, three V12s making 1,800 horsepower require roughly 80-inches of transom compared to four Verado 450Rs also making 1,800 horsepower in just over 100-inches. Twenty inches of extra room available on the transom can make a big difference in boarding the boat and safely enjoying watersports activities.
What about electrical power? Each V12 has a 150 amp alternator and at advanced throttle, 100 amps of 12v current can go to the boat with the other 50a powering the motor and steering. So a four-engine boat at cruising RPMs can deliver 400 amps or 4.8 kilowatts to its various electrical loads and battery banks. Sea Ray has already taken advantage of high output outboard alternators to deliver the SLX 400e with MasterVolt LiFePo4 batteries powering all electrical needs including a Seakeeper and air conditioning.
Mercury says there are 65 amps net power available at idle and, as I understand it, their Idle Charge management system can make more available if needed. The system detects low voltage at the batteries and increases idle RPMs as needed. Although the 150 amp alternator is a 35 amp improvement over the Verado 450R's 115-amp alternator, I think an even larger alternator would be helpful, especially in twin-engine installations.
Following a recent, and welcome, trend the V12 has an opening hood on top of the cowling to facilitate easy service of common items like engine oil, coolant, and even lower unit oil. This also means that routine engine maintenance can be done with the boat in the water. Plus, Mercury lengthened the oil change interval to 200 hours or one year, and the remaining service to 1,000 hours or five years.
I know that a 1,260-pound motor sounds a little crazy, but when I compared the V12's power-to-weight ratio to several other large outboards, it begins to look a little more reasonable. The 600hp V12 delivers 0.48 horsepower per pound while the 4.6-liter 300hp Verado puts out 0.5 hp for each of its 600 pounds, and the 952 pound, 425hp Yamaha XTO 0.45hp per pound. In other words, V12 power-to-weight ratio is quite comparable to other naturally aspirated outboards. Mounting these giant outboards requires massive transoms and hardware. I'm told the transom of the Formula is nine-inches thick and requires 13-inch mounting bolts.
As sublime as 600 horsepower might sound, I don't expect that this is the maximum power we will see from these engines. If Mercury's previous patterns are any indication, it won't be shocking to see a Mercury Racing version with significantly more horsepower. The 450hp, V8 Mercury Racing 450R motor weighs 689 pounds for a 0.65 horsepower per pound power-to-weight ratio. If the V12 is paired with a supercharger or turbocharger we will see even more sublime horsepower numbers and also better power-to-weight ratios. For now, we will have to be content with "only" 600 horsepower from this $77,000 (list-price) tech tour de force.
Finally, I'm intrigued about whether the V12's innovations can find their way to other outboards. The fixed powerhead with rotating lower-unit seems like it could make sense on smaller engines, and maybe the two-speed transmission as well. Is there any reason these technologies couldn't improve engines a fraction the size of this one?