MIBS # 5: C-Map, EarthNC, & MapMedia news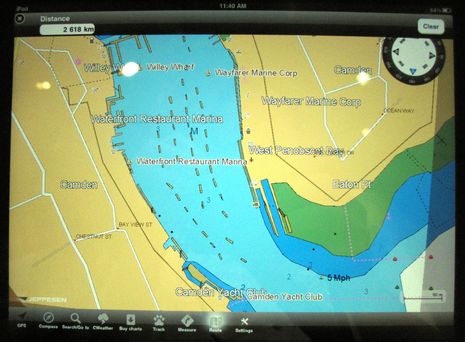 It's a lousy photo, for sure, but Jeppesen C-Map has not yet announced its iPad charting app, let alone released screen shots, though I found it one of the nicest surprises of the Miami show. It seems that C-Map not only intends to match Navionics' much appreciated efforts to offer inexpensive but detailed marine cartography on multiple apps platforms, but to do it even better. Note, for instance, the "CWeather" button on the menu bar above, and that C-Map has been working to overlay weather data on plotters since at least 2004 (though the then available mechanisms — a complicated cellular connection, or a data card transfer — were awkward). I'm not sure what CWeather offers today (the Jeppesen site says only European data), but we do know that a connected tablet or phone can make the download process very easy.

However, as the lousy photo shows, I was able to verify that the new C-Map app will include the sort of detailed C-Marina data I recently raved about. I also met the apps product manager and was impressed by his intentions to support mulitple platforms, open standard route and track formats, and more. He also told me that the iPhone/iPad version — which will be a free app that includes an excellent base map with reasonably-priced full-detail regions available for in-app purchase — is very near to release. Bring it on!