MIBS ME, lots happening, all good!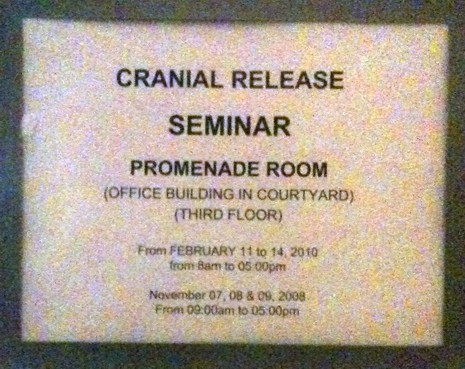 Instead of being "released" in Miami last week, my poor cranium got stuffed to the cobwebbed rafters. Admittedly, there is a phenomenon whereby the longer I cover marine electronics, the better I get to know the developers and the more they want to tell me about their latest projects. But there's something else going on, too: I believe the pace of innovation is increasing (and some healthy trends are emerging). I'll try to hit a few examples today, but it may take weeks to detail all the goodness I saw at the show…

I did Tweet about some major ME news before cranial overload, and it was not coincidental that the first was about how MaxSea TimeZero, and eventually NavNet 3D, will support ActiveCaptain POI info. I had a strong inkling about this announcement because (I'm proud to note) I had a hand in getting the parties together. At any rate, this is big news for once-POI-weak TimeZero, and for ActiveCaptain (as well explained by the Siegels here), and for the concept of user generated data in general. And the relationship is not exclusive to either party — one of those positive trends — so MaxSea/Furuno is free to layer in other sources, and other manufacturers are free to pursue ActiveCaptain integration. Several were more responsive to my ramblings on the subject once the community data was being shown off in the big Furuno booth. Where you could also see some big improvements to TimeZero/NN3D vector chart presentation, regardless of whether the underlying data was NOAA, Navionics, or the new Jeppesen C-Map.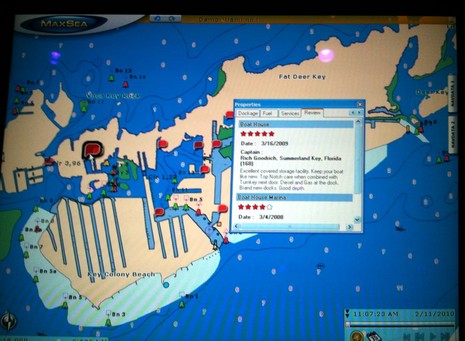 I was pleasantly surprised by all the advancements seen the in Simrad/Lowrance booth. First up was complete Simrad autopilot control from the NSE MFD, including calibration, the works. You will be able to hang an autopilot off an NSE without buying a single control head, or have a head at one station but not another. Details of the implementation look excellent, but almost bigger in my mind is the corporate daring involved. Imagine the meetings: "What, give up head sales?!?"…"Yes, but if you give customers more choice, they'll choose us!?!" It's a general trend, I hope, and one we may also see applied to Broadband Radar, even if the first intriguing instance was shut down (temporarily, maybe?). Navico isn't willing to reveal its "plan for third party BR24 integration" until March, but apparently there is a "plan," and that sounds good.
Meanwhile Broadband Radar itself is getting backward compatible True Motion and 36 rpm tracking modes with new Simrad and Lowrance software updates coming out in April. Plus Lowrance HDS is getting monitoring integration with DNA's DSS switching system, and Simrad's NSE is getting even fuller integration with BEP's new CZone distributed power and control system. (In the photo below, please ignore the "Light" dialog but understand that either the NSE or the wireless fob can control custom CZone configurations of lights, pumps, alarms, whatever.) These developments are potentially huge, and both involve NMEA 2000, but online details beyond those links are scarce. I will certainly detail when possible.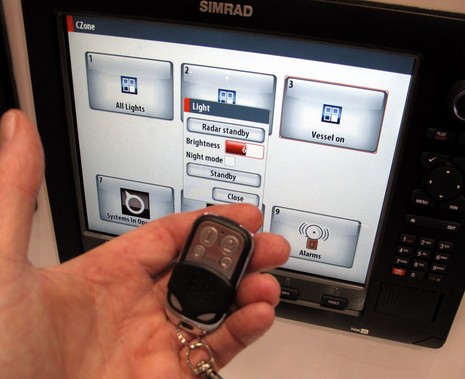 FLIR hosted another fabulous thermal cruise (freshly documented on the WaveTrain), where I learned about some excellent features. One I'd simply missed: The expanding First Mate handheld series includes a shoe which lets you mount the camera securely with external power and even a video feed to a larger screen. New is an SDK that permits any MFD or software developer to control a more truly fixed M-Series camera via the same Ethernet pipe used by its standard controller. Move down the page for an example…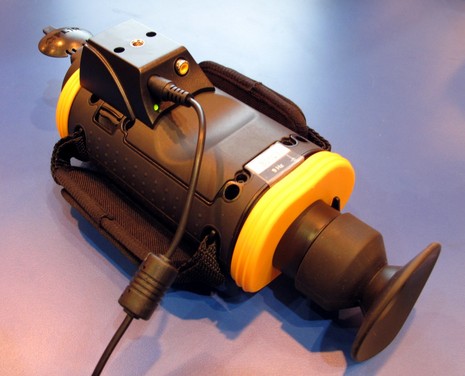 Furuno/MaxSea was the first to show what a FLIR interface can do (not surprising given the anti-pirate project), and it looked great. I saw how you could use MaxSea to make an M-636 quickly pan to waypoints, marpa and AIS targets, or just anywhere you clicked on the chart. Check out how the field of view is shown graphically. It can autotrack such targets, too, tweak the cam's vertical angle based on range, and it even automatically slews to an MOB if you ever have to hit the alarm. These advanced controls make a very valuable (in two ways) camera a lot more so, I think, and it's terriffic that any developer can now add such integration.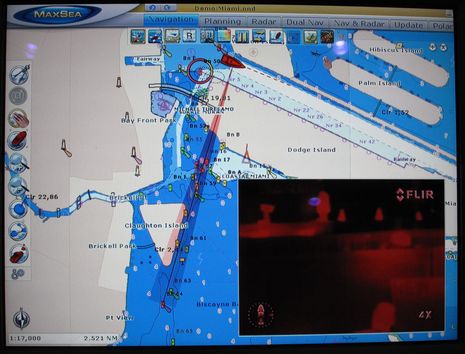 OK, almost done for today (more tomorrow), but thought I'd close with a note about Nexus instrument systems, which I learned a lot more about in Miami. The gear isn't exactly new, but easy access to it (and support for it) may be, as the company has just gotten solid U.S. distribution in the form of Ocean Equipment. I'm impressed that the whole line of cruising and racing products works together, so you can mix them any whichway, and how well all of it can be calibrated, monitored, and logged with free Nexus PC software. It's neat, for instance, how you can instantly and easily change a data page label on one of these big NXR displays, though I do wish I'd used the nine characters to spell out "TAKESURVEY"!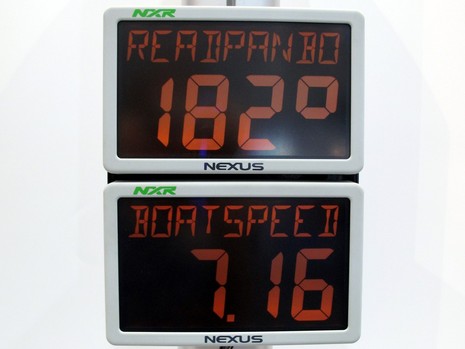 PS I did find the Cranial Release Technique web site, but I still have little idea what it's actually about.