Nasa/Si-Tex AIS receiver, first impressions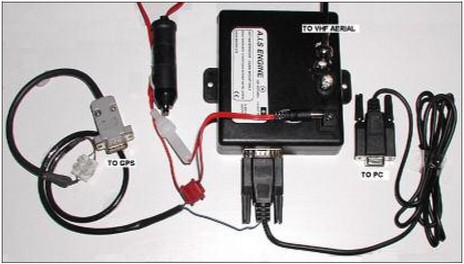 Well, I'm beginning to understand why the Nasa AIS receiver is so much less expensive than most others on the market (besides the single frequency business). For one thing, the wire connections to the "not waterproof" box are funky compared to most marine electronics. Above you can see how an install might look if you use its ability to blend a GPS into its data stream. Note how the red power wire uses a pin connector with no lock (if your boat is rattlely, you might want to duct tape it). The illustration, by the way, is from an installation pdf that Digiboat put together, which is way better than what came with the unit.
Then there's the fact that once you've wired the receiver to antenna, PC, and power, you have no way to know if it works. No LEDs, no NMEA strings unless it's actually receiving targets. Without a real manual, I had no way of knowing what was going on so I e-mailed customer support at Digiboat, who seem to know this hardware, and got a prompt response that confirmed my fears, "the NASA AIS Receiver gives NO INDICATION whether it's working, or not – quite frustrating really. Unless, of course, you're surrounded by transmitting targets."
In fact, Simon Blundell from Digiboat has figured out a way to solder 4 useful status LEDs into the Nasa receiver, and has posted a thorough Web page about the project (check it out…this is DIY pioneering!). He also pointed out that I could check the install by doing the GPS bypass above. Nah…I will be in hotel right on the Mediterranean coast near Marseille, France, later this week, so hope to test with real targets. Blundell suggests that once I see how well the Nasa box works for the money, the negatives will fade. We'll see.